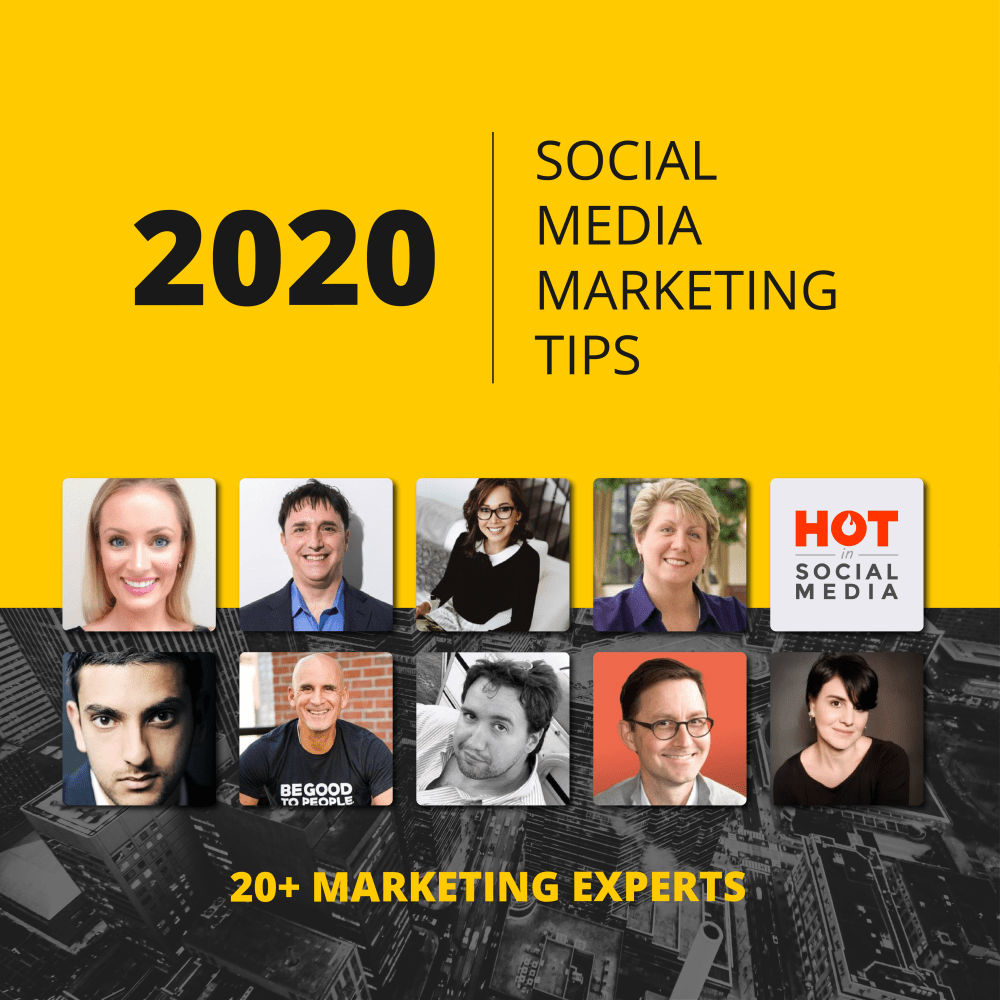 In 2020 there are more than 3.8 billion social media users worldwide. That's a 9.2% increase from last year and almost double the amount since 2015.
As you can see in the image below, in the last couple of years the number of social media users increase by at least 9% every year.

This year, you really shouldn't ignore your social media presence and simply share a couple of funny images or some interesting articles, expecting to gain new customers and generate orders with this "strategic social media plan".
In order to create a social media marketing strategy for this year, you have to be authentic, honest, transparent, engage your audience, and personalize your client experience with your brand.
If you're looking for the most important 2020 social media marketing tips, I've asked more than 20 marketing experts to tell our Hot in Social Media audience their tips & tricks for this year.
I'm sure you'll find some useful social media marketing tips in this detailed article, so please don't forget to share it with your colleagues and friends!
What are the Most Important Social Media Marketing Tip for 2020?
---
Never forget that unless you are Amazon or Starbucks, no one wakes up in the morning hoping to see your marketing in their social media feed. So it better be relevant, timely, and not salesy.
The best strategy is to let your customers do the marketing for you; accomplish this by consistently providing remarkable customer experiences that they can't wait to tell their friends, family and social media followers about. Simply put, a remarkable customer experience can be your best marketing.
---
Emoticon Analysis. Find a tool or manually find a way to analyze emojis.
These tiny little pics are not going away and they pack a lot of punch once you understand what they mean to the consumer. Sentiment analysis will look completely different by the end of 2020.
It's unfortunately fallen to the background as it's struggled to find an accurate way to score someone saying "Well done" in a positive way versus in a sarcastic way.
I used to work for a cancer hospital and it was insanely impossible to measure sentiment because every time the cancer hospital was mentioned, it scored negatively even though it might be a patient mentioning us in a rave review. Emoticon analysis brings sentiment back to the forefront and allows brands to look deeper into what emotions their content is hitting in their consumers.
Brands will be able to use this analysis to influence content across the entire digital space, using social media as a testing ground to see which content is pulling the emotional cords they want pulled.
---
It sounds obvious, but businesses are missing it: your employees are more important to the success of your company than you think. Employee advocacy isn't just about having your employees share your company content on their social channels.
Empowering employees to be more than just mouthpieces for your brand is a way to go beyond advocacy—and benefit both your employees and your brand.
Give your employees the tools to create and share branded content (and if possible couple it internally with a powerful content management system and analytics package). It's the perfect addition to existing brand social activities, and an incredibly efficient way to increase the scale and effectiveness of those efforts and content creation.
Empower Your Employees and They Will Power Your Brand… start thinking Employee Created Content, #ECC, NOT Employee "Generated" Content.
---
Interview your influencers. I get pitched by influencers a lot. All of the pitches are basically "you should work with me because I have a large number of followers".
This isn't enough. In the same way you wouldn't pay to advertise in a magazine that doesn't reach your audience, you shouldn't pay an influencer whose followers don't fit the audience you're trying to reach.
Don't be afraid to ask the questions to find out if they're a match. Ask about the demographics of their followers, the age range, the breakdown of cities where their followers are located. All of this is easily located in their profile's insights.
If there's a good match with who you're trying to reach, GREAT! Continue the conversation. If not, don't waste your time or money just because they have a large number of followers. If those followers stand no chance of doing business with you, it's not worth it.
---
If you're serious about engagement, you should be serious about video. Marketers who turn their cameras on are seeing huge engagement. Everyone else is watching their results slowly decline.
Rather than try to boost a post with paid, try buffing it up with a video. You may see even better engagement without the budget.
---
Personalize!! Marketing in 2020 online is going to require standing out amongst a sea of samesies.
Our audience wants to be delighted in order to do business with a brand and more importantly become a loyal advocate for a brand.
Personalize your messaging.
Personalize email by using video emails or audio messenger messages.
Personalize ads based upon client behavior.
Personalize client experiences.
Relationships will always be more powerful than marketing. Use the technology available to us today to create better and more personalized user experiences.
Consumers today want the best of both worlds: accessibility and speed.
As consumers, we want speed and ease of use to make a transaction. Meaning, we want to be able to do everything online as if we were in-person. We want to use tools online to do business at our own convenience, on our own terms. But we also expect the company to have a live person who can help, check-in, assist and already be up-to-date on what we've done on their site or in their store.
We expect businesses to already know every interaction no matter if it was with a human or not. We want to feel empowered, important and visible.
So brands have a tricky job at mastering both sides of emerging technology and traditional human engagement.
---
My social media tip? The truth about social media is that it's not very good at generating leads for your business. I know that's different from what you've been told in the past, but I believe it's true.
What is social media good for, then? It's good for customer retention. In other words, it's a good tool to use if you want to keep your existing customers engaged with your brand and coming back for more. But it's not a good tool to generate new customers.
Here's an example – when was the last time you saw a social media post from a company you had never heard of, then clicked through on their post, and then bought their product right away? Probably never. But if you saw a post from a company you already do business with, you'd be happy to click through on their post and buy their products.
Bottom line: Use social media as a customer retention tool, but don't expect big results when you use it as a customer acquisition tool.
---
Prepare For The Conversational Marketing Decade
Customers have problems that are looking for solutions. A great way for marketers to stand out with social media in 2020 is to own one of those problems. The way to do that is simple: Be the best answer.
Social media isn't necessarily a great platform for solving problems, but it's perfect for delivering answers. How that answer is positioned says a lot about a company, who they are, what they care about, and what it's like to be one of their customers.
It opens up a conversation that prospective buyers are already having in their minds and with each other. Here's a guide for crafting this message:
The main problem your company solves
How people feel when it happens
The experience of acquiring that solution
Useful outcomes or results customers enjoy
Answers to problems drive buying behavior. They link that company to the right buyers by signaling that it understands them, and that's often enough.
---
Get to know your audience and then engage with them.
Personalised content and engagement with your audience is what is going to move the needle in 2020, as people are craving it more and more. Whether it's engaging in their DMs, sending targeted, personalised emails based on their interests or survey responses, sending personalised video replies or even (gasp) picking up the phone to learn from your ideal (and best) customer… make it personal.
The good news is that we've never had it easier to do this. From email automation to targeted messaging to listening tools, survey tools and customer service tools – you have all you need to create an amazing connection with individuals, even if you are a big brand.
---
Video. Simply put video performs the best on any given social network. Those that can figure out how to repurpose their content for video or create new video content will win the eyeballs and garner increased engagement in social media.
---
It's vital for businesses to get real, to get back to the essence of who and what they represent on social media.
Of course it is possible to have an approachable tone of voice on your social media, and remain professional at the same time, but many businesses still struggle with knowing where to draw the line here. Social media is just that – social. So it is incredibly important to be part of the conversation and part of the community, and not just stand on a soapbox, broadcasting.
We are even seeing the shift in luxury, high end brands – they are loosening their strict tones on their social channels now too. Another vital consideration is accessibility. This is for two reasons – 1) Audience inclusion and 2) Campaign effectiveness.
Checking your campaign creative / media using colour-blindness filter, for example, ensures key campaign information and CTA's are visible even for different colour-blindness combinations. Similarly, including closed captions and voice over to your video content is inclusive for both the hearing and visually impaired.
If social media is the heart of online community, it should be inclusive and accessible to all. I think we will see TikTok continue to grow and become more of a dominant channel than it is now. The lines are also blurring now between 'social' and 'professional' channels, so I think how we use and interact on the likes of Facebook and LinkedIn for example, will start to merge more.
I'm sure new platforms will continue to pop up and test our loyalties! Ephemeral content is gaining in popularity, because of the results is achieves, and its rawness and immediacy, so I think this will continue in 2020. Some social channels are toying with removing 'likes', (lnstagram for example), which will be interesting to observe.
The aim is to alleviate social pressures and become more aware of mental health impacts caused by the negative effects of social media. All in all, social media channels are becoming more aware of their social responsibilities.
Finally, I'm also excited to see how XR begins to be more widely accessible and adopted on social in the next 12 months!
---
Be mobile ready
We have saved the best till last! Statista states that in 2020, the number of smartphone users worldwide is projected to reach 2.87 billion, up from 2.1 billion in 2016.
This means 2020 is the year your business cannot ignore mobile optimised content online.
What should your business do? Here are some tips to take into consideration
Optimise social media cover images for mobile
Optimise social media post images for mobile
Optimise your website for mobile use (ensure it's responsive)
Optimise your video for mobile (use captions on video)
---
At Idea Girl Media, we are encouraging all that we work with to plan a fresh face for 2020.
Evaluate, update, and refresh! Put your most current details forward, and be consistent on all online pages and social profiles. Create new graphics and imagery to really ace this wonderful new year with your best brand message to outshine your competition.
Then, implement strategies for the most important digital marketing trends for 2020: Personalization, Voice Search, Messenger Marketing and Video.
---
2020 is the year that you must start moving budget from legacy sales and marketing methods such as advertising, cold calling and email and moving that budget to support modern marketing method such as social media.
Key to this, is NOT to treat social media as just another tactic, but as a strategy. Ideally, you will active and empower you staff right across the business, in Sales, Marketing, Human Resources, Customer Services, Procurement, Finance, etc, etc.
I'm not talking employee advocacy, I'm talking about reducing costs and increasing company efficiency by using social media across the business.
---
Get to know your customers really really well. Find out what they are interested in, what they like about your brand and how they feel about it.
Focus on posting what your customers would like to see on your social channels, instead of what you find interesting.
---
Social media marketing isn't incredibly difficult. Create great content and engage genuinely with your audience.
Here's hoping 2020 will be the year we finally stop thinking there's some magic wand to have.
---
Times are changing. Fast!
Beyond all the new trends, new tools, new platforms, comes "the new" way of doing things and the importance to put to work our best adaptability skills in the face of every new circumstance coming our way.
Things that were working until now might stop working overnight and we need to be ready to adopt a quick strategy shift mindset when called for, keeping our minds open and finding creative ways to turn challenges into opportunities. Because the "new ways" will keep coming: social networks' updates, new policies, new algorithms, automation, augmented advertising, analytics intelligence, multi-cloud environments, AI, AR, and more.
Embrace the eternally active flow of "the new" and work with it.
As I outlined above with content at the core, the focus is also on learning how to make the best out of all the content produced by acknowledging the timing, and trying new approaches, always aligned with the brand's communication style and goals.
"Change is inevitable. Growth is optional." – John Maxwell
---
We all understand the value of content creation. I am not sure that everyone understands the value of the proper content distribution.
If you are creating content you need to go beyond the single-channel mindest and leverage all the different ways you can reach your users.
And no, this doesn't mean putting the same video in an email as you do on Facebook. True multi-channel content distributions take into consideration how people consume content on their platform of choice. It's a shame to invest time, money, and effort in the creation of excellent content that doesn't reach it's potential.
If you're not already building a healthy, segmented, and active, email marketing list, don't let this sit on the bottom of your marketing to-do list.
---
You need to listen to your audience. Social listening is crucial to determining what your customers need and want. Listen to them and care.
---
Never forget that our connections are people. Not "churn", not' targets", not "revenue", and certainly not 'likes".
---
Hey y'all – let's get human again. Here's a thought- rather than building your next automated funnel, go seriously old school and send a real, authentic, un-automated DM, text or email to a few specific buyers that actually know, like and trust you and ask for a referral.
What's old is new again. For something different, try LinkedIn's voicemail feature on your iPhone or Android: https://vengreso.com/blog/sales-voicemail-tips-linkedin-voice-messages
---
The most important social media marketing tip is to be authentic. As a brand, be honest and transparent.
Fluffed up content is everywhere. need to stay as far away from dishonest content as possible.
Go behind the scenes and humanize your brand with your social media content.
---
Pinterest continues to dominate social commerce because of its visual search technology capabilities. Because content on Pinterest can last for years this gives marketers more bang for their money. While content on other networks typically delivers results for only a few minutes or hours. What this means for marketers is that investing in Pinterest provides a potentially much much bigger ROI over time.
---
Videos have become more important than ever for social media.
Several studies have found that social media users prefer to watch videos than reading text. Additionally, Stories and Live Videos are becoming popular as well.
You should gear up for a year of creating more visual content than ever.
---
If, after all these amazing expert tips, you're still looking for ways to improve your social media marketing strategy, here is a comparison of social media management tools that can help both small and larger teams keep their social media game under control.