Social media has changed the way we search for information and services. It has become the primary source of information and services for many people, especially millennials. According to stats released by Statista, in 2022, there were 4.6 billion active users of social media across the globe. Social media is not just about posting pictures and status updates. It's also an effective way to find information on anything you can think of. From cat videos to scholarly research articles, Instagram, Facebook, and Twitter have a lot of content that is explored most of the time just by browsing from topic to topic. But this is not the only way we can do it! We can also search for whatever we want; however, the easiest way to do this is, most of the time, useless. 
Using the default search feature included in all these platforms is like searching for something in the attic of your old home; you know it is up there, but you'll have to dig through a whole pile of shit to get to it.
In this article, I will show you several tips on how to search on social media effectively and how to use some specialized tools to get even better results. These social media search tools will help you find user-generated content related to your interests across multiple social media channels in an organized manner. You can also discover new people or groups of people who might be potential customers or partners for your business. And better content that matches your specific needs! But first:
What are social media search tools?
Social media search tools are software applications, web-based platforms, or browser extensions designed to search, analyze, monitor, and extract information from various social media networks. These tools enable users to find content, users, hashtags, trends, and insights across different social media platforms like Facebook, Twitter, Instagram, LinkedIn, and others.
Social media search tools are commonly used for various purposes, such as:
Market research: Understanding audience preferences, tracking competitors, and analyzing industry trends.
Brand monitoring: Tracking mentions, sentiment, and conversations around a brand or product.
Content discovery: Finding popular and relevant content to share or curate for a specific audience.
Influencer marketing: Identifying and connecting with influencers in a specific niche or industry.
Customer service: Monitoring and responding to customer inquiries, feedback, and complaints.
Reputation management: Keeping track of online reviews and ratings, addressing negative feedback, and improving public perception of a brand.
Here are the top social media search tools:
Social Searcher is a social media search engine that allows users to search for specific content across all major social media platforms. You can search for anything from specific keywords to entire conversations, making it very useful for both individuals and businesses. What makes this tool special is the combined analytics summary report you can see at a glance, like in the picture below: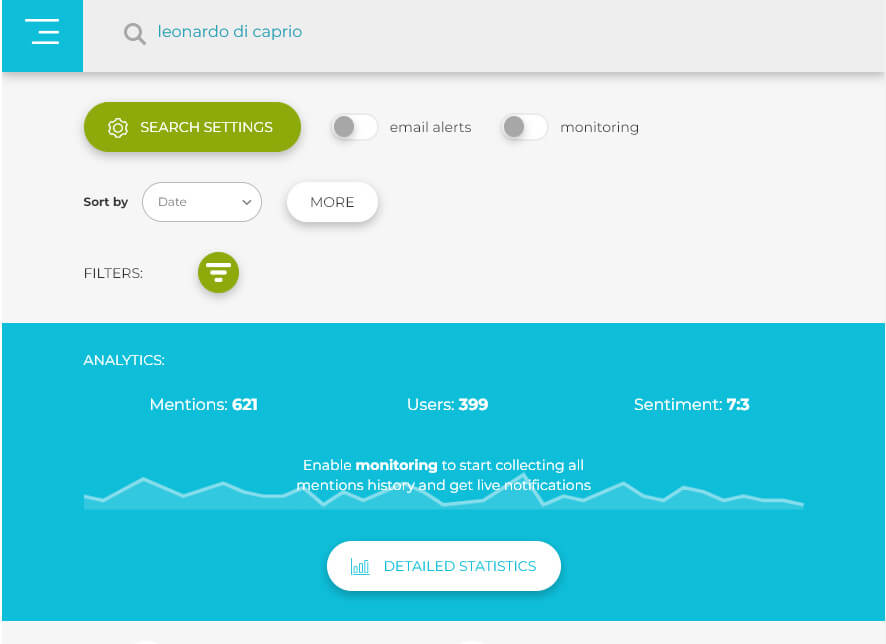 In the example above, I wanted to find out more about Leonardo DiCaprio, what he has been up to, and what other people say about him. The search results were sorted by date, with the most relevant on top, and this was very useful because I'm not interested in older information. But the most important thing that makes this tool stand apart when compared with others is the sentiment feature. This is by far the most useful feature because, in just one glance, I could get an overview of what people are thinking about him, is the sentiment positive or negative, and, more importantly, what is the ratio between positive and negative mentions? You can see the results in the picture below: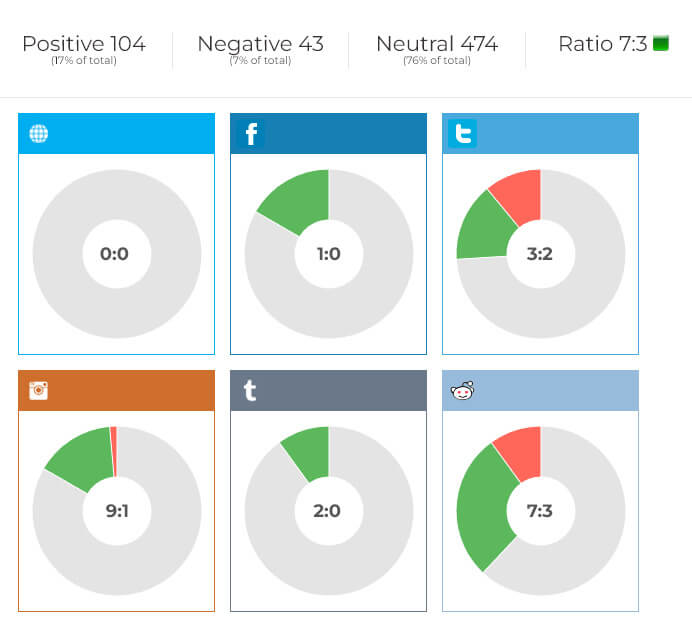 And as you can see in the picture above, the sentiment is even grouped by social media platform. In our specific case, this means that people are talking more favorably about him on Reddit than on Twitter. Let's look at one more controversial example, one that will certainly raise a lot of eyebrows: Johnny Depp. Here is the sentiment on August 30, 2022:
What I liked a lot was the quick access to the positive and negative posts, so I could dig deeper. And they were even grouped by network for easy access (e.g., YouTube, Twitter, Instagram). This is outstanding! 
And it also has the ability to constantly monitor and do real-time searches on social media, so you can be notified as soon as something happens, but for this feature, you would have to pay. Not much, around $5 to $10, but I think it's worth it, and this is especially good for businesses that rely on fast reaction times to current events.
Up to this point, I haven't talked about the negative things, but there are a few:
They could do better by preserving the original formatting of the mentions. For example, I clicked on a Reddit post to see what a guy meant, and I did not understand anything from the summary; I had to click again to open the original post to get an idea about what the context was. 
The automatic processing of the sentiment might have some problems. For example, I checked one of the first positive mentions about Johnny Depp, and I did not understand why it was related to Johnny. It was artwork for Tim Burton. I know they are somehow connected, but there was nothing obvious about Johnny Depp in this Instagram post. Maybe it was something deeper that I could not identify; however, I would take them with a grain of salt. You can manually verify each mention if you are doing in-depth research and remove the ones you don't consider adequate. 
So, here is the short version:
Pros:
Nice overview
Sentiment analysis might be very useful
Split by social media platform
You can go very granular
Cons:
They could do better at formatting the content
Sentiment might be unreliable; you must test and dig deeper to clean up automatic calculation
Over the years, Social Searcher expanded its features, updating its app to support Google+ and post sentiment. It also analyzed significant social media events, like the US Presidential Election Race in 2012 and Winter Olympics in 2014. The platform adapted to various API updates and added more social networks, including YouTube, Instagram, and Reddit, ultimately releasing its API V2.0 in 2015. Unfortunately, since then, there hasn't been much information about updates or future plans.
In conclusion, Social Searcher is an amazing tool for doing searches on social media platforms
---
Why is Google so good at doing searches? Because it is based on powerful algorithms that can take into account a large number of factors when determining the most relevant results for a given query. Additionally, Google is constantly tweaking and improving its algorithms to ensure that users always get the best possible results. And why are popular social media platforms like Facebook, Twitter, or Instagram so bad at giving good search results? Because they don't invest shit in improving the search functionality of their networks. They just don't care enough. Well, then, why don't we let Google do this job for them?
Google Social Search is a feature of the Google search engine that allows users to find results from their social networks, such as Facebook and Twitter. The results are displayed alongside the regular search results and are personalized for each user based on their social connections. Google Social Search was launched in 2009 and has since been integrated into the main search engine.
Google Social Search can be a useful way to find information that may not be easily accessible through a traditional search. For example, if you are looking for a restaurant recommendation, you may be more likely to find helpful results from Social Search than from a traditional web search. This is because, compared to the standard reviews, articles have a high chance to be fake, with the identity of the real poster usually being hidden. The authors usually have nothing to lose. Compare this with people who already have an image and identity on social media, like Twitter, for example. Those people are less likely to want to manipulate the opinion, and they might get a real conversation around their recommendation. I tried to look for the "best restaurant in London" as you can see in the picture below:
And I got a nice result, and you could even start a conversation with that person.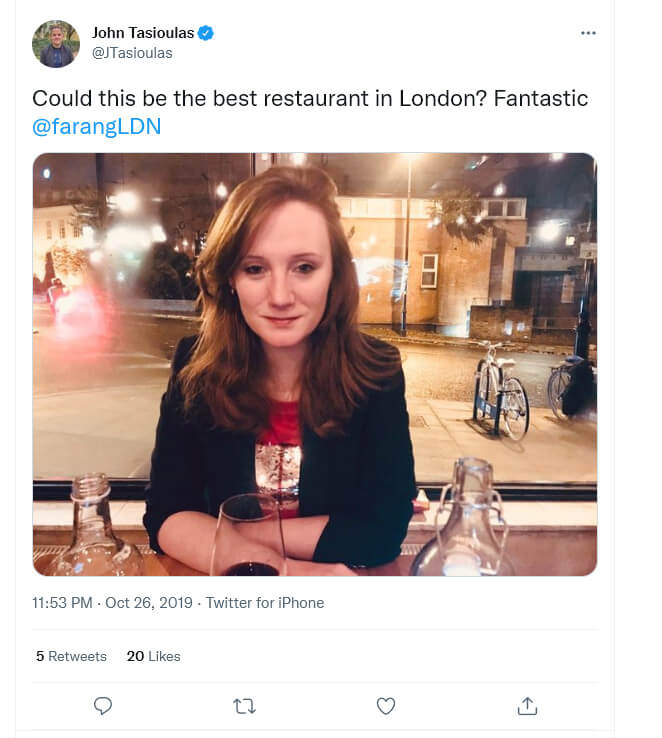 When compared to Social Searcher, Google Social Search is better at finding more specific stuff but not so good at providing an overall perspective on the topic at hand. If I use the same example as above, the one with Johnny Depp, and look only at Twitter, we get some interesting results. Some relevant tweets and Twitter accounts. But it goes south pretty fast, showing a lot of older stuff and shady fan-made accounts, which are not useful at all. Google Social Searcher is actually bad at conveying the actual pulse of social media. I can't really see what is happening, in other words, I can't grasp the whole story. It looks more like news items converted from tweets. One of the actual tweets on the first page of the results is an event from a few months back with the trial verdict, which I'm not interested in. I can find that on Google Search. I would like to know what other people say about this and what they tweet. From this perspective, Social Searcher is way better at this; not only do I get the actual tweets, but they are also split up based on sentiment. 
The summary for Google Social Search is this:
Pros:
It can be better at finding very specific info
Social media posts are treated more like news items (if this is what you want)
Relevancy is taken more seriously, but it goes down fast
Cons:
No overall perspective on things
No real-time analysis, statistics, or reports
Poor formatting
Old & irrelevant info has a higher weight than it should for social media
In conclusion, Google Social Search is a good tool for doing social media searches; it shines the most when doing very specific search queries and can be very useful when looking for recommendations or personal opinions about stuff.
---
First, we have to clarify one thing: are forums considered social media? Well, yes, they are! They are basically the predecessors of the current social media platforms. Forums are online discussion boards where people can post messages and engage in conversations on various topics. Many forums are organized around specific interests or topics, and people can join in on the discussion by posting their own messages or responding to others' messages. Forums provide a way for people to connect with others who share similar interests, and they can be a great source of information and support. In many cases, people form strong relationships and even friendships with others who they interact with on forums. This can certainly be considered a form of social interaction, but whether or not it falls under the umbrella of what modern people refer to as "social media" is up for debate. However, for the purpose of this article, we will consider forums social media, especially because they can be a well of useful and untapped information. They are usually disadvantaged even in typical search results in Google, while more authoritative websites will get prioritized as search results for modern queries. 
The population engaging in forums or groups has experienced significant growth, largely attributed to the enhanced availability of the internet and the ongoing expansion of online communities. A German study conducted between 2013 and 2016 provides evidence for this observation. This research serves as a prime example of the increasing prevalence of online forums and group involvement, which extends not just to Germany, but to numerous regions around the globe.
Boardreader.com is a search engine that enables users to search for content across multiple message boards and forums. The site includes a directory of over 1 million boards and a searchable database of over 2 million posts. To test this in practice, I used the same search query: "Johnny Depp" and thoroughly checked the results. The first thing that drew my attention was the fact that the results here lacked authority when compared to the ones I got in Social Searcher or Google Social Search. They were an interesting read, but it was pretty clear that they were posts from random people over the internet who did not care much about their image. On current social media platforms, the image of each individual contributing to the overall discussion is very important, and a lot of weight stays on their shoulders to make sure that each user does not screw it up by posting something stupid. This is not true for forums, where there's not much regard for each contributor's personal image. And this makes the quality of the search results way worse. Forums are more useful for specific advice, from people with hands-on experience. An example of such a query would be "How to fix the HPLC pump (JASCO-PU-2080) pressure error message?" If you need this kind of solution, and can't find much on Google Search, then Board Reader might be good for you. There is another case when this is useful: when you want to see real conversations of ordinary people on specific topics.
Short summary of the advantages and disadvantages of BoardReader:
Pros:
Can be helpful when you can't find stuff on other popular social search engines
Good for very specific advice
Good for following up conversations between ordinary people on popular topics
A lot of forum topics and posts covered
Cons:
For standard queries, it's really bad
Results don't have much authority
Information is generally old-ish, nowadays forms are on a downtrend
BoardReader was created in May 2000 by a team from the University of Michigan to help find information on forums and message boards, which other search engines struggled with. Over time, their "About Us" page vanished, and the site hasn't seen many updates. In conclusion, BoardReader is a very useful social media search tool, but for pretty narrow use cases. It shines the most when other tools fail. 
---
To understand what hashtagify.me is, we first have to understand what a hashtag is. A hashtag is a word or phrase, preceded by a hash sign (#), that is used to identify a message or topic on social media platforms such as Twitter and Instagram. Hashtags can be used to categorize messages, make a statement, or start a conversation. For example, if you're looking for posts about cats, you could search for the #cats hashtag. The same goes for landmarks, among which the most popular is probably Central Park followed by Eiffel Tower (according to a study from 2018).
Hashtagify has provided the most sophisticated hashtag lookup service since 2011, and it gives us access to 12,664,751 Twitter hashtags. If you are looking for something, it was probably mentioned in a hashtag at some point. You can use the site to research hashtags, find out what people are saying about a particular topic, and see how popular a particular hashtag is. The site provides a variety of features that make it useful for research, including the ability to search for hashtags, track hashtag usage, and analyze hashtag data.
And now, time for the hands-on experiment. Let's see what we get for "Johnny Depp". From the first step, it's pretty clear what are the strong points of Hashtagify. What I see pretty obviously is that the hashtag is down-trending this week and even more for the last month. This information was visible neither in Social Searcher nor in Google Social Search. And this information is very useful, especially if you are doing research for your business and you want to follow trends that are still growing in popularity.
Another big differentiator when we compare it to other social media search tools is the breakdown by language. In the picture below, you can see that the interest is higher for Spanish than for other languages (excluding English).
And, what I liked the most about hashtagify.me, especially when compared to Social Searcher and Google Social Search, is the way the information is formatted. Here it's way easier to scan the relevant tweets; just take a look at the picture below: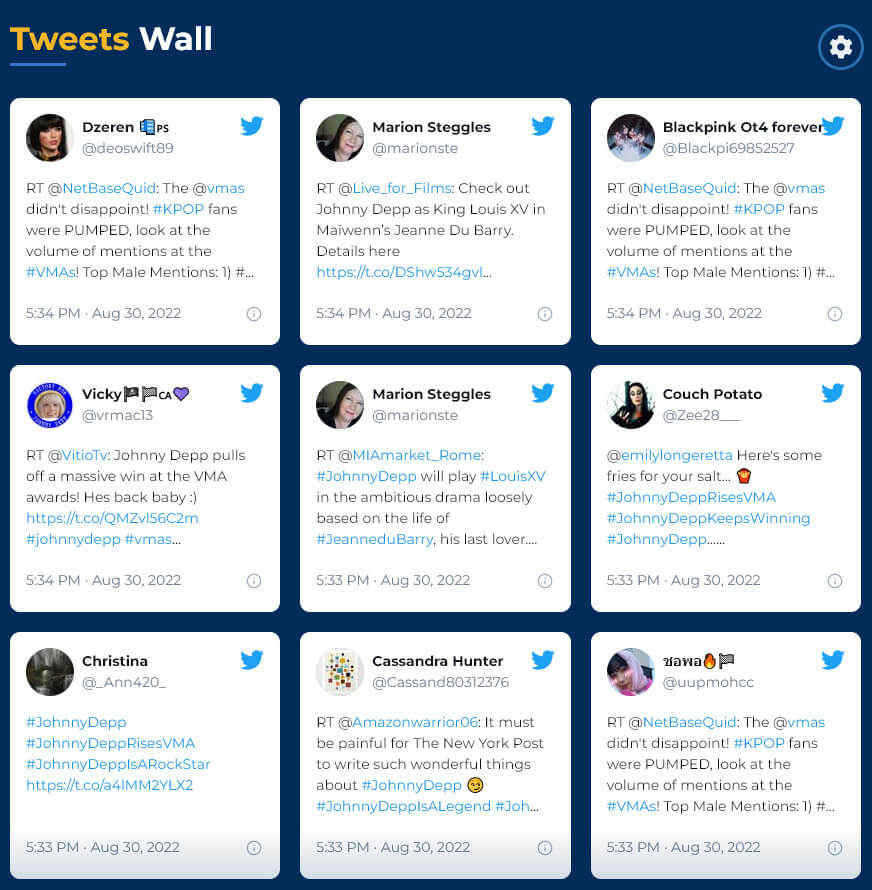 However, I will cover some negative aspects of it as well. When I did a similar search to the one I did on Google Social Search: "best restaurants in London", I did not get anything, not even a list with relevant tweets. This is because the search query is not particularly popular, and this tool relies a lot on popularity. Because of this, it is more useful for social media marketers. They need to stay on top of trends. And for this type of user, there's even something "juicier": a list of the most popular hashtags that they can use to promote their content.
And there are even more features, it works for Instagram as well, but you have to pay for that feature. The summary is this:
Pros:
Amazing look; you can understand everything from a glance
Very well formatted, I can scan tweets fast
Useful if trends are important to you
Provides even the evolution of trends over time, so you know when something is not going to last much
Very useful for marketers
Useful for exploring content through related hashtags
Cons:
Not very useful for specific queries with low search volume
Has a free version, but for advanced features, you need to pay, and the price is not on the low side (starting from $29/month for a monthly plan or $19/month when billed yearly)

In conclusion, this is the best tool I found in my research to dig out the best social media search tools. It's especially useful for search engine marketers and has very few drawbacks when compared to other tools.
Social media can be a tough place to search for information. The sheer volume of data and the number of users can make it difficult to find what you're looking for. And, of course, there's always the risk of getting lost in the noise.
Here is a summary of the prices and best features of the social media search tools I've mentioned in this article:
| | | |
| --- | --- | --- |
| Social Media Search Tool | Lowest Price Point | Best For |
| Social Searcher | Free | Big picture overview, sentiment analysis, and real-time monitoring |
| Google Social Search | Free | Very specific queries |
| BoardReader | Free | Finding forum discussions and very specific advice |
| Hashtagify | $19/month (when billed yearly) | Monitoring trends and exploring new content through related hashtags |
If none of the tools I mentioned above prove to be of use, then you should know that there is another thing you can rely upon, but it's more complicated to put into practice. The idea is to use advanced search operators. These are special characters and symbols that you can add to your search query to help narrow down the results. For example, using the "-" symbol will exclude any results that contain that term. Do a bit of research on them and try to come up with an advanced search query that should answer your needs. Of course, even with advanced search operators, social media search can still be challenging. In that case, try to combine the social media search tools I mentioned above with these advanced search operators, and hopefully, you can find what you are looking for.
In conclusion, social media search tools play a vital role in navigating the vast digital landscape, allowing users to find meaningful content, connect with others, and stay informed. As these tools continue to evolve, it's important to stay updated on their capabilities, features, and shortcomings to make the most of our online experience. So, while exploring the myriad of social media search tools available, keep in mind that the goal is to enhance our digital journey and avoid the frustration of the social media user who, after searching all day for quality content, only finds good cat videos!
See also: Which is the best tool for digital marketing?