In 2014 there were a lot of interesting facts and important milestones for the most important social media networks: LinkedIn has reached 300 million registered users (April 2014), Facebook reached 1.35 billion monthly active users (September 2014), Instagram hits 300 million monthly users (December 2014) and so on.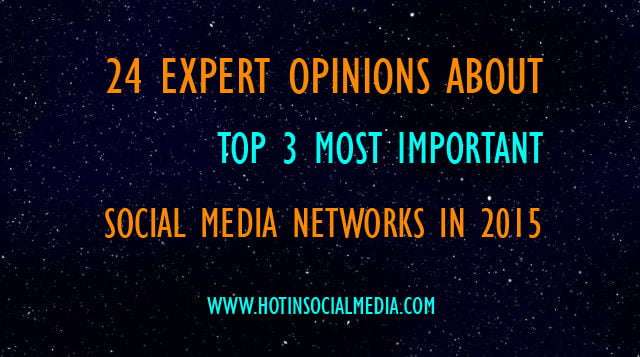 One of the big questions at the start of the new year for all the internet users (marketing and social media enthusiasts in particular) is: Which are the 3 most important social media networks in 2015?

24 of the well known social media experts have answered this question for our Hot in Social Media audience and you can read their answers below.

I want to thank all of the social media experts who were so kind to send me their answers! Don't forget to read the other 2 articles below, which contain advice and tips from these social media experts that will help you to have a great start to 2015:

 Which are the 3 most important social media networks in 2015?
Author and CEO of 60 Second Marketer and 60 Second Communications
 http://www.60SecondCommunications.com
Jamie speaks at events, trade shows and corporations around the globe on the topic of social, mobile and traditional marketing. He is a regular guest on CNN and HLN and has been profiled in the world's
best-selling marketing textbook. His blog, the 60 Second Marketer, is read by tens of thousands of marketers around the globe each month and his agency, 60 Second Communications, develops social, mobile and traditional campaigns for well-known brands such as Holiday Inn, TransUnion, Maid Brigade and others.
Answer: Twitter and LinkedIn will remain 2 of the 3 most important social networks in 2015, but Facebook will eventually be replaced by Instagram. It won't happen in 2015, but over the course of time, Facebook will begin to lose its grip on the youngest members of the internet population, who are starting to shift over to Instagram. Again, Facebook doesn't have anything to worry about in the immediate future, but I think it will be difficult for them to continue to hold their grip on so much of the traffic on the web.
Social Media Manager and Mentor
Keri is the Founder and CMO of Idea Girl Media. Her background includes more than fourteen years in international education connecting people globally and nurturing long-lasting relationships. During that time she was designated by the US Department of State for specific program work, and trained with a former US Ambassador. This positions her well for work with regulated industries.
Answer: There really is not a blanket answer here. Every business and/or professional is different, so each should have their own "most important" target platforms. First and foremost, a blog where you publish niche information should be the social hub — When the blog stops, online marketing results slow. And, LinkedIn is a given for every professional as their professional home base.
That said, three social media networks to watch:
1. Facebook Groups: Because most people are already on Facebook in some way – Some never log out. Facebook Pages have become challenging in a handful of ways. Facebook Groups offer a place where people of like interest gather, and due to that, are more likely to interact. Group members will also tend to eventually open up, and the exchange becomes more intimate. Facebook Groups posts also make it into the news feed with more predictability than from Facebook Pages. It should not really be an either/or, but a set of companion marketing tools.
My quote: "Facebook Groups: The new organic."
2. Instagram: Because it is visual and mobile – Always in our back pockets. It is not yet over-crowded, so it is easy to make valuable connections – both personal and business. You can also re-post Instagram content to your social networks to add self-created visual content to your social media streams. Plus, it is just plain fun!
3. Video: Just use it! Whether YouTube, Vimeo, Instagram, Vine, or organically uploaded from your mobile phone – Connecting with your audience in a real, authentic and visual way is ever more important. Those that do this will soar ahead of their competitors. Video is the ultimate attractor and ignitor – Like Red Bull for social.
Bestselling Author, Consultant and Keynote Speaker
The Brian Carter Group – http://BrianCarterGroup.com
With 15 years experience, Brian Carter is one of the leading authorities in the world on how to get organizations bigger online results. He is the #1 bestselling author of four social media books and has worked with and keynoted for companies that include NBC, Microsoft, Salesforce and many small businesses.
Answer: Facebook, LinkedIn and Twitter. These are the biggest and most used, and together their strengths overcome each others' weaknesses. There are other great platforms that help you reach niche audiences, like Instagram, Pinterest and Reddit- but most companies would make these their 4th, 5th and 6th choices- and some of them do not have advertising, which is critical for scaling your marketing reach and results.
Social Media Strategist, Community Management, Entrepreneur
VP Of Social Media – http://www.convertwithcontent.com/
Stephanie started helping businesses get results with social networks before Twitter even existed! Stephanie has worked directly with high profile clients like Oprah, Atlantic Records, Dashlane, The International Culinary Center, & many more. She specializes in helping business owners and marketers find massive ROI by developing targeted social campaigns focused on *engagement strategies* that work!
Answer: Niche sites will prove to be very valuable for many businesses. But if I have to name three, I'm putting my money on Instagram for community building, G+ for search benefits and Twitter for customer support.
Chief Digital Strategist and Technology Evangelist at Broadsuite
Broadsuite – www.Broadsuite.com
Brian Fanzo is the Chief Digital Strategist and Partner at Broadsuite helping enterprise technology companies utilize new technology such as Social, Mobile, Analytics and Cloud Computing to be more productive and become more involved in their communities as a social business! Brian is active across all social channels under the handle @iSocialFanz and was recently named as a top 25 Social Business Leader by IBM & the Economist
Answer: It's about conversations more than networks and the best place for conversations and content sharing IMO are: Twitter, G+ Hangouts, Linkedin/Slideshare
Entrepreneur, Social Media Expert, Branding and Business Coach
Sue B. is the founder of the online Instagram course Insta-Results™, the author of Instagram Basics for your Business, a CreativeLive instructor, a speaker and business coach. She teaches entrepreneurs, business execs, and marketing professionals how to leverage the power of Instagram for real business results. As a serial entrepreneur, Sue B. has started over eighteen businesses, including SueB Do, Boxer Rebellion and Sue B. Zimmerman Enterprise.
Answer: Facebook and Twitter have been wildly popular for the last several years and I think will continue to be important in 2014. But I think Instagram will be the sandbox of choice for many people this year. Instagram a fun play to play…. is simple, it's effective, and there are millions of users that are highly active daily.  Businesses have a huge opportunity to take advantage of Instagram in 2015. December 2014 Instagram announced there are now 300 Million Users!
Social Marketing Strategist, Keynote Speaker, Brand Evangelist and Acting CMO Brand Innovators
Ted Rubin is a leading Social Marketing Strategist, Keynote Speaker, Brand Evangelist, and Acting CMO of Brand Innovators. Ted is the most followed CMO on Twitter according to Social Media Marketing Magazine; one of the most interesting CMOs on Twitter according to Say Media, #13 on Forbes Top 50 Social Media Power Influencers, and number #2 on the Leadtail list of Top 25 People Most Mentioned by digital marketers. ROR, #RonR, is the basis of his philosophy…It's All About Relationships! His book, Return on Relationship was released January 29, 2013.
Answer: Facebook, Twitter and Instagram… Facebook owns the audience and provides the most relevant data and connection, Twitter is real-time and is all about communication, and Instagram is about images which is the easiest to produce and to connect with.
Marketing Consultant, Writer, Speaker
Honigman Media – http://www.brianhonigman.com
Brian Honigman is a marketing consultant, freelance writer and speaker. He works with both hot startups like Sumall and big brands like Dell focused on their content marketing, social media and search engine optimization efforts. He's spoken at NYU, UNICEF, Huffington Post Live and for other organizations and conferences. He is a contributing writer to the Wall Street Journal, Entrepreneur Magazine, the Huffington Post, the Next Web and others.
Answer: YouTube is currently experiencing a second wave of growth and this is coming in the form of semi-professional content creation. Very strong, inter-connected communities are forming around online personalities and many of these uniquely influential micro-celebrities are centered around YouTube as a platform.
Instagram is another platform to watch. It is currently experiencing staggering growth, and has the monetary backing of Facebook to help propel its growth even further. Brands have already started figuring out how to monetize Instagram and 2015 will see even more brands embrace Instagram as a monetarily viable network.
Snapchat was already hyped a lot in 2014 and I believe that much of this excitement was merited. Not only has Snapchat created their own social networking niche, but they have spent the last year improving their core product as well as introducing new offshoots that show a great deal of promise such as SnapCash.
Founder
High Powered SEO – http://highpoweredseo.com/
There are a lot of learning curves when it comes to blogging and social media growth. I focus on helping others achieve more with their online goals.
Answer: The 3 most important social media networks in 2015 will be Pinterest, Google+ and Facebook.
The reason is, so much going on in our daily tasks online we need to use more services that will keep our post visible for longer periods of time.
Pinterest can get engagement weeks or more after you shared your image.
Google+ has a high quality of traffic and using Communities effectively can get plenty of engagement from your shares.
Facebook is the wild card! I'm sure most of you have heard about the changes Facebook is making to Groups and Pages. The reason I say Facebook is the wild card is because if you have been effectively using Facebook for an extended period of time, you should still do well.
If you are just starting to use it or have not been using it long, you can still get a lot of benefits. Just be prepared to put in the work and the time!
Founder
Blogging Wizard – http://www.bloggingwizard.com
Adam is the founder of Blogging Wizard. Previously Operations Manager for a UK based marketing agency, Adam now helps others to become more successful online.
Answer: For my business the most important social networks are Twitter, Google+ and Facebook.
They are the networks that have been driving the best results in terms of social traction. But the truth is that it all depends on who your audience is and the results you get from each network as to which social networks will be most important.
In 2015 I'll be focusing more on the likes of LinkedIn and less on Facebook, mainly due to the benefits of LinkedIn publishing.
Founder of Soluma Productions LLC, Social Media Strategist
As a producer, writer and entrepreneur, Britt likes the excitement and creativity that comes with working on new projects. In addition to consulting for tech companies and television networks in the areas of social strategy and implementation, Britt has appeared on the red carpet as a social media correspondent for the Insider and Entertainment Tonight at events for Vanity Fair, the Daytime Emmys and the Billboard Awards.
Answer: Which social media networks are important depends on your industry. For instance product based businesses should focus on Pinterest, Instagram and YouTube because they give a rich visual experience while service based industries should focus on Twitter, Youtube and Facebook since these allow for more discussion and the ability to give actionable results.
Principal & Author
Kayakonline Marketing – www.kayakonlinemarketing.com
Entrepreneur, marketer, 2x author (3rd book coming soon), blogger of online marketing, SEO & social engagement topics. Stage IV Cancer Survivor. socialmediatoday.com Best Thinker and amateur photographer.
Answer:
– Google Plus (low barrier to engagement, excellent spam filtering, huge search boost due to instant indexing of public content, including both posts and comments)
– LinkedIn (for Pulse blogging – provided you have followers to make into an audience… if not, start building one now)
– Facebook (as an paid advertising vehicle, doors are wide open. Unpaid, not so great.)
Founder and Communications Strategist
Maggie Patterson is a communications strategist who works with entrepreneurs and corporations to help them craft intelligent communications strategies that boost the bottom line. With 15+ years experience, Maggie has worked with big brands and solopreneurs, and has run her own successful communications agency for nearly 10 years. She is the host of the Marketing Moxie Podcast and her work has appeared on leading websites including Virgin.com, The Huffington Post and Social Media Examiner.
Answer: Without a doubt, Instagram is going to continue to rise as businesses, even B2B companies figure out how to leverage it to tell their stories and connect with their audience. I think 2015 is the year that Google + either makes it or breaks it. I do think that Facebook, particularly Groups and advertising remain strong.
Social Media Strategist & Keynote Speaker
Antonio Calero is a Social Media strategist and coach specialized in user behaviour management. He helps businesses understand better their unique audiences to create effective social media content and campaigns.
Answer: Twitter will surely be one of the networks where users will shift; I expect it to grow in importance as an online marketing channel, especially considering the amount of new products they've been releasing in the past months (animated gifs integrations, new cards, advertising available in new markets, native retargeting, etc…).
Hootsuite Ambassador & Partner | Social Media and Digital Strategy Consultant
Adel is a Hootsuite Partner and helps companies develop and succeed in their digital strategies, Social Media presence and marketing campaigns which includes SEO, SEM, Social Media and Brand development.
Answer:
Google+ > Recently Google+ for Android reached Facebook's 1-5 billion install mark. With Facebook organic reach declining so much and Facebook users complaining about too many ads, I believe that we will see a significant growth in Google+ for business.YouTube > Over 4 billion videos are viewed on YouTube a day and about 700 are shared to Twitter per minute. The synergy between YouTube, Twitter and Your Blog can be extraordinary in terms of generating tones of real time traffic. Video converts better than other forms of content. (Marketing Land study)Twitter > Twitter is a favourite 'Go to' network for breaking news, social tv and sharing opinions, photos and videos from current events. Twitter is great communication tool in the event of disasters, a very useful platform to provide
customer service and a good lead generator for business.Keep an eye on: Ello and Tsu
Blogger
http://www.blogplustweet.com/blog
I'm a fifty year old living in Perth, Western Australia. Over the years I've been an actor, comedian, and freelance writer among other things. These days I'm heavily into blogging, Twitter and SEO. I teach locals in my city how to use social media for promotional purposes in private lessons.
Answer: Being a blogger myself, I consider Twitter to be number one. It's just the fastest, most concentrated network there is. It's simply the best way to connect with others who share my various interests (via separate accounts) and thereby develop meaningful online relationships, build authority, and draw traffic to my blogs.
I value Google Plus also. It's great for building traffic and authority, of course. But the way it incorporates so many different strands of Google's empire makes it even more useful. Having some niche websites with a local focus, I can create pages for them along with dedicated YouTube channels, for example. There are just so many advantages to being active on this network — with more to come, no doubt.
I also enjoy using Linkedin. As well as it having many great people to connect with, the groups in particular can be a good source of blog traffic. Then there's the publishing tool, which is perhaps the quickest way to build authority among influencers there is.
Principal
Jenerosity Marketing – www.jenerositymarketing.com
With 18+ years in the licensing, promotions and entertainment business, Jen Kramer has worked with some of the largest companies in the world. From Hearst Magazines to TibECo, she has worked in virtually every category from toys and publishing to housewares and grocery. Jen has a complete understanding of toy manufacturing due to many years at Avon and PPW developing innovative playthings for all ages. Most recently, Ms. Kramer honed her digital skills at social engagement company, SocialVibe (now true[X] media).
Answer: I still believe in the power of Facebook just in terms of sheer scale and targetability.  There is no other one platform that allows a marketer to reach their particular audience in such large numbers and in such a compelling and interactive way.  Plus, it owns and maximizes content from Instagram which is a huge benefit as well. From there, I think Pinterest with its high engagement and ROI.  It will be interesting to see how it evolves into an ecommerce platform as it continues to encourage consumer purchase and I look forward to seeing how they continue to expand amongst a male audience.  Last, I think Snapchat is doing some innovative things and they certainly have captured the younger target audiences.
Social Media Tutorial Creator and Blogger
Jacob is a digital marketing strategist and avid video game player living in Portland, Oregon. An early adopter of digital media, Jacob has observed the evolution and adoption of social media in connecting people online. Working as a Director of Marketing he continues to hone his craft and creates social media tutorial videos in his free time.
Answer: "You are your Google search," and for that reason I feel LinkedIn will be one of the more important  social media networks in 2015, particularly for sales reps and college students looking for post grad employment. Twitter is going to remain an important platform for both individuals and businesses who want to connect with prospects or partners and I'm also a big fan of producing video content to tell stories so you know I have to add YouTube into the mix.
Entrepreneur, Consultant & Content Writer
WPChronicles – http://wpchronicles.com/
A freelance consultant focusing on content marketing, search and social media. Always thinking of Big Data and new marketing techniques.
Answer: This part is tricky. My bet would be Twitter, Google+ and LinkedIn. With tweets being indexed by search engines, people are going to flock back into Twitter. There's no two-ways in this.
Google+ is a twin-edge blade as when Google killed authorship, it basically ranks Google+ on par with any social media platforms out there. However, because it is Google, they are good to make Google+ on the top in no time.
Lastly, LinkedIn is already the king in B2B and it will grow even bigger in 2015. Facebook At Work just shows how important it is for social media platforms to take a deeper stand in the business community … which LinkedIn been mastering for years. If you want success in 2015, get involved in LinkedIn — right now!
Founder / Creative Strategist
Jen Lew Marketing & Design – http://www.jenlew.com/
Small business today requires a new type of marketer; one that will help you navigate and manage your business message across niche groups and platforms – both online and off. Jen Lew is that girl. She specializes in providing innovative strategies and developing support services to manage marketing efforts with ease
Answer: Instagram, Pinterest, carefully selected social sites that work best with your audience on behalf of your business.
Social media coach, Blogger, Curator, Author
Social Media Slant – http://www.socialmediaslant.com
Cendrine Marrouat is a social media coach / blogger / curator, and the founder of Social Media Slant, a blog focusing on social media tips, tools, stats, and news for small businesses and solo-preneurs. She also hosts the monthly #smslantchat Twitter discussion and is one of Paper.li's blog staff writers. Latest book: The Little Big eBook on Social Media Audiences: Build Yours, Keep It, and Win
Answer: I see Instagram, Pinterest, and LinkedIn continue to play major roles in the social media sphere. The first two because they are all about visual content. People pictures, short videos, and infographics!
As average attention spans grow shorter, tidbits of targeted, useful, and entertaining information will have a greater impact than text.
Now, why LinkedIn? Because of its publishing platform, which allows all members to share their insights and expertise with peers and get valuable exposure in the process.
Marketing Strategist
http://www.stuartjdavidson.com
Stuart is a digital marketing strategist living in Kent, UK. Stuart blogs at StuartJDavidson.com, where he shares his extensive freelance and corporate marketing experiences. He is also the author of "How to Win in Social Media".
Answer: I would have to say that the 3 most important social networks would have to be the biggest 3 – Facebook, Twitter and LinkedIn. They are almost too big to fail now. This choice would obvisously change from person to person and business to business, depending on the perceived value of the social network towards one's own personal goals and objectives. For instance, a freelance photographer might argue that Instagram and Pinterest are more important to them than Twitter and Facebook, whereas an accountant might value LinkedIn as his most important social network.
Fearless Social Media Manager
Social Toppings: Web Presence Development – www.socialtoppings.com
As a Social Media Manager, I help individuals, businesses, and organizations build web presence through social media. I have taught hundreds of people how to use social media with a focus on fundamentals, application, theory, and productivity tools. I speak on the value of web presence and social media and currently serve as a mentor for veteran business owners seeking advice and guidance about social media.
Answer: Facebook will continue to remain the "top-dawg" social network for obvious reasons. After that, Instagram. No business or brand can ignore the engagement potential of that social network. Instagram may be more of a challenge for some, but a little visual creativity can pay "social" dividends on the platform. Lastly, YouTube. Video is (and has been) a crucial piece of any social media marketing strategy. We've been saying that for a few years, but 2014 brought with it video smartphone apps (Vine, Instagram, etc) allowing people to easily record and share their experiences online.
Senior Social Media Strategist
Marji J. Sherman extends her passion for genuine brand/consumer engagement on social media platforms to her blog, where she relates real-life experiences to the ever-changing landscape of social media.
Answer: Instagram: Focus is shifting to visual networks.
Facebook: Even though marketers are as frustrated as ever with it, there's still a large number of consumers there and brands will need to sharpen their Facebook ads skills.
Twitter: It will continue to be one of the best networks for one on one engagement with consumers which will be critical in 2015.