Do you know what makes the difference between two great brands? The capacity of understanding and empathizing with the users and clients! A brand that shows its struggles, weaknesses and the human side will always have more to gain than one that doesn't even try to communicate with its audience.
Social Media marketing is more than posting regularly on Facebook or Twitter, launching a few ad campaigns and uploading a video or a photo. Social media marketing is also about efficient customer care.
That's why people love the new types of social media so much. And here we're talking about Snapchat and Instagram Stories which give companies the chance of letting their guard down and showing a few their personalities and human touch.


Through this article, I'm trying to share some of the things I've learned while being on the both sides of this game. I have been a customer that needed help and asked for it through social media and I have also been on the other side, answering to messages from people who needed support.
First things first, why do we have to do support on social media? This might sound like a stupid question that could be answered through "That's where the people are!"
Of course, but even more than that there are another two important reasons to your support presence on social media.
Brands that have a great social media customer care are much more successful than those who don't. A study by Aberdeen Group found out that companies who have customer care programs on social media see an annual financial gain of 7,5 percent while companies who fail to adapt to this trend have a growth of only 2,9 percent.
Every Time I had a positive interaction with a brand, online, I bragged about it to my friends. I always felt like great customer care deserves to be rewarded, and what more can you do but preach the ones who helped you? On the other hand, if good experiences might help you get more clients, bad customer experiences determine people to stop buying altogether, also while sharing them on to their friends.
74 percent of online shoppers say that are influenced by the opinion of people they follow on social media. And answering to complaints on these mediums can increase customer advocacy by as much as 25 percent. You wouldn't want to miss this, would you?
A research made by Zendesk found out that 66% of B2B and 52% of B2C customers stopped buying after a bad customer service interaction and 54% shared bad experiences with more than five people.
Now, let's see what you can actually do to put up a Social Media Customer Care strategy and how you should manage that.
Reach Out On Social Media For Efficient Customer Care
1. Choose a dedicated social media platform and handle
I know, each of your social media accounts has its own purpose. One is for news, one is for letting people get to know your team and so on and so forth. Where could you possibly squeeze an account for support? Well, there is a simple answer. Simply create another account dedicated to support or repurpose one of your social media accounts. Many brands chose to create a special account for communicating with the users. For example, Hootsuite has created Hootsuite Helpers, which is one of the ways through which you can contact their support team.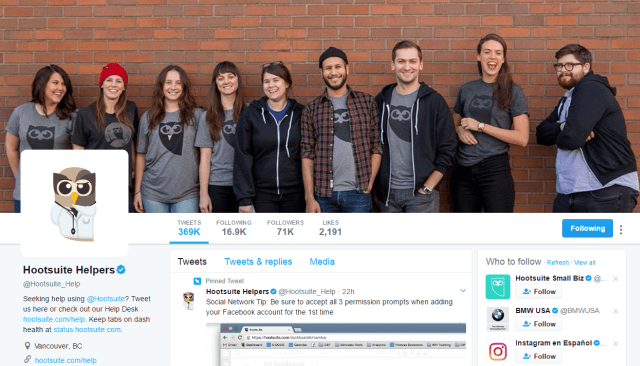 What I've seen different at their profile is that they are also using it to get their support team known. Each time one of the team takes over the account, they're letting people know. I think that's a great strategy of showing users who're the voice of a brand.
There are other platforms that can be used for support. Like Facebook which is encouraging brands to use it for customer care by constantly improving their messaging feature.
Even Snapchat is sometimes used by brands as a support channel! Just because its content is temporary, doesn't mean it can't provide value to your audience.
2. Social Media Guidelines
Before starting to let everyone know that you're choosing the way of support on social media, you should get ready your social media guidelines. This document consisting in deciding on a tone of voice (whether you're friendly and playful or serious) and response time for each channel you decide on using. Here's where you should also include a list of FAQ (frequently asked questions) and protocol on communication crises or other issues.
These guidelines will be your GO-TO document when you'll be in need of information and will make your life easier. One company that has a very specific tone of voice in their support is Slack. Their Twitter account is also used as a customer care channel. And they're doing such a great job! A few days ago they had some issues with their DNS, so the app crashed for a little while. Of course, messages kept pouring and they managed to answer to everybody in their specific sly- friendly tone of voice while empathizing with users.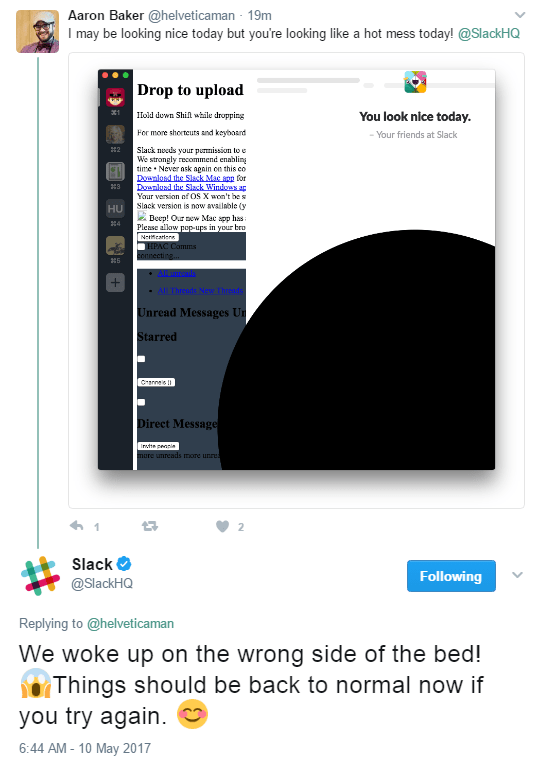 Takeaway tip: Always match your tone of the user when responding but still while keeping your personality. If someone has an urgent matter to solve, try avoiding using teasing language or emojis. He or she might think you're not taking things seriously.
3. Monitoring social media mentions
This part is one I believe you're already doing if you have any social media presence. If you don't, start monitoring now! There are so many apps and platforms that can help you do that, I don't have enough fingers to count them. Some of them, which I totally love, are Social Mention – which can also offer you info about your brand's strength (how often it's being discussed), Hootsuite and Brand24.
Another way through which you can monitor your brand is more manual, but efficient nonetheless. If you don't have a budget for monitoring platforms, searching for yourself on each network might be the solution for you. Simply look for yourself and see what people are talking about.
Takeaway tip: Try writing your name or keyword differently. You'd be surprised how many people misspell it.
For Bannersnack, we have to look for different misspellings of our name because people continue to write it wrong while addressing matters about us. If we knew about this tweet in 2012, we would have thanked the user for recommending us!


You might ask yourself something. What do people want when they reach out for you on Social Media? What needs should you fulfill through your social media support?
Well, usually people write to support when they experience a problem with the product or service while using it. And that means they are probably working and need a fast answer so they can go back to their job and solve the problem. Of course, you're not Flash to answer everyone exactly after they contacted you, but try doing that ASAP. In case you forgot to get back to someone, apologize and try helping.
Takeaway tip: Try using a person's name when you're talking to them. As Dale Carnegie, author of  'How to Win Friends and Influence People'  said: "Remember that a person's name is, to that person, the sweetest and most important sound in any language."


What people also expect from you is being kind and honest. When users have a problem, they want you to take it seriously and understand their needs. A study made by McKinsey found out that, 70% of the whole customer care experience is based on how a person thinks they're being treated. You don't have to be a kiss-ass, you only have to pay attention and be nice.
Here's one quote I love from a person I admire a lot:
"I genuinely believe that any business can create a competitive advantage through giving outstanding customer care." – Gary Vaynerchuk
Final takeaway tip: Don't be afraid of having fun while doing support on social media. People appreciate a good joke from time to time.
Conclusion
Delivering high-quality support on social media, where your customers already are present, can help you build tighter relationships with them! social media isn't only a powerful marketing tool – it's a chance of conversation, of learning new things and understanding your audience better all while making your clients happy! Which is or should be everyone's goal!
Did you have experiences with social media customer care from either perspective? Let me know in the comments!
PS: At the time of writing this article I had a conversation with a potential client from Spain on Facebook. He wanted to know whether he could use Bannersnack for creating Youtube banners. He didn't speak English and I don't speak Spanish, yet somehow, we managed to have a pleasant conversation and I accomplished helping him. See? Support on social media is easy if you really want to help people.
See also: Best 4 Practices to Promote Your Brand Free of Cost through Customers