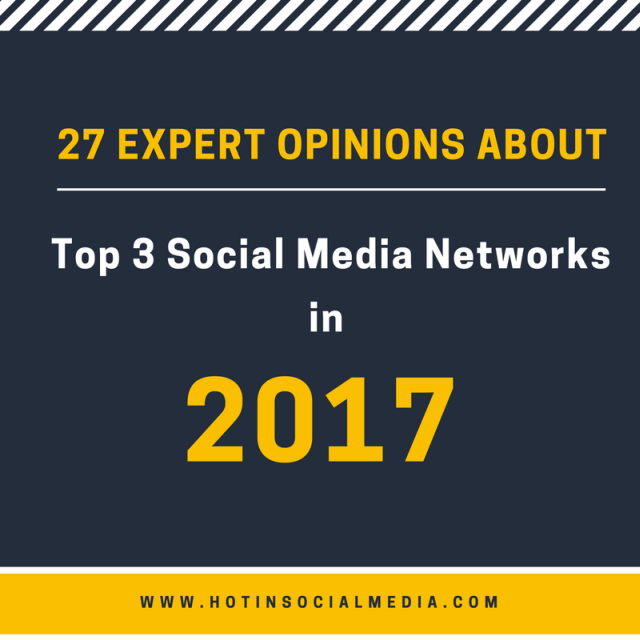 2017 has just begun and there are a lot of people who are using different social media networks for personal uses but want to know which is the best if they want to use them for a business purpose.
In 2016 we saw a lot of interesting statistics about new milestones that the most known social media networks reached. For example: at the beginning of June 2016, Snapchat had 150 million people using their social app each day compare to Twitter, that has less than 140 million users on a daily basis.
Meanwhile, Facebook has 1.18 billion daily active users on average (September 2016) and 1.79 billion monthly active users (September 30, 2016).
Less than a month ago (December 15, 2016) Instagram announced they passed 600 million accounts, the last 100 million accounts have been added in the last 6 months.
In this conditions, a lot of people (social media managers, marketers, managers, CEOs, advertisers etc) are asking themselves: which will be the top 3 social media networks in 2017?
At this important question, there were 27 social media experts that were very kind and send me their answers… which you can read them below. Thanks a lot, guys, for sending me this relevant opinions and explanations about your top 3 social media networks in 2017!
 
2017 Digital Marketing Predictions From 24 Marketing Experts
Top Social Media Marketing Experts Share Their Best Advice

Which will be the Top 3 Social Media Networks in 2017 and why?
CEO
TopRank Marketing – www.toprankmarketing.com
Lee leads a team of top digital marketing consultants that help top B2B and consumer brands grow demand and revenue. Lee evangelizes an integrated approach to search, social, influence and content marketing at events around the world and on toprankblog.com.
Answer: 
1. Facebook – Because Facebook has made the art of social content an addiction for the masses. It's where people are spending their time and as the old saying goes, you have to fish where the fish are.
2. LinkedIn – The opportunities for business marketers to connect with specificity to their buyers on LinkedIn is virtually unmatched.
3. SnapChat / Instagram – This is a tie because both are innovating and have momentum for adoption and engagement. Feature competition is only going to make these two networks stronger in 2017.

Keynote Speaker, Author and Digital Marketing Consultant
With 17 years experience, Brian is one of the leading authorities in the world on how to get organizations bigger online results. He is the #1 bestselling author of four social media books and has worked with and keynoted for companies that include NBC, Microsoft, Salesforce and many small businesses.
Answer:
Facebook, Twitter and Instagram. Sorry to leave out Snapchat- but until they make advertising available to everyone, I can't include it, because I'll never recommend a platform where organic is the only option.
1. Facebook:
Used by 70% of the global Internet audience, and 70% of Americans over 13.
Has 3x the users of Twitter or LinkedIn.
The best one-stop way to reach most customers of most businesses.
Americans spend 50 minutes a day on it.
Best ad targeting there is second to Google.
Works not just for B2C but also B2B with job title targeting, seniority, company names and company size.
Has two apps in the top 5 (if you include Instagram).
Can be used to advertise on Instagram.
Over 50% of marketers would choose FB if they could only market on one social network.
Unique in its incredible control over cost if you increase CTR- and because of this, the most affordable ad network there is.
2. Twitter:
Still, a staple when it comes to influencers, blog promotion, trending topics and tweet chatting.
Public and transparent.
Easy to data mine and search.
Easy to automate.
Twitter Ad network is not as horrible as some.
Still, there are questions about whether Twitter will remain relevant. Need to keep an eye on it.
3. Instagram:
Along with FB and Snapchat, one of the three most popular social networks with youth.
Great organic engagement (much better than Facebook).
Can be advertised on via Facebook ad system.
However, everyone is still figuring out the most effective ways to advertise and get bottom line results with Instagram ads. Facebook is still the easiest way to get leads, sales and app installs.
Social Marketing Strategist and Keynote Speaker
Ted is a leading Social Marketing Strategist, Keynote Speaker, Brand Evangelist, Acting CMO of Brand Innovators, and Co-Founder of Prevailing Path. Ted is the most followed CMO on Twitter according to Social Media Marketing Magazine; #13 on Forbes Top 50 Social Media Power Influencers and number #2 on the Leadtail list of Top 25 People Most Mentioned by digital marketers.
Answer:
1. Facebook… the hub of everyone's life and social presence now and for the foreseeable future.
2. Instagram… the easiest to use and the utter simplicity of creating content at scale.
3. Twitter… real time news, easy conversation, and the customer service social go-to platform.


Founder of Jenn's Trends and the World's Forefront Blogger on Instagram Marketing
Jenn Herman is a social media consultant, speaker, and globally recognized Instagram expert. She is the forefront blogger on Instagram marketing and her blog, Jenn's Trends, has won the title of a Top 10 Social Media Blog in 2014, 2015, and 2016. Through her blog, consulting, and speaking Jenn provides tips, resources, and training for small to medium sized businesses that need to structure their social media strategies. Her business background includes Administration, Sales, Human Resources, and Marketing and she enjoys bringing all these skills together to help you grow your business. Jenn has been featured in Inc., Yahoo Finance, and numerous other podcasts and publications. She is the author of "The Ultimate Beginner's Guide to Instagram" and "Stop Guessing: Your Step-by- Step Guide to Creating a Social Media Strategy".
Answer:
The top 3 social media platforms will be Facebook, Instagram, and Snapchat. Facebook will continue to be the most important because of its massive reach and constant growth globally. But with live video and additional features being added to Messenger and other tools, Facebook will continue to find ways to keep people more entwined on the platform. Instagram will continue to grow in popularity and demographic reach in 2017, finding more commonplace use across more age groups. And with more emphasis on Instagram Stories, they are expanding that reach and use even more. Snapchat won't die out, even with Instagram's efforts to replace it. I actually believe the back and forth battles between Instagram Stories and Snapchat will fuel both platforms forward in 2017.

Content Marketing Expert /Author /Speaker
Pam Didner is a marketing consultant, author and speaker, whose international book, "Global Content Marketing", is the first to offer an accessible, comprehensive process to scale content across regions. During her tenure at Intel, she led enterprise product launches and worldwide marketing campaigns as a global integrated marketing strategist. She now leads a boutique-consulting firm that trains, coaches and provides strategic guidance on audience development, messaging architecture, editorial planning, content creation and media outreach on a global scale.
Answer: 
Useful is a relative term. I think each social media network can serve different purposes. You need to know where your customers go to get information and how to use each social media network. It's not about which social network is the most useful. It's about which social media network you customers find useful.  With that being said, the usual suspects are Facebook, LinkedIn and Twitter.  For China, the popular platforms are WeChat, Weibo and RenRen. For Russia, they likely are Vk.com, OK.ru and Facebook. See how the popular social media platforms can be different from country to country.


Digital Marketing Strategist
Julia Campbell helps her mission-driven clients find their audience online, using websites, email, blogs and social media marketing strategies.
Answer:
The top 3 most useful social media networks in 2017 depend entirely on you, your business, and your audience. What works for a large nonprofit may not work for a small local business. However, I will tell you the 3 social media networks that I will focus on in 2017: Instagram, YouTube, and LinkedIn.
1. Instagram
is growing at a phenomenal rate. It also has the highest engagement per user of all the social networks (except maybe for Snapchat, but it's hard to find hard data about that platform). Instagram is a perfect channel to showcase who you are, your products, your services, and give a glimpse into your personality.
2. YouTube
is the second biggest search channel in the world. The video is and will undoubtedly remain the most popular form of social media content, across demographics. Your mom loves YouTube, just as your teenage niece loves it. People go to YouTube to watch videos, and they tend to watch more than one per viewing. Take advantage of this and make great videos specifically targeted to your audience and customers.
3. LinkedIn
is underutilized in my opinion. Blogging on the platform will undoubtedly grow, and that is where LinkedIn's power lies. I receive more views on my LinkedIn status updates than I do on Facebook, and I receive very high-quality leads on the platform as well.

CEO
Randy Milanovic is an entrepreneur, marketer, author and blogger of online marketing & SEO. A 4x author, he's also a stage IV Cancer Survivor who has been seen in: forbes.com, business2community.com, steamfeed.com, socialmediatoday.com, financialpost.com, spinsucks.com, the CTV News, and recently, the was featured nationally in the Financial Post Magazine: Entrepreneur/Innovator edition, article titled: Keep Running.
Answer:
1. Instagram: every time Facebook sees a popular feature in a competing app, they add the feature to Instagram. I suspect there'll be a legal battle at some point if they keep copying competitors, and it'll take a competitor with deep pockets/resolve to do it. With Snapchat launching Spectacles, it's clear they see the writing on the wall. But Spectacles?? We'll have to see how wise they are with that one.
2. Facebook: I suspect it is simply too big to fail. While funny memes will always provide entertainment for users and fake news (propaganda?) will continue to help elect politicians, a reality is that marketers will be happy to spend to reach the demographics/psychographics of a billion users Facebook so expertly identifies. General discussion amongst marketers around the water cooler is that the ROI of high performing ads tends to diminish the longer they run or the more budget is put on them, causing marketers to rework ads to maintain ROI.
3. LinkedIn (Microsoft monetization)
Here's the one that has my attention the most. Microsoft's user base plus LinkedIn's user base is a decidedly 1+1=3 scenario. Question is, just how are users going to be leveraged to recoup the $26 billion dollars spent? No sane person things Microsoft is going to give it away. We're already seeing a reduction in access/gating and adjustments to features in some membership levels. And more ads. Some days it feels like every second post is sponsored.


Founder
Ian is a marketing tech guy who founded RazorSocial and he helps companies take advantage of marketing tech to become more effective and efficient. He specializes in social media and content marketing.
Answer:
Facebook, Snapchat and LinkedIn. Facebook will hit 2 billion users in 2017 so hard to ignore. Snapchat will continue to grow rapidly. LinkedIn is an amazing tool for B2B that is vastly underutilized.


Co-Founder
www.digitalleadershipassociates.com
Tim Hughes is a transformational leader, best-selling author and top 10 Social Media influencer. With a background in sales and sales management, Tim has been involved in Social Media for over 7 years, having built a following of Twitter of 150,000 and becoming a top 10 influencer. He is an international renown speaker, blogger and writer.
Tim is the co-founder of Digital Leadership Associates, a company designed to help companies make a transformational move to embrace digital and social.
Answer: 
For B2B LinkedIn, Twitter and Instagram will remain the top three networks. Unless LinkedIn and Twitter up their game, they will lose out to the might of Facebook. We will also see more use of private social networks, but still with the social naturals.


Content Marketing Practitioner
The Social Media Hat – www.thesocialmediahat.com
Mike is a Content Marketing Practitioner, Blogger and Author in St. Louis, and the Chief Marketing Officer at SiteSell. He has been working with websites and the Internet since the early '90's and is active on all of the major social networks. Mike teaches a holistic approach to content marketing that leverages blog content, social media and SEO to drive traffic, generate leads, and convert those leads into sales.
Answer:
The top three most useful networks will vary greatly from business to business depending on their audience and best use cases. However, 2017 will be the year that Facebook rises to the top as the most useful network for virtually everyone. While it's been the most popular network for some time now, there's always been debate among businesses and marketers as to the value of Facebook on a case by case basis.
Some businesses might have a lot of luck using Pinterest, while others might prefer Instagram or LinkedIn.
But soon, there'll be no doubt that Facebook is the clear winner. Between Live Video and Events and Targeted Ads, there's just no equal.
Founder and Social Media Expert
Highly regarded on the world speaker circuit, Lilach has graced Forbes and Number 10 Downing Street. She's a hugely connected and highly influential entrepreneur. Listed by Forbes as one of the top 20 women social media power influencers and was crowned the Social Influencer of Europe by Oracle and the number one Influencer of the UK by Career Experts. She is a recipient of a Global Women Champions Award for her outstanding contribution and leadership in business.
Answer:
I think that the usual suspects – Facebook, Twitter and Instagram -, will continue to be the top social networks for marketers and businesses. They continue to be the most widely used social networks, while others, although very popular, are more likely to serve a more niche audience. Marketers need to be where their audiences are, so the most useful social network will very much depend on that.

Millennial Speaker & Founder of iSocialFanz
Brian Fanzo Talks Fast & Tweets Faster, Is a Translator of GeekSpeak and a self-proclaimed Change Evangelist, that also happens to be a pager-wearing millennial known by most as iSocialFanz. Brian is a Millennial Keynote speaker that spoke at more than 50 events in 10 countries in 2016 and also hosts two podcasts: S.M.A.C.Talk & FomoFanz.
Answer:
Top 3 social media networks often depend on what the brands are looking for when it comes to defining success and measurement. For most brands Facebook/Instagram will be the place for nurturing their existing audience and leveraging creative content, Twitter will still be leveraged to reach a new audience and expanding their community and Snapchat will be the place where brands aren't as worried about reaching their consumer on the platform rather those who influence the consumer's purchasing decision.


CEO
MarketingXLerator – www.marketingxlerator.com
Natascha's motto is "Give a man a fish and he won't starve for a day. Teach a man how to fish and he won't starve for his entire life." As the CEO of the boutique social media marketing consultancy MarketingXLerator, she brings over 20 years of experience at startups and large enterprises to the table. She's also a published author and teaches social media at UCSC Silicon Valley.
Answer: 
As much as it pains me to say that, I think Twitter as we know it is a thing of the past. Twitter used to be my most favorite network but it appears that all the doom and gloom talk has taken a toll. I've seen engagement way down even though I've been unable to put my finger on it. My best guess is the algorithm changes to the tweets we get served up is having an impact.
The three most useful networks of 2017, IMHO, will be:
1. LinkedIn for all those focusing on B2B. Hands down, LinkedIn provides some of the best targeting, a great business audience and lately, a decent app.
2. Facebook for B2C and increasingly, B2B. While I would not try to sell million dollar software on Facebook, for smaller deal sizes, Facebook advertising has been showing increasingly good results. It's the place with the largest audience and engagement worldwide. If you are in B2C, it's a no-brainer.
3. Snapchat for a young demographic. There's no denying it, Snapchat has been taking hold and growing. If you are targeting young people, it's time to think about having a presence. IMHO, Snapchat can work for B2C but maybe B2B is in the future or just requires some creative marketing ideas. – PS: Instagram and Pinterest are right next in line, depending on your target audience.

Founder & CMO at Idea Girl Media – Social Business Faculty Chair at Simplilearn
Keri Jaehnig is the Founder and CMO of Idea Girl Media, an international Social Media Marketing Agency that works with business brands, public figures & select non-profits, providing customized marketing campaigns and social media training. Now the Social Business Faculty Chair at Simplilearn, I am humbled to have received a 2013 Small Business Influencer Honorable Mention Award, and a commendation for Outstanding Attainment in Social Media from the Senate of the State of Ohio. My insight has also been featured at Social Media Today, SteamFeed, Search Engine People, and AOL Small Business, as well as Forbes and Business Insider. Non-fat lattes, travel & quick wit make me smile, and I am always enthused to meet new people!
Answer:
This depends on your professional field or purpose of use. Every niche and every business will be different, and every person is different. So, we must consider what combination will bring the most customized, appropriate result. That said, our society is increasingly more visual in nature. So, social networks that offer a visual element will continue to be useful. There are many recent advancements with video – Especially live video. This feature allows brands and public figures to build important relationships with their fans and followers. Facebook, Instagram, and YouTube speak to this. Pinterest has also been making strides with their platform which will be optimal for those in travel, real estate, home decor, culinary, and the like. Still, relating that back to your own blog and website is the key to online marketing success.


CEO of Arment Dietrich and author of Spin Sucks
Gini is the CEO and founder of Arment Dietrich, an integrated marketing communications firm. She is the author of Spin Sucks, co-author of Marketing in the Round, and co-host of Inside PR. She is the lead blogger at Spin Sucks and the founder of Spin Sucks Pro.
Answer: 
Instagram just keeps killing it with new features. It'll be number one for next year.
I really hope Twitter is still around next year. It's my favorite and it continues to be the number one driver of social media referral traffic to our blog.
I know email isn't social media, but it's far more effective for nurturing prospects and converting sales than anything else.
Account Manager
An experienced new media marketer and personal branding advocate, I work with both companies and individuals in developing, maintaining and leveraging their digital identity online. Connect with me on Twitter or view my social media video tutorials on jacobcurtis.com.
Answer:
I believe the top 3 most useful social media networks in 2017 will be Facebook as it never stops innovating and provides the main hub for social media users and now Facebook at Work for business communication. Instagram has also released a few updates in 2016 like stories and longer video uploads which will continue to increase its popularity and use. Finally, with LinkedIn recently being acquired by Microsoft in 2016, I'd have to recommend keeping active and on top of that platform, especially for display advertising.


SEO & Social Media Maven
SBN Marketing – www.sbnmktg.com
Stephanie Boyette Nelson is the owner and SEO/Social Media Maven at SBN Marketing, a Charlotte-NC-based boutique digital marketing agency. Stephanie's marketing experience runs the gamut – print ads, print newsletters, event coordination, e-mail newsletters, paid search, SEO, and more. Currently, SBN Marketing specializes in social media marketing, content marketing, and on-page SEO for small businesses.
Answer:
I think the top three, in no particular order, will be Pinterest, Instagram, and Facebook. They all are heavy in the visual field, which I mentioned I see as one of the biggest social media trends for 2017. They all offer, or will soon offer, the ability to buy a product directly from a post, which is vastly important to retail businesses. And they all offer analytics for social media managers to use to see what's working, what's not working, and provide ROI data to the C-suite.

Director of Social Media at HCK2 Partners
HCK2 Partners – www.ingridkibler.com
Ingrid's passion is to help clients harness the power of social media for their business. From presenting innovative ideas to devising a winning strategy to staying in-the-know of the latest, my job is to help clients utilize this technology in surpassing their business goals and keep them ahead of the competition. Ingrid's been honored with several awards in the social media industry and speaks regularly at social media conferences across the country. But for her, it's not a job. It's a privilege.
Answer:
Facebook continues to be big because it's the top-performing platform in the social industry. Instagram continues to grow and evolve, and brands should use it if it makes sense for their business. LinkedIn continues to dominate the B2B landscape and should be used by businesses, even if it's just encouraging their employees to network professionally.

Author, Artist, Producer
Britt is a writer, producer and entrepreneur She likes the excitement and creativity that comes with working on new projects. In addition to consulting for tech companies and television networks in the areas of social strategy and implementation, Britt has appeared on the red carpet as a social media correspondent for the Insider and Entertainment Tonight at events for Vanity Fair, the Daytime Emmys and the Billboard Awards.
Answer:
Instagram and Snapchat continue to be popular among younger demographics who have quick attention spans and a hunger for brand interaction. YouTube is essentially the millennial go to hub for news, lifestyle and entertainment content. The common thread in all effective marketing channels is short visual bites that can be consumed quickly on mobile or large screens.

Marketing Manager at CityDocs and Blogger
Top 40 Social Media Influencer by Onalytica. Top 40 Twitter influencer by BrandWatch. Featured and quoted by many leading marketing magazines, websites and blogs. "In boxing, styles make fights. In blogging, styles make readership" – Stuart Davidson
Answer:
Probably the 3 biggest networks right now by monthly visitors: Facebook, YouTube and Twitter. If anything, LinkedIn at #4 may close the gap on Twitter and even overtake (currently around ~50M difference in users) if they have a big year.


Principal
Jenerosity Marketing LLC – www.jenerositymarketing.com
With 20+ years in the licensing, promotions and entertainment business, Jen Kramer has worked with some of the largest companies in the world. From Hearst Magazines to TibECo, she has worked in virtually every category from toys and publishing to housewares and grocery. Jen has a complete understanding of toy manufacturing due to many years at Avon and PPW developing innovative playthings for all ages. Just prior to launching her own business, Ms. Kramer honed her digital skills at social engagement company, true[X] media which was later acquired by 21 st Century Fox.
Answer: 
Facebook due to its sheer size and constantly improving the algorithm, Snapchat as they have the pulse of today's youth and Instagram for a combination of the two reasons above. They are mimicking Snapchat in terms of platform capabilities but have the power of FB behind them and are working hard to get a handle on m-commerce as well as consumer engagement.

Content and Social Media Manager at Social Media Today
Andrew Hutchinson is the Content and Social Media Manager at Social Media Today
Answer: 
This is impossible to say – each brand will have a different top three, depending on their audience, their products or services and what they're looking to achieve. The best advice on this is to analyze your audience – use a tool like BuzzSumo, for example, to see which networks are seeing the most share activity on content related to your business niche. Look at key influencers in your market and where they're active (and what response they're seeing), look at other brands and benchmark their performance on each platform to see which are generating better results.
There's no "one size fits all" approach to social media marketing, it all comes down your audience and their behaviors. Go where they go, provide them with information relevant to their experience and you'll be on track to maximizing your success.
Social Media Influencer
Bold by nature, I strongly believe in helping companies with their marketing challenges. With over a decade of experience in the digital world, I've help brands and businesses to reach new heights and triple their revenue through the power of digital marketing.
Answer:
Facebook, Instagram, and Snapchat. Facebook is pretty solid at the top and probably will be so in the coming decade or so. But Instagram and Snapchat are the true game changer (in the past), and it will continue to play a dominant role especially in reaching the millennial market. However, trends are showing that growth beyond the millennial age-gap is slowly growing especially in these platforms.


Content Marketing Strategist
Good Reads in Social Media & Content Marketing Google+ Collection
DARC: Digital native with Analytical chops, strong web Reach, and Content creation skills. I also help individuals, businesses, and organizations to build web presence through social media. I speak on the value of web presence / social media and serve as a mentor for veteran business owners seeking advice and guidance in using social media.
Answer:
Facebook, Twitter, Instagram, and SnapChat (I mean Snap) are becoming everyday staples in our day-to-day, but what I find most impressive about these social networks is their ability to continually evolve over time. 2016 was about the video and all these social networks got onboard (for good reason). We love watching videos. Who hasn't fallen victim to watching a 30-second video on YouTube… four hours later… still watching videos.
Instead of asking which social networks are at the top of your list for 2017, I would ask marketers what their video strategy is for social is in 2017. How do you intend to utilize video on Facebook, Twitter, Instagram, etc. for the new year?
Founder
Sherman Social – www.marjijsherman.com
Marji J. Sherman is an experienced social media strategist that has been featured in Inc. Magazine, Jay Baer's SocialPros podcast, The Growth Factor and numerous other podcasts and publications. She writes a successful blog (www.MarjiJSherman.com) where she relates real-life experiences to the ever-changing landscape of social media and has over 180K followers on Twitter (@MarjiJSherman) where she focuses on positive living and leveraging social media while still remaining authentic.
Answer:
I think Twitter is going to soar in 2017 due to the giant spotlight that was put on it during the elections this year. Brands will definitely be finding a way to ride the coattails of its rebirth. After Twitter, I think Facebook will continue to be a valuable player. LinkedIn will become a much more valued network as employee advocacy begins to rise within brands as it's one of the main network's employees share to from advocacy programs.


Internationally recognized author and Founder
Jamie is an internationally recognized author, speaker and the founder of 60SecondMarketer.com, a marketing blog read by tens of thousands of executives around the globe. He is a regular guest on CNN where he provides insights on branding, marketing and business. He's also been profiled in one of the world's best-selling marketing textbooks.
Answer:
Facebook, Instagram, Snapchat. Unfortunately, Twitter and Google+ are losing their authority.


New Media Specialist – Brand Ambassador – Author – Mentor
Adel de Meyer is listed as a Top Digital blog and Top 20 Social Media coach and has worked with many different brands some including HootSuite, Pitney Bowes, Later, Brand24 and Huawei as a Brand Influencer and a Key Opinion Leader. Adel regularly writes articles on analytics, influencer marketing, technology and social media solutions. Adel's experience got her listed globally as a Top Social Media and Tech influencer and her closely with global SMB enterprises, Entrepreneurs and Personal Brands by using Social Media and Technology to captivate their audiences. She loves coffee and creative minds!
Answer:
Facebook, Instagram, and Twitter – All for the same reasons which are live-streaming, video and for their great engagement rates and reach.

BONUS  TIP
Founder & CEO
Company Folders, Inc. – www.companyfolders.com
Vladimir Gendelman is the founder and CEO of CompanyFolders, an innovative presentation folder company that has won multiple awards, including ranking in Inc. 5000's list of fastest growing private companies in America in 2015 and 2016. He is a thought leader in print design and has published numerous articles including such publications as Forbes and Times.
Answer:
The top social media networks for 2017 will vary for people based on their messages and audience. In general, Facebook will be at the top, and for my business, Pinterest plays a large role. YouTube also has great value to growing a business.
Facebook's selective targeting feature allows businesses to connect and engage with the audience that will most appreciate their content and resources. Pinterest is specially designed to showcase images, which helps businesses show off exclusive designs and infographics. YouTube allows customers to see a different side of business owners when they put themselves out there in a way that's both entertaining and honest. This allows customers to see the human side of your business and creates a sense of a connection.