We're almost at the end of 2020. Congratulations!
While we'll soon be celebrating the end of this bizarre and baneful year… don't expect the effects of 2020 to wear off soon. A mix of tech innovation, legislation, political upheaval and the pandemic has radically changed the landscape for marketers.
As a result, there are going to be lasting changes to marketing strategies in every industry, along with new innovations and tactics. Whether or not your business has had a good year, those changes are coming faster than you think. Let's take a look at 4 ways your marketing strategy is about to change in 2021.
4 Ways Your Marketing Strategy Is About To Change In 2021
1. Branding
According to a trends round-up from Easypromos, branding is everything right now. While times are hard and marketing budgets may be smaller, nervous consumers are looking for familiar brands. They want to hear positive messages from brands which they recognize, trust and remember from happier times. Strengthening your brand, reputation and image has never been more important.
This doesn't necessarily mean slapping your logo on every square inch of space, or running huge events like the latest Apple release. Branding can be low-key, and it doesn't have to be an expensive strategy. It's a marathon, not a sprint!
Here are just a few of the ways that marketers are making a lasting impression:
Creating a familiar look and feel across products and online profiles.
Using social media to signal-boost and create a full-time presence online.
Building and retaining communities through email marketing.
Overhauling their customer service to improve satisfaction rates.
Encouraging, collecting and re-sharing social proof from customers.
Creating content to entertain and engage consumers at home.
Conveying brand purpose through their ads, social initiatives and donations.
Engaging with customers through branded games
Most of these are things that marketers should have been doing already. But now they're more relevant than ever.
In addition, the relative importance of many of these points has changed. For example, brand purpose has become essential in 2020, while social media marketing is moving towards new networks and content formats.
If you're looking for more detailed tips, Articulate Marketing just released a comprehensive guide to strengthening your brand, while Hot In Social Media has you covered for social media strategy.
2. Content management
In 2020, we saw really creative and engaging uses of content marketing. Brands are becoming comfortable with a wider range of formats. And, in the chaos that has been 2020, why not experiment?
There is no established template for how to weather a pandemic, so marketers have felt free to try new things. They're also empowered to take risks and bet more heavily on moonshot tactics. One example that's worth a look: the MailChimp Presents streaming site.
MailChimp have delivered some fantastic, relevant content since the site was first announced in 2019. They've taken a popular medium (online video streaming) and used it to tell funny and heartfelt stories about their own customers. What's more, starting their own streaming platform was a totally unexpected, and original, move.
Unusually for B2B content, MailChimp don't focus on their most famous or wealthiest brands. Instead, they've opted for the most interesting – such as the story of a vegan beef farmer, or the Kyrgyz entrepreneur who wants to turn a rural village into a tourism hub.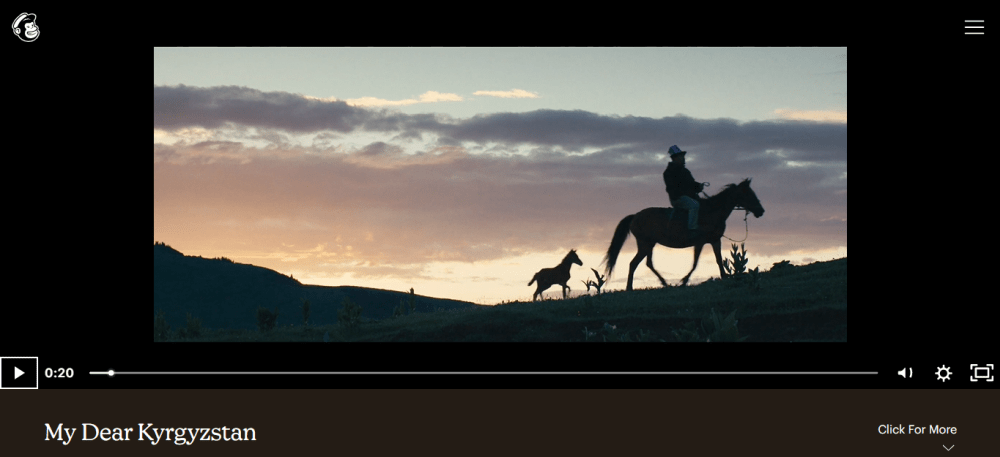 Their content marketing campaign was timely, innovative, relevant to customers, and focused on real human relationships. That's the key to successful content marketing in 2020/2021.
Like MailChimp, many brands are starting to try more ambitious content programs. Videos, ebooks, factory tours, even platform games have been used to engage and educate consumers. However, these content campaigns also take a lot of vision, expertise and organisation.
According to Céillie Clark-Keane, senior marketing manager at Unstack, "Content marketing is non-negotiable for so many businesses trying to grow and scale online, but content takes a lot of time to create and, in most cases, even longer to rank and perform." In other words, you definitely need it – but you also need the tools and time to make it happen.
"The ability to test your content to increase performance is huge," Céillie explains. "It's a great way to make sure you're getting everything out of your content and improve your strategy moving forward." She recommends choosing a CMS that gives you a range of test features and analytics all in one place.
That tracks with what a lot of brands are doing this year. Marketers are asking a lot more from their content management systems – and where they can't find built-in tools, they expect seamless software integrations. In 2021, expect to see even more ambitious content marketing campaigns, with equally ambitious CMS development. B2B software companies, take note.
3. Hybrid sales
The average European spends over 120€ on online deliveries each month, according to Retail Gazette. And – for obvious reasons – that figure increased sharply in 2020, even in countries where consumers have been slower to embrace ecommerce. Many of us have seen the mailman more often than our own families.
In practical terms: no business can afford to be offline. Throughout 2020 and going into 2021, hybrid sales are the new model for success. Established high street stores have started to offer delivery services and curbside pick-up. Many direct-to-consumer brands have thrived. Meanwhile, ecommerce giants like Amazon have been experimenting with real-world storefronts since 2019.
Still other brands have mixed their channels with AR experiences, as with Burger King's infamous Halloween campaign that encouraged diners to find abandoned restaurants belonging to rival food chains.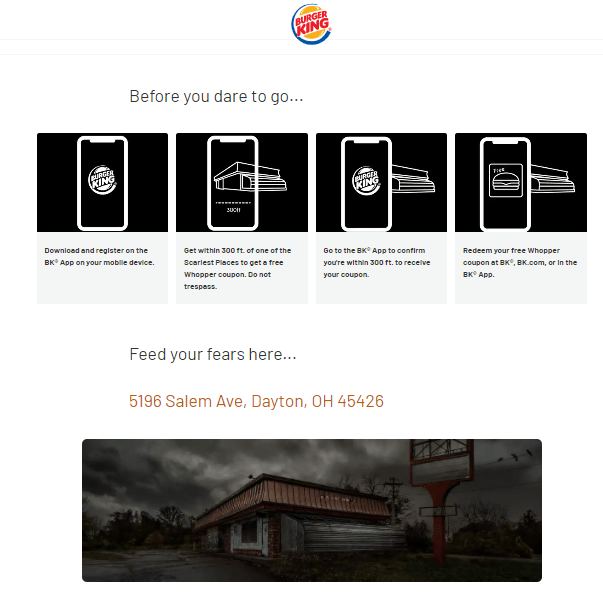 Do on-the-ground experiences and online shopping seem like contradictory trends? They shouldn't. This isn't a battle between ecommerce and the high street. It's a chance to unite the two.
Brands should recognize that consumers want choice and an omnichannel experience. Whether they're shopping on foot, on mobile or on desktop, your brand needs to be there: up to date, authentic, and offering flawless customer service.
If you really want to go for gold, you should also be offering a fun and creative experience. Speaking of which…
4. Online events
Lost count of how many meetings, webinars, online classes, catch-ups, parties and quizzes you've attended online this year? We've all had to get used to a digital social life this year.
The good news is that the tech behind virtual meetings and events has radically improved in a very short space of time. We've gone from unreliable, echoey video calls to green-screen backgrounds, in-call quizzes, multiplayer games and even "choose your own adventure"-style webinars. Event organizers are already running successful, multi-national conferences without leaving the sofa.
From a marketer's point of view, online events have a threefold appeal: they're relatively cheap, can accommodate almost unlimited audiences, and can be set up at any place or time. They can also be more accessible for users with disabilities, if you've done your homework.
Of course, we're all hoping that the pandemic will end soon. But even when life is "back to normal", it looks like online events will stick around. There are just too many advantages.
So, going into 2021, brands should look out for new opportunities for online events – both internally and for external marketing. New apps and tools are coming out all the time, so don't be shy: dream big and try doing something really creative. Just as with CMS, expect to see more ambitious uses of the technology available.
How to prepare for 2021
There's only one prediction that seems safe to make: 2021 will bring us even more surprises.
Marketers will need to be agile and adaptable. They'll also need to be creative and proactive, so that they can set the agenda for shoppers rather than being caught out. Finally, they'll need to think about how to make life better, easier or more entertaining for consumers, beyond the basic product experience.
The key to all the above is supporting your marketing strategy with the right software stack. Great ideas are hard to execute if the infrastructure isn't there. In 2021, look for continuing tech innovation – and keep demanding more from your CMS, event platforms, online stores, content creation tools, analytics tools and social media management tools. Stay competent, creative and compelling.
See also: The Most Important Sales Automation Benefits For Digital Marketers