You may, and may not hear about WowApp. It is the latest kid on the block and people are slowing talking about it.
If you are still confused about WowApp (which I am sure you are), take a look at their 'About Us' page here. The below is a snippet:
"Our mission
To become the platform on the internet where everybody wins by earning from activities they currently do for free.
Based on Wowism – the New Economy of Sharing
Wowism is the new economic system in which the majority of economic benefit is shared with the community. The community in turn shares in order to do good in the world.
Doing Good through the Power of Sharing
WowApp helps the community to make a difference through sharing and to feel the happiness of giving. We share more than 70% of our own revenue/margin from the international paid calling market – a $5 Billion per year market and from digital and mobile advertising – a $135 Billion per year market. Next, the choice is yours. You can choose to do good for others by donating to one of the nearly 2,000 charities in over 110 countries or to do good for yourself by cashing out.
In WowApp you can earn real revenue by doing what you do best: connect, chat, make audio and video calls and share with all the people in your life."
Now, take a moment to think about it. Do you think WowApp is a cool application to use?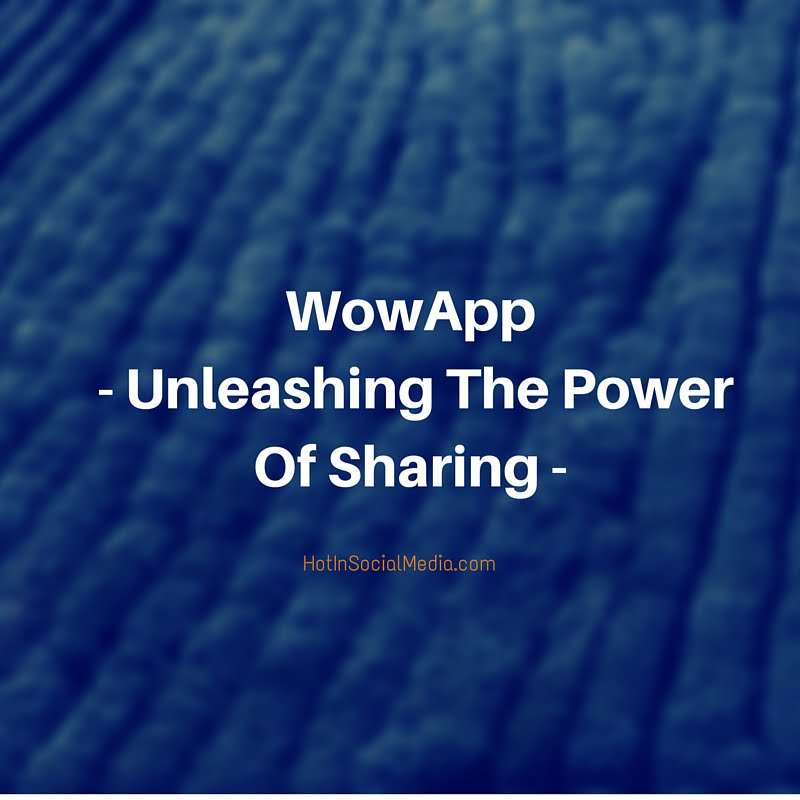 What is WowApp all about?
WowApp is created as a platform built on the sharing mechanism. This means that WowApp makes is extremely easy for others to use it (as a form of sharing) and users can easily create an account under 5 minutes.
But the fact remains the same as there are many competitors around, namely Whatsapp, Line, WeChat, and Skype.
So, how do WowApp be different from the rest?
They create contribution feature which allows users like you and me to gain some form of revenue every time the application is being used.
To sweeten the deal, WowApp users are able to contribute parts or all their revenue gained to their favorite cause.
There are many causes to choose from which ranges from creating happiness, towards peace, providing education and saving nature.
For users who are interested in cashing out the money gained, WowApp allows the users to transfer the money back to their credit card, bank account or third party money transfer platform such as PayPal.

What should new WowApp users know about the application?
I totally understand that new users will find it hard to find information about WowApp; since the application is still new and there isn't much information found on the web. However, here are the top few which you will find it extremely useful.
1. It is entirely free
Yes, you read it right. The application is free to use and until date, there are no plans to convert it into a paid app.
As a WowApp user, you will enjoy not only free messaging to others but as well as free calls too!
Important note: At this moment, WowApp is still in beta mode. Therefore, registration is based on invite-only until the beta is released to the public.
2. Getting paid when using the application
There is no gimmick or whatsoever. You will get paid when you use the application. Not only that, you literally get rewarded when you do anything with WowApp!
Since the application is rather new, this is a great way to earn some revenue as well as helping the company to grow. WowApp users are rewarded with WowCoins when actions are taken and they can use the rewards to claim for contributing to a cause of their choice or cashing out the money.

3. Quality messaging system
The messaging system comes in several parts; one to one, private and group conversation.
Just like most of the messaging apps out there, users can use communicate with one another using desktop, tablet, and mobile devices.
On top of that, current users have been reporting that the messaging quality on WowApp is pretty remarkable (less breakage and conversations are clearer).

4. Cross devices synchronization
Have you ever experienced slow synchronization (or no synchronization at all) when using multiple devices to communicate? Well, it always happens to me to say the least.
With WowApp, the developers are devoted to ensuring that this problem does not occur in their app. Therefore, WowApp users are able to synchronize between all devices to ensure maximum control.
Also, the synchronization also comes in handy especially when you are constantly receiving the latest updates (communication) via the application.

5. Emoji brings out the fun in the users
If you hate wall of text or facing difficulties trying to express a feeling, WowApp emoji's will come in handy.
As WowApp is created with the high focus of usability and fun, there are many emoji's and stickers which you can use to boost the fun in daily communications.
Here's a few example of WowApp's emoji's that you can use during conversations:


Pretty awesome, right?

6. The gem: Private mode
Private mode on WowApp is probably the gem among the rest. Could this be a messenger killer?
According to WowApp, the private mode allows users to "go off the record and share information, files, and video securely without leaving a trace in archives on their servers".
In other words, it works pretty similar to SnapChat where records of conversations are not kept in the servers (or being deleted after a specific time duration).

Conclusion: My honest takeaway
WowApp seems to be an extremely powerful messaging system with tons of features. As the application is still in beta and not available to the public, it is highly advisable to keep tuned to the updates to ensure that you are not missing out the advantages that WowApp can provide in the future.
What do you think about WowApp? Leave a comment below and tell me what you think.

Click here for a free Wowapp invitation