WordPress is the oldest website builder and maybe the best-known one. Having and running a website is not an easy thing and, most of the time, it costs money. Of course, having ads on your website solves part of the problem, but a little help never killed nobody, right?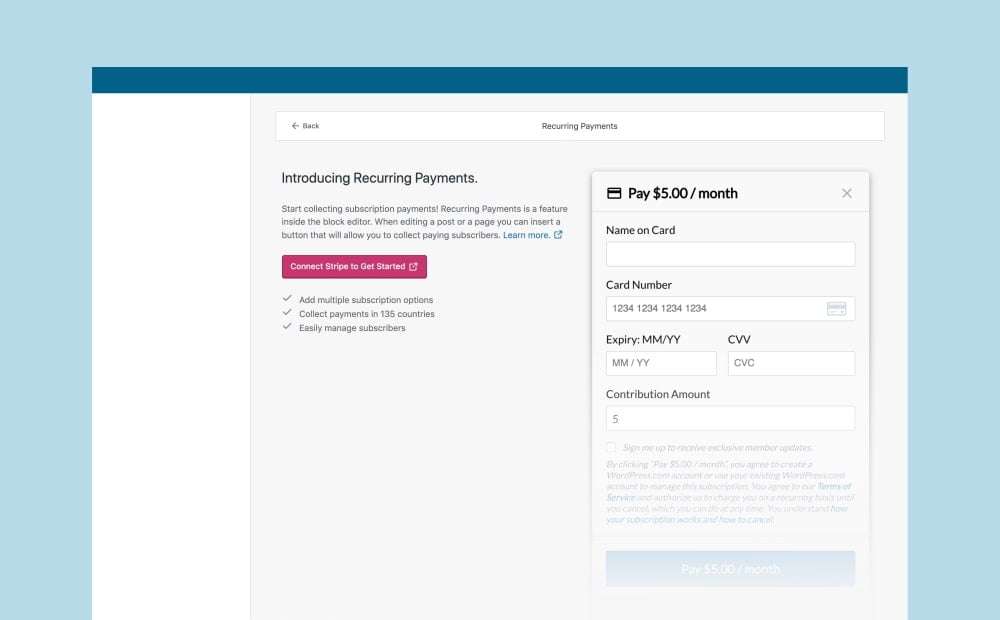 Being a content creator is never easy and that is why WordPress comes to your help by introducing the recurring payment option to their users and the Jetpack-powered sites with any paid plan. The integration is done with Stripe and the charges can be done directly on the website or on a schedule, automatically.
WordPress Sites Allow Recurring Payments
How does it work?
First of all, of course, you have to be a paying WordPress member.
The second step is to create a Stripe account if you don't already have one.
Go to the new Earn section on your WordPress website and you will be guided through the setup process.
Add a Recurring Payment button on your website.
Customize your recurrent payment: add different amounts or currencies, frequencies and even names – this is very similar to the crowdfunding platforms, to be honest.
What's the idea behind?
By introducing this new payment method, WordPress wants to encourage content creators to deliver quality and also to create a different type of content for the paying subscribers.
WordPress is trying to also help content creators that use their platform to share their content to somehow crowdfund projects or ideas that could become material.
As a content creator, you can also think of newsletters with special content dedicated to your paying subscribers or even special content on several occasions you decide that are worth telling them about.
Who much does it cost?
Is this new product for free or does it have a price?
Recurring payment doesn't have a fixed price, but you will have to pay a certain amount of money to both WordPress and Stripe. Illustrated below.

See also: Can you make money from Instagram?