Live video has taken the world by storm and can definitely be expected to skyrocket in 2017. Not only is it cost-effective, but it also builds trust between you and your target audience. With its highly interactive platform, live streaming increases consumer interaction and engagement and can only benefit your business. Here are several reasons why you need to add live video to your marketing strategy.

Why Do You need to Add Live Video to Your Marketing Strategy Now?

So, you want to incorporate live video into your marketing strategy. You've seen tidbits of the live video here and there on different social media platforms, but what's the big idea? Is it really any better than the video content you're already creating? Is this trend really as good as it's hyped up to be, and can it really increase user engagement? But most importantly, should I shake my magic-8 ball to find the answers?
While posting video content is not a new concept in the world of digital marketing, the idea of being able to stream videos live is becoming a very valuable asset, as it is the most effective way to receive the most views and engagement from audiences. If you don't already know, live video is video captured by a smartphone or video recording device that airs the footage in real-time. Streaming live allows viewers to experience things "in the moment" alongside their favorite brands and personalities. With live streaming, businesses now have an even more direct means of reaching their audiences, and they are now able to immediately connect and interact with them– a feat that ordinary video could not accomplish.
What's the big deal?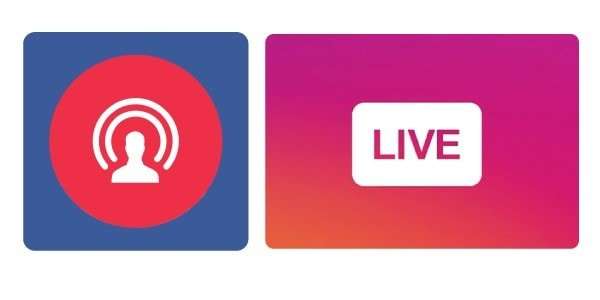 Today, a number of people watching videos on social media platforms are at an all-time high. What's more is that the integration of the live feature allows news and information to be shared and spread to an even wider demographic than before. We have already seen this trend gain popularity in 2016, with the release of Facebook Live in April as well as Instagram Live in November, the most notable difference being that with Instagram Live, the video disappears as soon as the broadcast is over (similar to Snapchat). These kinds of social videos are responsible for the increase in user engagement and ultimately, the growth of the social media platforms themselves. News sources such as CNN have even taken advantage of the live video functionality on Facebook with its coverage of the 2016 election results this past November. This broadcast received twenty-four million views and ranked in the top ten most watched live videos of 2016.
Aside from news and politics, live video streaming can be used to add a more personal touch to your brand. Live room/office tours or a simple live vlog of your day can help establish a more human connection to your audience. When carried out effectively, these live stories will be able to evoke emotion from the audience, which in turn, will create lasting impressions and help keep your audience hooked. Being able to share stories with your audience as they happen in real time is an excellent way to nurture existing relationships as well as build overall excitement around the company and its events and accomplishments. Furthermore, since the live content is on the spot and for the most part unscripted, it can really help your brand appear more transparent and authentic, which will ultimately build trust with your audience.

Still unconvinced? Here are some statistics that are sure to sway you: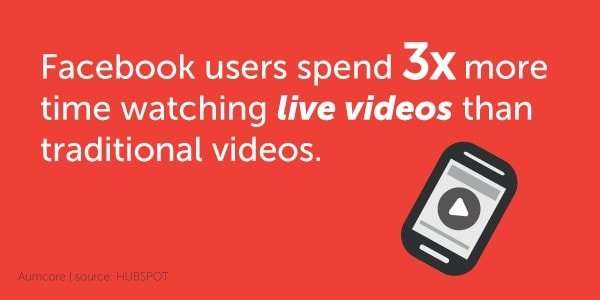 Adding live video to your marketing stack is known to increase customer conversion by 80% or more. (Livestream)
Facebook users spend 3X more time watching live videos than traditional videos. (Hubspot)
80% would rather watch live video from a brand than read a blog, and 82% prefer live video from a brand to social posts." (Livestream)
Live streams are no more expensive than pre-recorded videos, making this a cost-effective marketing tactic to try out. (IBM)
According to Cisco's Visual Networking Index, the video will account for 80% of all consumer Internet traffic by 2019.
79% agree that interactive content can have reusable value, resulting in repeat visitors and multiple exposures. (Content Marketing Institute)
Moving Forward
There is no doubt that broadcasting content live will continue to grow in 2017. From live broadcasts of news and politics to behind-the-scenes coverage of events, we can expect to see brand advertisers move from traditional advertising to social media outlets. Heidi Besik, the group product marketing manager for Adobe Social, adds that "as consumers get increasingly more comfortable (and familiar) with video, we'll see a shift in organic content where brands begin building out dedicated video teams and putting together an infrastructure that decreases turnaround times and gets content out faster."
So, if you're serious about building your brand and reaching a larger demographic, it is imperative that you adopt the live video trend immediately or you're sure to get left behind. To recap, we have discovered that not only does live streaming increase user engagement, but it also is a cost-effective strategy to implement. With this functionality, you can feel free to experiment with different content and find out what really works best for your business; however, it will ultimately be up to you to continue to create unique content and discover new ways to utilize live streaming effectively.
So with all of these benefits, what are you waiting for? Are you ready to dive into the world of live video streaming? Hopefully, at this point "all signs point to yes," and you won't have to rely on that magic-8 ball to give you all the answers.

See also: Best Facebook Features You Probably Don't Know About