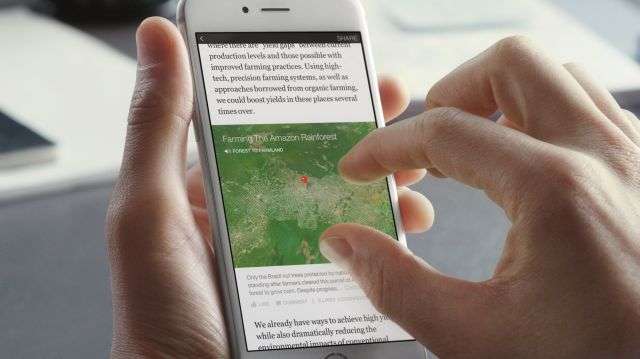 In the digital age we live in today, virtually anyone can become a writer. All one requires is Internet access, a computer, and – most importantly – an idea. Social media has made it easy for us to convey our thoughts on a variety of topics, whether we're live tweeting during a television premiere or writing a blog like this regarding a social media event. Facebook, however, has seemingly made it that much easier for writers to gain traction.
It was recently announced that Facebook was going to roll out its Instant Articles feature to a wider audience. For the uninitiated, Facebook's Instant Articles is a feature that allows publications, both big and small, to directly post their content on Facebook. In theory, this means that you can read a series of articles without ever deviating from this social network. Even though it's somewhat limited in terms of scope – the feature in question is only able through the Facebook mobile app – there is potential to be seen.

See also: What Is Facebook Phone App?

Of course, Instant Articles entails more than the illustration of text alone. In fact, it seems like other assets one would associate with online news articles will carry over. Facebook engineer TR Vishwanath said that not only will articles load quickly but they will come with, "… tilt-to-pan photos, auto-play video, interactive maps, and embedded audio captions." What this means is that Facebook's Instant Articles is set to be as fully-featured as possible, ensuring that readers are engaged until they run out of relevant content to digest.
The idea of making Instant Articles available to a wider audience makes sense, given how quickly we are to share content. This isn't exclusive to Facebook, either; all one has to do is look at Twitter, LinkedIn, and other popular platforms to see that stories and other forms of media can spread like wildlife. However, the idea of writers and content creators, in general, being able to directly share their work on arguably the largest social networking site has a different level of appeal that cannot be overlooked.
As of now, multiple publications have climbed onboard the Instant Articles train. The Washington Post is just one example, according to The Wall Street Journal, since one-hundred percent of its published content will also be shared via Instant Articles. The Washington Post isn't alone, though, since the likes of Huffington Post, Mashable and Bleacher Report will also be involved. What this means is that there is a seemingly infinite amount of content that will benefit from Instant Articles. It's just a matter of observing how many more names decide to follow suit.
What is your take on Facebook's Instant Article feature being more widely available? Please leave any thoughts on the matter down below!
See also: Facebook Notes Revamp Challenges Medium and LinkedIn