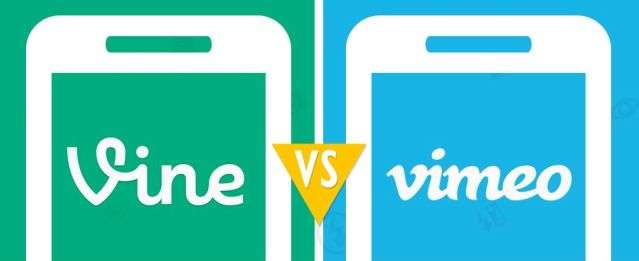 YouTube has 1 billion plus unique users visiting its website each month and there are 100 hours of video uploaded to YouTube every minute. It is the dominant video sharing platform. The demand for video as engaging content has led to the rise of a whole generation of video uploading and sharing websites that have led to the creation of billions of hours of video and made the most popular channels and the people behind them overnight stars.

Vine vs Vimeo: Battle of the Video Sharing Platforms

This infographic compares and contrasts two of these alternative video sharing social platforms; Vimeo and Vine. Where Vimeo is seen as the 'Anti YouTube', Vine is seen as 'Instagram for Video'. Vimeo is populated by musicians, bands, documentary makers and the independent film maker. There are more men than women on Vimeo and the largest age group on Vimeo is the 20 to 35 year old market.
Compare this to Vine, where 57% of users are female and the largest age group is very niche aged between 18 and 20 years of age. This age range lends itself to popularity with youth brands and youth culture and the statistics certainly support this with a whopping 400% more shares of branded Vines compared to branded videos.
Vine attracts a culture of 'selfies' and celebrities, those that are already famous and those that are self-made from Vine. Owned by Twitter, its premise is focused on 6 second looping videos. It has 40 million registered users and counting and 5 Vines are tweeted every second. By contrast, Vimeo has 170 million monthly viewers and attracts 715 million monthly video views.
Tellingly, Vine is not monetised as yet. It has two main investors RRE Venture and BoxGroup. With no turnover to date, but a huge ability to potentially attract big brand advertisers, time will tell if it can fund itself, having only been launch since January 2013. Vimeo on the other hand is a decade ahead, having launched in November 2004. It was acquired by InteractiveCorp (IAC) in 2006 and posted a turnover of $40 million in 2013.  It has also made two acquisitions in its life span to date; a Giff web app called Echograph in 2013 and a video sharing app called Cameo in 2014.
Both companies are headquartered in New York City. Vimeo has more than 160 employees while Vine has only at third of that at less than 50 employees. The most popular person on Vine is a 16 year old called Naish Grier from Greensboro, North Carolina, USA, who has managed to acquire 9.8 million followers on Vine and produce 1.1 billion video loops. The most popular person on Vimeo is Brian Van Peski who runs the channel 'Documentary Film' which has 37.9 channel followers.
Both platforms have bright futures ahead. Vimeo is the 3rd most popular video sharing website in the world as of November 2014 after YouTube and Netflix respectively and Vine is the 10th most popular. Other notable video sharing platforms include YahooScreen, Dailymotion, Hulu, Vube, Twitch and LiveLeak.