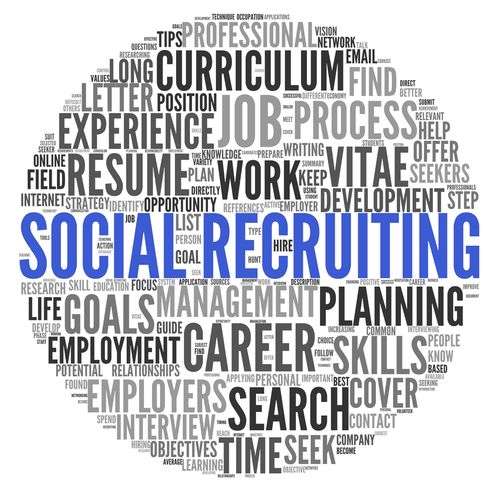 In a study recently done by the Society for Human Resource Management, it was found that 77% of organizations are using social media in their recruiting process, and 94% of those are using LinkedIn. Clearly, plenty of people have already jumped aboard the social media bandwagon and are riding off happily into the sunset.
The real question, then, is not whether or not to use it (even if you aren't a trend-follower, there is still plenty of evidence to suggest that social media can help your organization), but instead how to use it to its fullest capacity. Here are some tips and tricks to help your organization make the most of the social media to recruit process.
Represent Yourself Well
Remember that your profiles represent your company brand. That means you have to be conscious of both what you say, and what you don't say. You don't want to only talk about your brand, just like you don't want to share overly-political articles with your followers. Of course, you'll want to represent your brand in a professional way, but this can also be a fantastic opportunity to create an impression of your organization's culture. Let social media be a vehicle through which you showcase what's important to you and your company.
Be Present
It defeats the whole purpose of having the social media account if you barely use it, or check in sporadically. Carve time out to maintain the account and to check in as you would with a personal account (except you can skip sharing photos of your dinner).
Use it as an Interactive Platform
The great thing that social media allows for is direct interaction with your clientele. It isn't enough to just share things regularly; participate in conversations that take place on your company's social media page, and start conversations of your own to make an active community space.
Learn About Your Clients
Believe it or not, social media spaces are a great place to learn a little about who your clients are. Participating in conversations and really, really listening will help you to pick up on details you might otherwise have missed that can help you and your company perform better in the long run.
Make it Worth Their While
You can use social media to share all kinds of information, from upcoming specials or promotions to events. Your followers won't keep landing on your page if they don't feel like you are offering them anything interesting or beneficial, however, so be sure that you are being intentional about what you are using the space for, and what you hope your clients will get out of the experience.
See also: Social Media for Recruitment Process (Infographic)

Do you think that Social Media to recruit process is a must in the recruiting process nowadays?