Social Media is not just for socializing! Many Entrepreneurs have secured jobs, closed deals, and found customers through Social Media. It's all in how you use Social Media to your advantage.
Not all Social Media platforms are ideal for Entrepreneurs. Some Social Media platforms are more for family and friends and might be a waste of time for an Entrepreneur to try and find leads. Knowing the best places to promote yourself or your business is key to saving time and effort.
Below are two of the most popular Social Media platforms for Entrepreneurs & Business owners. I highly recommend both platforms to grow your presence and find possible leads.
Using Social Media as an Entrepreneur – Best Options
1. LinkedIn
LinkedIn is the number one Social Media site for professional networking. There are many tools specifically for job hunting, resume posting, and professional networking. The site is rich with entrepreneur and business trend articles.
Your LinkedIn profile is like your online resume or as I like to call it 'Your shop front'. You will see that you can fill in extensive information regarding your education and job experience. Keep your profile updated with all your credentials so potential employers, clients or investors can verify your information should they search for you online.
Choose a professional and current head shot for your LinkedIn profile. You want the business you connect with to recognize you in person should you meet offline; which with LinkedIn, is often the case as you expand your business connections. Keep the word 'professional' in mind at all times while you are networking on LinkedIn – LinkedIn is not the Social Media website for posting funny images of cute cats or talking about your nieces birthday party. LinkedIn is all business!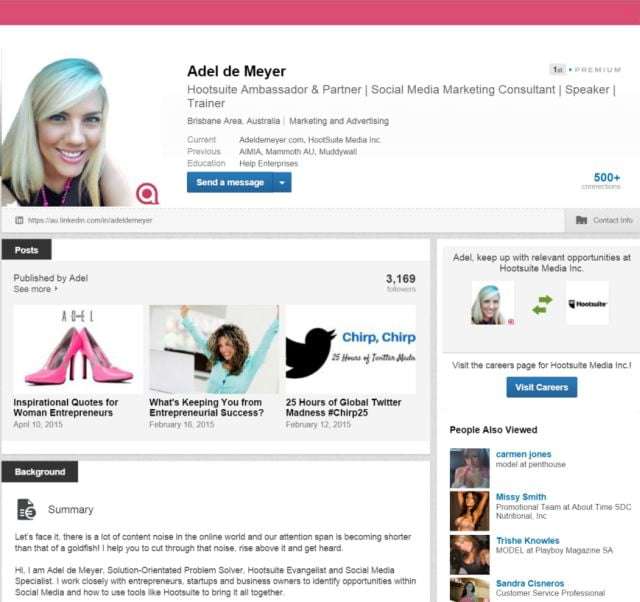 2. Twitter
Twitter is becoming a very popular Social Media platform for businesses. The short 140 character posts make it easy to quickly update on popular news in your industry as well as send out easy offers and savings for your followers. Be sure to fill out your profile and include your website URL and a professional head shot. The banner is also a spot where you can very creative, it is 'free advertising' space.
Follow others in your industry, and respond back to tweets. Repost your colleagues tweets because everybody loves to see their tweets go viral. The simplicity of Twitter makes for a more intimate experience with your customers in that you can interact one-on-one, while quickly seeing the bigger picture about what is trending in your industry.
Keep your tweets rich with keywords pertaining to your industry. Post upcoming events you will be attending or participating in. You can also post pictures to twitter so shots of products, your store front, or employees is a way to become more connected to your customers.
Twitter is more 'laid back' than LinkedIn while still being a favorite for professionals. Here, unlike LinkedIn, you can get away with posting silly entertaining tweets mixed in with your professional postings. I would however stay clear of political and religious conversations if you are using Twitter purely for leads and business purposes.
Check out the @HashtagRadio interview with @Adeldmeyer about #SocialMedia & #Entreprenuership http://t.co/UtfU8On6tC pic.twitter.com/QuUPt4THaN

— Tamara McCleary (@TamaraMcCleary) May 10, 2015
@Adeldmeyer. Just to say thanks for being such an inspiration on #socialmedia and #Hootsuite to us in good old #SouthAfrica @hootsuite

— JuanQ Digital (@JuanQuinn1) April 24, 2015
By staying consistent with your posting, using relevant hashtags, and engaging with your customers who take the time to follow you, you can have a very active networking campaign benefiting many of your business goals using these two Social Media websites.
Popular hashtags for Entrepreneurs on Twitter at the moment are:
#StartUp
#Entrepreneurship
#Tech
#Innovation
#Crowdfunding
#Leadership
Do you use Twitter and LinkedIn to generate more business leads or to grow your startup? I would love to hear about the results you are achieving in the comments below. If you need some help to get started, feel free to get in touch with me.
See also: How to Use Storytelling in Social Media