If you have been following the Twitter space, you will realize that Twitter is going down the rabbit hole. Twitter has once been a key dominating social media platform for marketers. I remember those days where I could easily use Twitter to close dozens of affiliate sales in a day. And apart from that, Twitter allows me to connect with influencers within my niche.
Life has been good with Twitter until changes happened.
Twitter took drastic measures to grab more attraction to compete with rivals such as Facebook and instead of listening to their loyal supporters, they decided to do something against them completely! This made it worst and people decided to leave Twitter for good.
Now, Twitter is no longer a powerful social media platform. Users who are there (on Twitter) are usually just spamming their heads out. In other words, this is bad, and as a social media marketer, you need to take action.
In this article, let's head over to your options (what you should be doing next).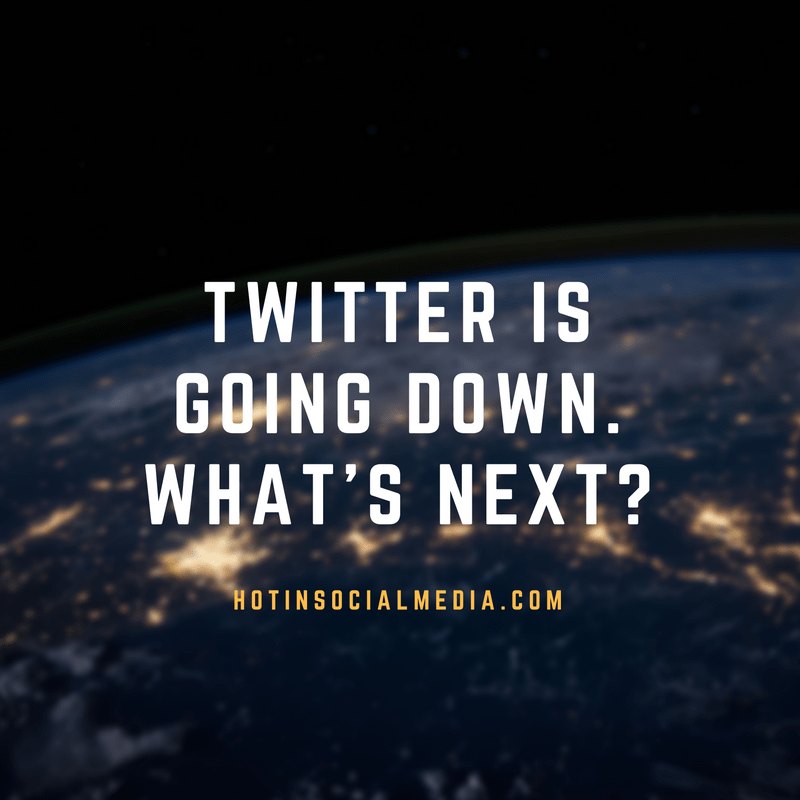 Twitter is going down. What's next?
1. Build your own space
Twitter is just one of those social media sites that are slowly diminishing from the face of Earth (okay, I might just add a little too much on that but you'll get the point). When will the next big "boom" happen?
You have seen Meerkat and many other social media platform that just crashed after they hit the pivotal.
What you can do (or should do) is to start building your own space and this means that creating a community that will strive your business.
This works by simply, creating a membership platform on your website and it can be either paid, non-paid or even both!
Either way, building a community of your own gives you more power and flexibility to boost your business.
For one, I am a huge believer in building your community on 'non-rented space'. So, the next time a social media platform goes down, you doesn't need to worry about losing the entire community all together!

2. Facebook
Okay, so you might be against me and still would want to stick to popular social media platforms. Well, no problem for that!
Facebook is still a good choice (if you are not fond of creating your own community). With over a billion active users, you know that it is still a very safe bet.
Facebook gives you the option to create a group (community), page and even using your own profile. Generally, Facebook can be used as a powerful marketing tool to reach out to a wider range of audience.
And if you are not using Facebook (even a bit), you are definitely losing out big time!
There are many ways to leverage Facebook, for example, you have the option to use Facebook advertising to reach a wider range of audience.

3. LinkedIn
If you are a professional, LinkedIn is the 'thing' that you should be involved in. It connects you with thousands of other professionals and you will be surprised how powerful this social media platform is. Of course, there are tons of spam in it but if used correctly, this social media platform can drive your business up in a very fast manner!
Just like Facebook, LinkedIn comes with advertising (more expensive but better conversion rate) as well as groups that you can leverage on.
The trick is to participate in LinkedIn groups that relate closely to your niche and not just any Tom, Dick and Happy type of groups.
LinkedIn may seem overwhelming at first but once you have mastered the usage of it, LinkedIn is a very powerful tool for marketers!

4. Instagram
You heard about it, used it and even extremely engaged with it — That's the power of visual marketing.
With Facebook and Instagram merging together (in some ways), Instagram is proven to be a very good alternative to Twitter.
For starters, you can compress more hashtags than Twitter best practices and almost instantly getting dozens of likes upon pressing the 'publish' button.
And Instagram is often considered easier since it is all about visual.
You need to find the right type of engaging photos (add some filters) and watch the traffic spike. Of course, one of the weakness using Instagram is the non-existence ability to have a clickable URL in the post description.
Instagram is a good alternative to Twitter if you have good taste in photography. Even if you don't have a good taste in it, you should STILL engage at least a little on Instagram!

5. Snapchat
Live streaming — People are going nuts with this!
Snapchat, for example, is a tool that is used by an ever-growing social media influencers around the world. So, what makes Snapchat such a popular option?
Snapchat allows you (the marketer) to interact with you engages directly. And instead of 'replying' them later or probably forgotten about the question, you can easily answer to their questions immediately.
Now, take a moment to think about this. What happens if you are new fan/follower asking about the product and get instant feedback? You will be amazed and feel appreciated. Then, it wouldn't take long before you decide that the person is giving you tons of value and you should continue the person — which all leads to the sales funnel etc.
If you have no idea how Snapchat works, you should check out what John Lee Dumas has to say here. Here, he's dropping daily value bomb (that's what it is called when someone is often sharing valuable content) on Snapchat.
Snapchat doesn't require professional shooting and it should always be personalized. That's how it works and in most cases, being natural is the best way to grow your audience.
If live streaming is something for you (or interests you), Snapchat is way more interesting compared to Twitter!

Now, it is your turn!
What do you think of Twitter? Personally, I think it is coming to an end soon. As a matter of fact, social media industry moves so fast that you need to make sure that you don't put all your eggs in one basket. Diversify is all you need!

See also:5 Twitter Mistakes That Can Ruin Your Brand