It can get very noisy in the social media industry. Everyone is trying to gain attention and to be honest, gaining attention is probably the toughest thing to do.
Need some convincing? Check out any posts related to video marketing on Facebook. It is off the charts to say the very least!
But no — we aren't talking about video today. Today it is all about visual marketing; tools to get you started on the right track, helping you creating social media graphics that are awesome and of course, getting the traction you needed.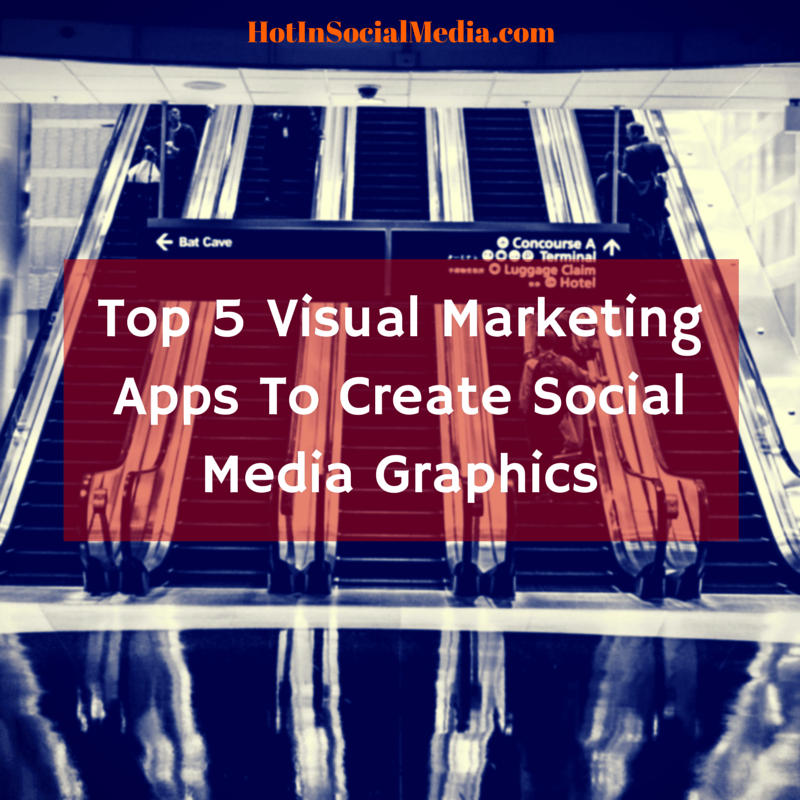 Top 5 Visual Marketing Apps To Create Social Media Graphics
1. WordSwag (iPhone app – $3.99)
It doesn't matter where you are reading this post. Look up and see around you. Chances are you are going to see people and majority of them are checking on their email, texting etc using their smartphones.
With WordSwag, you can create powerful images that turn heads, boost likes and get some serious traction.
As for the record, WordSwag was firs introduced to me by Donna Moritz from Socially Sorted.


Images created can be shared directly to any social media platform of your choice such as Instagram, Tumblr, Facebook and Twitter. Of course, sending it to Instagram and you got everything covered!

2. Over (iPhone app – Freemium)
Over is another powerful image creation app for iPhone users. Over works pretty similar to WordSwag minus the different layout and methodology.
What makes Over different from the rest is this app is pretty much 'on manual' mode. You need to manually add the words, layout etc. Of course, you cannot expect a lot especially when this is a free to download app from iTunes.
Want to take Over to the next level?
Purchase their packages (under $10) and you will get instant access to some of the most beautiful layouts (for a person who doesn't have high creativity) you can ever dream of.
Over also allows you to share images to various social media platforms.

3. Canva (desktop)
Do not tell me you are not using Canva, seriously.
Canva is a low-cost but highly effective image production tool. The good thing about Canva is that you can upload as many images as you would want to the database or simply use their default images.
In the case where you need to purchase custom images, it only cost you $1 per pop.
Unlike any other graphic tools, Canva allows you to work strictly-online and it is really awesome. There is no price tag unless you would purchase a product from them.
Multiple filters and other powerful photography effects to choose from for free — which turn any newbie into a professional graphic designer in no time.
Just like in HotinSocialMedia.com, I uses Canva to create most of the featured images.
Need some killer tips? Download stock free images such as from Gratisography and upload them to Canva. There you go, unlimited high quality images for usage.

Neil Patel uses infographic to generate traffic. Well, he just one of those thousands who banging their luck with infographic (that paid off by the way).
But here's the thing. Creating infographic isn't easy and more importantly, it is not cheap. A really good one could cost anywhere from $100 to few thousands. That's where Piktochart comes into play.
There are free and paid version which starts from $15 a month.
And if you are not-that-creative type of person like me, don't worry. Piktochart has pre-made templates which are 100% ready to use.
All you need is to put on your thinking cap and you can easily complete an infographic within a day or so.

Yes, I hear you. PicMonkey, PicMonkey, PicMonkey … (sound of raving fans).
PicMonkey allows you to do pretty a lot of thing (to be honest):
Photo editing
Touch up
Designing
Collage
Effects
Facebook cover
Photo text
And if you are the type that clings on your smartphone wherever you go, there is also PickMonkey mobile app for you to use. Please note that it is in beta at the moment — invitation only.
For your information, PicMonkey is has paid and free versions. So, if you are tight in budget, go with the free account!
What other visual marketing apps or programs for creating social media graphics do you use (and recommend) on a daily / weekly basis?

See also: The Ultimate Social Media Image Dimensions 2015