YouTube, which was founded in February 2005, has passed 1 Billion monthly users 4 month ago.
We have a lot of artists who have Viral Videos like Rihanna, who is the most  viewed artist on YouTube or Psy with his 'Gangnam Style' who passed 1 billion views on YouTube but,  which are the most followed YouTube channels in the world?
If you look below at our Top 10 Most Followed YouTube Channels, you can see that you will not be so familiar with these channels (or most of you at least) and well known and popular artists like: Eminem, Taylor Swift, Psy or Justin Bieber are not in this Top 10 although they have billions of views on YouTube.
Check out this Top 10 most followed YouTube Channels below, made with the data from SocialBakers and give us a reply with the YouTube Channels you subscribed at.

1. Smosh – 11,251,153 subscribers (2,488,885,921 views)
2. PewDiePie – 10,422,029 subscribers (2,004,484,990 views)
3. Jenna Marbles – 9,927,919 subscribers (1,178,161,301 views)
4. Ray William Johnson – 9,665,991 subscribers (2,383,090,296 views)
5. Nigahiga – 9,308,100 subscribers (1,508,065,304 views)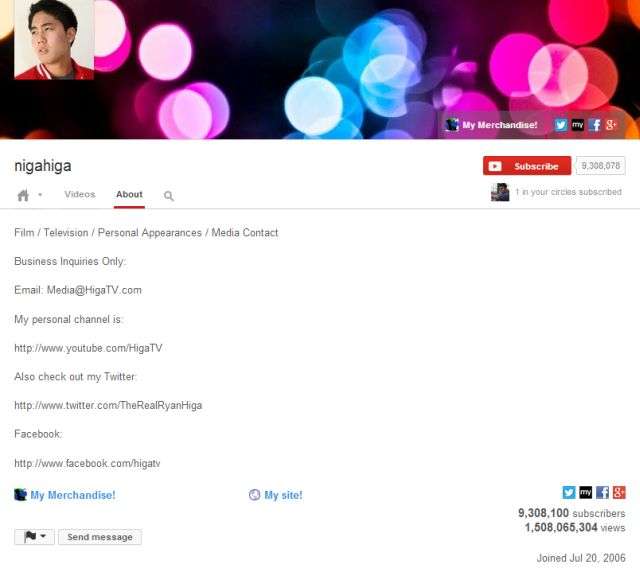 6. Rihanna – 9,243,551 subscribers (3,869,112,426 views)
7. Hola Soy German (video todos los viernes) – 8,861,539 subscribers (612,338,161 views)
8. Machinima – 8,541,744 subscribers (4,352,347,278 views)
9. YouTube Spotlight – 8,455,441 subscribers (240,428,357 views)
10. OneDirectionVEVO's channel – 7,284,676 subscribers (1,683,050,861 views)