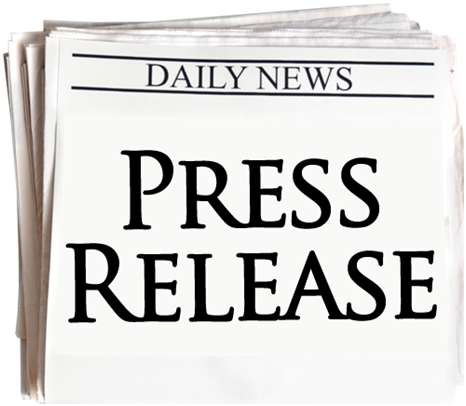 Some people think that the era of press release is gone in the age of social media but this is largely untrue. The truth of the matter is that you can still leverage on this old technique to create brand awareness. Only that you need to craft your PR articles with a particular format to avoid sounding like you're advertising a product.

Below are some tips you can follow to write a Perfect Press Release article.
Create curiosity
You need to create curiosity in order to attract readership to your press release articles. You can achieve this by using a catchy title that leaves the reader interested to read your article. For example a title such as this one:
"Company ABCD Launches a New Weight Loss Product"
May not entice the reader to pop in to read your article because they already know almost half of what you're going to tell them anyway. So you need to use a title that leaves the reader yearning to find out more from your main article. Like this one below:
"Find Out What Company ABCD Is Doing To Ease The Task Of Burning Fat"
Such a title is sure to have your audience read your Press Release anytime.

Use simple language
Your choice of language should depend on the type of audience that you want to address. Complicated jargon for instance would not go down well with an audience that comprises laymen. On the other hand, use of bogus clichés would be a big no-no for press releases that are meant for professional audiences. All in all it is important to use simple language that is easy to digest to avoid creating ambiguity. Remember, the primary goal of any perfect press release article is to convey as much (relevant) information as possible using the minimum possible number of words.

Short Sentences
If you want people to grasp whatever information you're sending to them via your Press Release articles, it's imperative to use short sentences. Learn to summarize your thoughts and opinions into short and brief sentences. Most importantly, ensure to plan all your sentences in such a way that they flow seamlessly throughout the article. This way you'll successfully get a maximum conversion rate as majority of your readers will be able to read your articles right from introduction to conclusion. Long sentences could leave some readers confused along the way and this would definitely lower your conversion rate.

Authenticate your information
It is important that your audience gains full trust in you. It's only by doing that that they'll be confident enough to read and keep what you're telling them in mind. How do you win their trust? Number one, avoid peddling rumors. Number two; cite your reference when necessary. Number three, proof-read your work. Make sure to double check your data (if you've used any data that is) just to ensure that it is correct. Don't put down anything you are not sure about. Also, not all resources are credible. So, be keen to only cite authority resources. Following this tip will ensure that you deliver a "complete package" to your audience.
With these 3 tips in mind, it is possible to deliver a killer press release article. Now let us take a look at four examples of highly successful Press Release articles in the recent past.

Example One: Soft Selling Press Release Article
"Amazon promotional codes smart phones 2014 save up to 90% off"
Everyone is looking for a way to save on each purchase. The person who authored this article seems to have taken note of that and that's why he used the words "save up to 90% off" in his title. The title alone is enough to draw the attention of any person who wants to get good value for their money. The author then goes ahead to show you the benefits of buying a Smartphone. Note that he does not rush to sell his products. He only talks about the good things that come with owning a quality Smartphone at a fraction of the normal price. Then he politely requests one to click on his link "to find out more about the product" not to "buy the product". Soft selling helped this company deliver a high conversion rate using this simple article.

Example Two: Informative Press Release
"Puzzle Pieces Marketing Launches a New Website!"
As you can tell from the title, the author of this press release intends to spread the word about the launch of a new website. Of course, anyone who knows Puzzle Pieces Marketing will be eager to find out a little bit more about the new site. What has been added, removed, tweaked etc. This article is structured to answer the 5 WH (Who, Why, What, Where and How).

Example Three: Informative+ Soft Selling
"Launching a new Project Costello Builders Launches Deaven Woods Development in Harrisburg"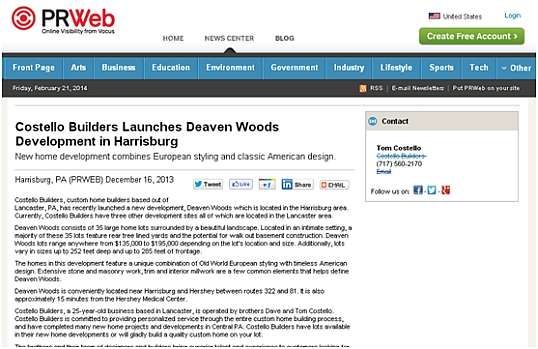 The authors of this press release published it to not only spread the word about the launch but to market their new product – all be it using a non-salesy tone. This article contains all the essential details that any reader could wish to know about. For instance, they have briefly talked about:
*Where their new office in Harrisburg is located
*Their price range
*Variety
Anybody who is interested to know more about this new project will surely find this write-up quite informative. In fact they'll want to visit the newly opened branch soon to see it for themselves. In this regard, the author kills two birds with one stone.

Example Four: Descriptive and straight to the point
Launching a new book Healthy Relationships Lead to Healthy Living book
Every press release author should focus on conveying maximum details about the topic using the least possible amount of words. The person who wrote this article (example 4) seems to have been well aware of that fact before authoring this press release. You only need to read through this short article to know everything about the book – who authored it and what topics it covers. Most importantly, the author highlights some key benefits to acquiring this book. In that case he not only elicits curiosity from his readers but wins their trust as well.
Creating a perfect press release requires one to be hardworking, patient and keen. Besides that, one needs to use the right kind of language in adherence to the qualities of the audience that is being targeted. Use the tips discussed above to your advantage.

See also: Steps to start with content marketing