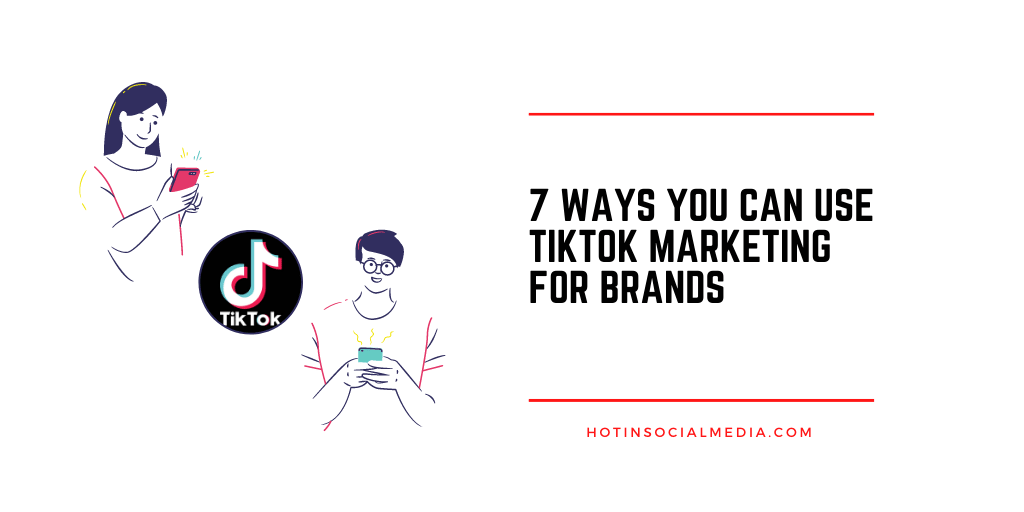 Available in over 150 countries, TikTok launched in 2016, but in 2018 the app gained a lot of popularity among young people, and became the most downloaded app.
In 2020 TikTok is one of the most popular social media apps, allowing users to create up to 60 seconds videos that they can share with the world.
If you are a brand and want to reach Gen Z's attention, you must plan a TikTok marketing strategy for your brand.
In this article, you'll learn 7 powerful ways to use TikTok marketing for brands in 2020 and beyond.
---
Table of contents
---
1. Define your goals
This is the first step, and the most important one, in my opinion – define your brand's goals. As a social media manager for a specific brand, you should ask yourself:
Why should my brand be on TikTok?
How can I promote my brand's message using TikTok?
You should know that the goals you start to set in your mind will dictate your actions on that platform – this is available for any other social media platform.
For example, if you want to reach more Gen Z.'s attention or Millenials, this is a good goal because TikTok is all about this generation.
If you want to increase your brand's conversions, you'll have to create content with a clear CTA that, in the end, will inspire people to visit your website and take action: buy your product or test your service.
When you define your brand's goals on TikTok, make sure they are in accord with your company's digital marketing plans.
2. Create your account
It is important to optimize your TikTok profile.
How can you do this?
You can start by choosing a proper profile picture and create a representative bio. Like on any other platform, your profile picture and your bio are the first two elements everyone sees, so make sure you pay attention to them.
Your profile picture must represent your brand, so you can use the same profile picture and description that you have on your other brand social accounts.
A good example here is the beauty brand "Sephora" – they are using the same profile picture and the description on Instagram, TikTok, Facebook, and Twitter.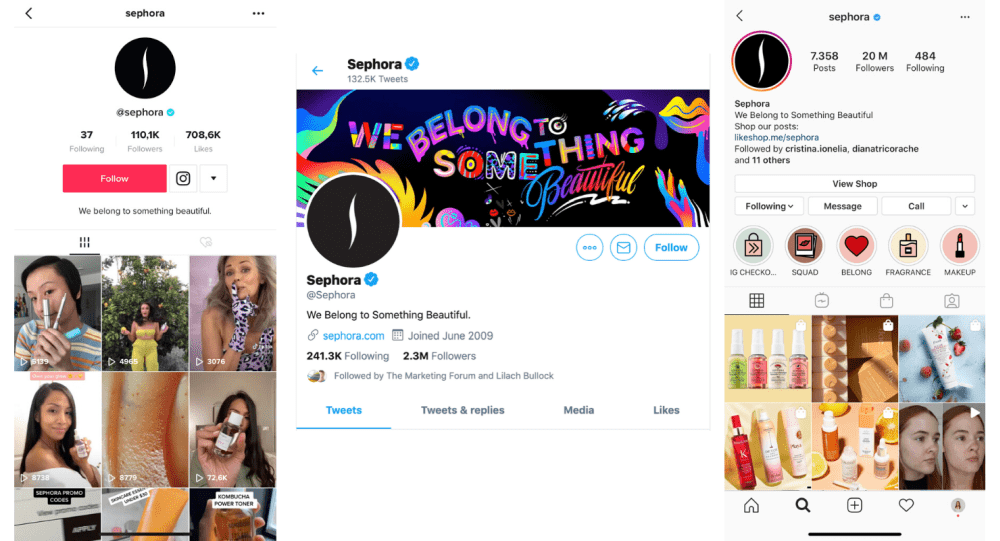 If you are new on TikTok and don't know how to start an account, here's a quick how-to guide that will help you:
Tap the profile icon and a sign-up form will appear.
Select your sign-up option: you can choose to sign up with your Facebook, Instagram, Google or Twitter account, or you can sign up with your email address or your phone number.
You should know that if you register with an existing social media account, TikTok will use your profile name and photo (you can change it later)
Enter your birthday. TikTok users must have at least 13 years old.
Enter your phone number or your email.
TikTok will (automatically) give you a random user name; if you don't like it, you can change that username once every 30 days.
3. Create a hashtag challenge
If you are a social media fan, you already know how essential hashtags are. They can increase your brand's visibility in no time, and this is huge.
If on Instagram branded hashtags are a thing, on TikTok hashtag challenges are a must.
A lot of social media users are using hashtags regularly to search for new products, videos, or find out new trends.
With hashtag challenges, famous brands have managed to reach millions of users and inspire them to take a specific action.
Here are a few examples:
BMW – When the famous car brand launched BMW 1 Series, they've asked several influencers to create engaging videos of them dancing in or around the new cars and using the hashtag #THE1Challenge.
Chipotle – This was a simple challenge; all you needed was your phone and a Chipotle burrito bowl using the hashtag #ChipotleLidFlip. The campaign was a real success, and more than 110K Challenge videos were recorded.
4. Create content for your audience
You can use TikTok and create your brand's 60 seconds of fame.
You must create strategies that will meet your consumer's goals because if your brand's presence on social media doesn't match the reality, you will lose trustworthiness.
A good example here is San Diego Zoo – they are posting videos with animals eating or playing almost every day.
It is mandatory to produce content for your users' requirements – and people who are following San Diego Zoo are definitely happy seeing these videos.
5. Cross-promote your videos
It is essential to let your followers know that they can find you on any social media platform, and TikTok has this great option: before you post a video, you can share it on Instagram or Instagram Stories, Facebook, Twitter.
After publishing the video, it will be automatically saved on your phone so that you can use that video in your email campaigns or anywhere else. Just remember to add a clear call to action and invite your followers to follow you also on TikTok.
6. Create TikTok Ads for more exposure
With 800 million TikTok monthly active users, you should start planning your brands' TikTok Ads strategy right now!
But first, you'll need a TikTok Ad account to see if your business suits this.
Here's how to create a TikTok Ad account:
Go to https://ads.tiktok.com/ website
Click "Create an Ad"
Select your billing country and type of account. You can choose between "Business" or "Individual."
Click "Next."
NOTE! Because TikTok Ads is still new in some businesses, you might have to wait up to 48 hours until a TikTok manager verifies your account and gives you the approval.
You can discover more about how to create TikTok Ads that convert in "TikTok Marketing for Brands", Socialinsider's free book – a guide that covers everything a social media manager should know about this fast-growing platform (have a look at the infographic below to find out more).
7. Analyze your performance
Make sure you take a look at your analytics! Like on any other social media platform, you have to measure your online performance to see if your strategies are right or you must change something.
To access TikTok analytics, first, you should switch to a Pro account. If you don't know how to do that, here's a quick how-to:
Go to your profile.
Click in settings.
Click the "Manage My Account"
Click "Switch to Pro Account."
Select a featured category for your account
Add your phone number: you'll receive a verification code.
Go to your profile again
Tap the three lines in the right corner
Select Analytics
From here you'll be able to see:
your video and your profile views
the number of interactions (likes, comments, shares) your videos got
the distribution of followers by their gender
the distribution of followers by territory
videos your followers watched
sounds your followers listened
NOTE! Using TikTok analytics, you'll be able to see your analytics only for the last seven days. This is great, but if you want to analyze your brand's performance on the platform, you'll need more than that. Using an analytics tool, you'll be able to analyze your brand's account for more than seven days.
And if you're not happy with your analytics results and feel like you need more help managing TikTok and your other social media channels, check out our article and find out what is the best social media management tool and what worked best for people who need it mostly for TikTok.
Conclusion
TikTok is one of the most popular social media platforms in 2020, and if your brand wants to capture the attention of Gen Z, TikTok should be number one on your list of social media platforms.
See also: TikTok has launched TikTok for business