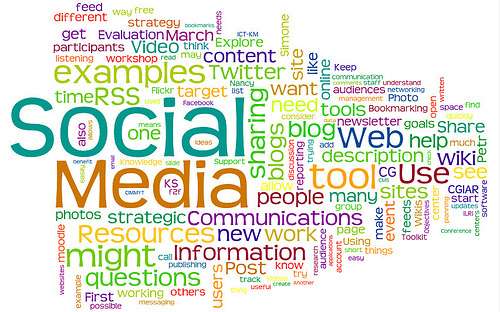 If your business is on Facebook, good work. But the social media pat on the back doesn't come from a fan page anymore. Times are changing. Companies are permeating online social spheres in more commanding ways than ever before. So rather than post on Facebook ads and call it a day, you should take a minute to look at all possible social channels, (including a few you probably haven't thought of) and try to build a presence.

Here are some useful social networks that I recommend, from the many faces of social media.
 Before I go too far, I do want to touch on Facebook for a bit. You probably already have a page, or have plans to get one, but there are a few things you can do to really optimize this presence. The best thing you can do is post regularly with relevant content. Don't spam people with useless musings, but don't drop the ball and go silent for days either. The key here is interaction.
A side point, if you're willing to spend the money, Facebook's advertising engine has grown substantially, particularly in recent years. So you don't just have to post a sidebar ad anymore. You can boost a post, advertise an event and everything in between. It's really easy to amplify your messages now without the hope for viral, organic reach.
 Next in line for top-of-mind networks is Twitter. You probably have your own Twitter account, but I'm always shocked at how many companies don't think they need to have a Twitter account. The power of outreach (particularly through trending topics and hashtags) is pretty impressive on Twitter. You don't want to miss out on opportunities to reach all new audiences without creating an entire rebrand. Though if you're looking to pay for marketing, Twitter's engine isn't exactly as viable as Facebook's.
 This one is a personal favorite of mine for engaging fans on a personal level. Depending on your business type, it could mean a really valuable "extra" for your customers. If you run a bake shop for example, you could post creative recipes and decorations. But if you're something like an engineering services company, you can still cash in. Post cool "life hacks" that use everyday household objects using physics and engineering conventions. The Pinterest community is hugely engaged in photo content and they will thank you for cool things with ample repinning.
 Now we're starting to get a little further down the rabbit hole. I'm willing to bet that your business doesn't have Tumblr. But don't fret, it's not too late. What I like about Tumblr is that the tagging system is very similar to Twitter. You can tag posts with concepts and hashtags and people will organically find them, meaning new customers for you. But what makes Tumblr differ from Twitter is that the content is rich, GIF-filled and offers plenty in the way "repostability". The days are gone where you're limited in characters (at least on this channel).
 I'll close with Instagram, because well, making your business work on Instagram is really tough. This is kind of the last corner of social media that promotional messaging hasn't really infiltrated. Sure, there are plenty of companies using the photo-sharing app, but they usually just post fun, inspiring pictures with little means for linking back to buyable services. But if you're really savvy on your own Instagram, it could be a way to gain new organic followers.
 The One Rule
 There really is only one closing rule that carries true for all channels (in my opinion). And that is to monitor your engagement and adjust accordingly. Make sure you don't just blindly post what comes to your mind. See which Facebook posts people like, which Tweets they're favoriting and what Pinterest boards get the most repins. That way you can optimize your business strategy just like you do for the rest of your marketing. Happy friending!
See also: 6 Strategies to Enhance Your Social Media Efforts