iOS Reddit and Snapchat users are happy now because starting recently they can share Reddit content to Snapchat.
How Snapchat Teams Up with Reddit? 
Reddit wants to attract younger users to its platform, as statistics say that only 22% of its users are aged between 18 to 29, compared to 34% of those between 30 to 49 and 25% of users aged between 50 to 64.
So it was only natural for Reddit to go to Snapchat, which is the platform that many young people use on a daily basis to keep in touch with their friends and followers. 
This partnership is the first one for Reddit with another social network.
 How to use the new Reddit feature?
First of all, you should know that only "Safe for work" related content on Reddit will be available to share on Snapchat.
The steps to share Reddit content to Snapchat are the following:
go to Reddit;
choose a post you want to share;
open the sharing options;
select Snapchat;
choose whether you want to share it with selected friends or all your followers.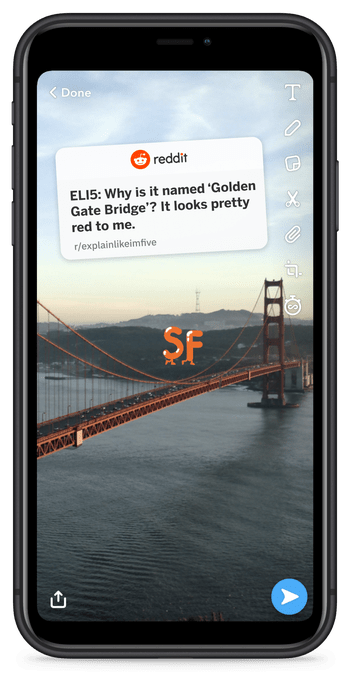 The post will appear in Stories with a sticker that portrays the Reddit logo and the source information.
If the one that sees the post has the Reddit app installed, then they will open it by default; if they don't have the app installed, they will be taken to the App Store to download it.
Snapchat representatives believe that this partnership will bring more content to their platform and it is a good conversation starter for its users. This can help both the platforms in what interaction is concerned and can be a win-win for both of them.
Reddit representatives say that Snapchat is the first platform they are testing this new integration and want to see how this new type of sharing content will help its users develop new forms of interaction. So this might be only the beginning.
An Android version will be released somewhere in the future.
See also: How do you get the 3D filter on Snapchat?