Ever since its launch, Snapchat has been copied for its stories format by Instagram, Facebook, YouTube and even LinkedIn.
So they finally decided to share their stories with whichever app would want to. Their first partners in this are Triller – a music videos app, screen sharing app Squad or the dating one Hily.
How you do this you might question. Here's the answer: the developers of the apps you own or work for have to submit a request to receive the Snap Kit here and they will receive it. 
The next step after this is introducing the Snap stories to your app.
How Snapchat is sharing their stories with new apps?
1. For the App Stories
Encourage your users to link their Snapchat accounts within your app and share their favorite Snapchat stories there.
2. Communities Stories
Let's say you own a restaurant or an independent theatre and want people to hear your stories through some others' lenses. Then search through public stories that have been added to your location and share them with your audience. This a great way to keep your visitors engaged and also make them interact with your brand.
3. Publisher API
Allow other partners to edit, manage and publish content to Snapchat Discovery directly from your publishing tool.
4. Snap audience network
You can also monetize your app by delivering ads from Snap Ads to your audience.
When submitting your request, find the best option out of those four that fit your brand and your product.
This will save a lot of time for developers, as they won't have to create a story format from scratch for the apps they work for.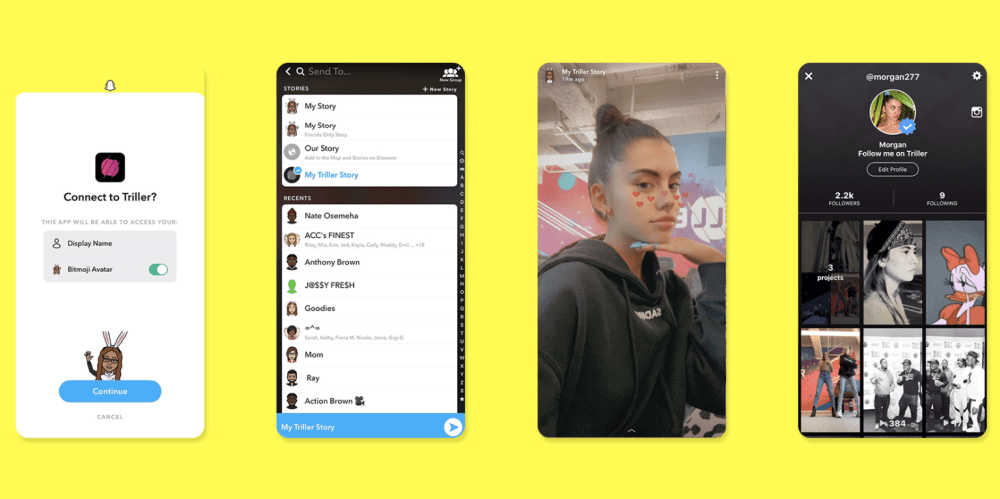 One of the differences between the Snapchat Stories and the other on third-party apps is that the later ones last to over one week, not just 24 hours as the first-mentioned ones.
What do you think of Snapchat's help? Will you use their Stories Kit?
See also: How do you use Snapchat Cameo?