You probably heard that anyone can start a website easily from scratch. But do you know that the actual process of creating a website is way more challenging that what it seems?
First, you need a web hosting account and followed by knowledge to connect a domain to the web hosting provider. And apart from that, you need to have some serious coding knowledge to make your website looks good.
If you think that those are just all, you are wrong. Now, you need to think about scalability and website security to avoid being hacked or compromised.
Damn, that's a lot of freaking job!
Yes, I get you and you are probably right. There's where many bloggers and beginners opt for website builder. Why? It takes away a huge chunk of your worries and saves you more time than you can ever imagine.
So, this post is all about helping you to create a website from scratch (like Site123), easily and hassle-free using one of the tools I recently discovered. Introducing SITE123.


Back to basic: What is a website builder?
According to Wikipedia, "website builders are tools that typically allow the construction of websites without manual code editing."
In other words, instead of getting your hands dirty with those coding stuff, website builders often build with drag and drop options, as well as easy website creation under 30 minutes.
Often times, you will find a lot of templates which you can choose from and it helps a lot especially when you are entirely 'green' to the blogging industry.

SITE123 – By far the easiest free website builder
Yes, you read that right. SITE123's motto or tagline is very bold and straightforward. For beginners, this is interesting and very promising.
Imagine the opportunity to create beautiful website designs and layouts without any design skills and touching a single line of code.
Life is good and seriously, definitely worth a review right?
I know you are itching to see how SITE123 works and here's a quick video to explain the process:

Generally, SITE123 offers a lot of flexibility when it comes to creating a website from scratch. Due to its versatility, it is the perfect all-in-one solution for private and corporate Internet users.
One of the core features of SITE123 as a great website builder compared to the rest is the ready-made styles and layout which you can use to create mesmerizing templates.
Apart from that, you can easily upload your own content (such as images) and SITE123 will automatically make it totally responsive, search engine friendly and mobile friendly. This feature ensures that your website will always look good regardless your visitors are using mobile or desktop versions.

How to start an account on SITE123?
Do you know that it is really that easy? The first thing you will see when you sign up is this: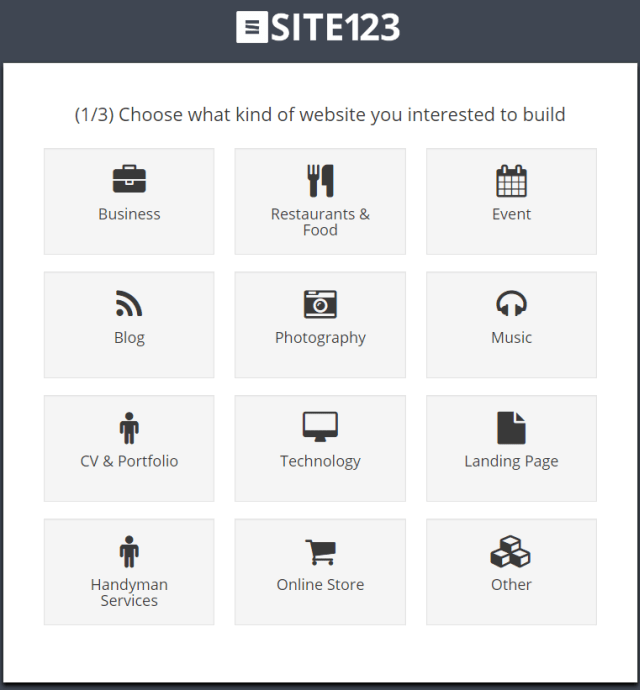 You can choose from a wide variety of different websites based on your interest such as:
Business
Restaurant & food
Event
Blog
Online Store
And much more
Once you have done with it, you need to enter basic information about your website as below:



Of course, you will then need to enter your information to complete the registration process. Once you have successfully registered your account, it would take around 10 seconds for SITE123 to create your account.
The first page you will see after the registration is this: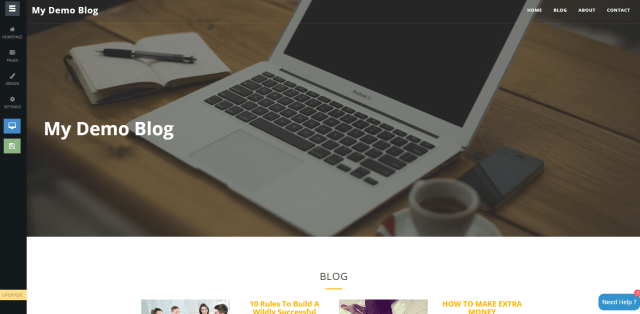 Creating your blog
Generally, you will have several top settings to choose from, namely homepage, pages, design and settings. Each of these tabs will correspond to a specific part where you can further create your website design.

1. Setting up Homepage


The above image is the setting part where you can customize your homepage. If you are wondering, a homepage is a place where most visitors will actually land on your website. You can also consider it as the front page of your website.
Did you notice the option for the image? You can upload your own image and SITE123 will actually make it responsive on mobile! Of course, it is always best to use high definition images for the best results, while ensuring that the images do not look distorted.

2. Adding new page


Here, you can create multiple pages (just like a WordPress blog) and create your own post. You can further classify the pages using categories which are an awesome addon by SITE123. As a serial writer, I feel that categories are great ways to differentiate your writings based on topics.

3. Designing without any codes
Last but not least, the Design tab will give you ample of options as seen below:



Each tab will open up more dropdown buttons where you can further customize your website. For example, you can create websites with or without sidebars in just a few clicks.
At this point of time, there are 12 different layouts you can choose from and along with several dozens of other settings to make your website stand out from the crowd.
Don't like the font size? Change it!
Don't like the style and colour? All you need is a few clicks!
When you use SITE123, rest assured that all your needs in designing can be done quickly, effectively and awesomely without the help of any website designers or developers.
At the end of the day, you are going to create a website that you are truly happy about and more importantly, saving you a lot of money!

Pricing – How much does SITE123 cost?
As a matter of fact, it is free! And yes, you read it right. You can create a free account at no cost to you. Na-da!
A free account on SITE123 will give you 500 MB space of storage and 1 GB of bandwidth. And let's be honest, this allocation is sufficient for most brand new and moderate websites. Of course, there will be a little advertisement of "Powered by SITE123" when you use their free account.
What makes SITE123 extremely powerful is the ability to scale. It has a paid version where it costs $9.80 per month (also called as Premium) where you will automatically enjoy 10GB of storage space, 5 GB of bandwidth, domain connection, manage multiple web form messages via your email (wow!) and the option to remove the 'floating' SITE123 advertisement tag.

SITE123 Review – and summary
SITE123 is very versatile for a website builder. As I had explained above, it provides tons of features and the ones that are shown above are just the surfaces of what SITE123 can offer!
For business owners or beginners who want to have their own website from scratch, SITE123 is definitely the best choice as you are going to save a lot of time, money and effort when using it.
SITE123 is very user-friendly and support is very much best in the industry. Whenever you need help, there is a 'live chat' option where you can contact their support team for assistance. Instead of creating numerous emails and following up, support is provided almost instantly and could very well be the turning point for the website builder industry.
Last but not least, the pricing strategy of SITE123 is excellent and highly affordable. Even with the premium account of under $10 a month, you know that you will be getting a lot more than what you are paying!

Have you heard or tried SITE123 website builder? If yes… what do you think about it?