Instagram is changing a lot these days, introducing new features to their stories.
Today it is all about polls in Instagram Stories. Yes, you saw right! Instagram introduced the voting option in their stories in order to let people ask questions and their followers to answer them.
If you are in doubt when trying to choose an outfit, a certain makeup or you don't know where to go out for lunch, you can now easily ask your followers for their recommendation. The mechanism of using the poll option in your story – whether you use the picture option or the video one – is adding the poll sticker with your story and place it wherever you want, as you do with all the other stickers. In order to offer a customizable experience for each user, Instagram allows you to ask specific questions and to even customize the poll options. So it is not just about an "yes" or a "no".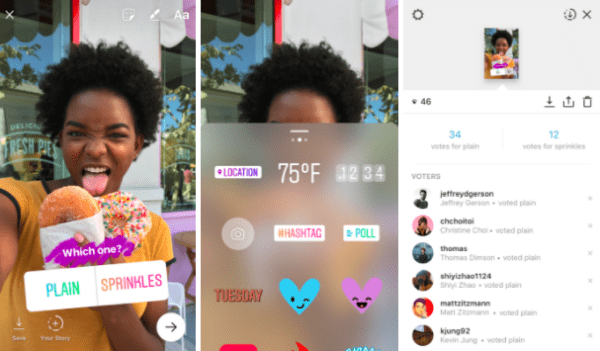 Useful Tips about Instagram Stories Polls
How does it work?
After you post the poll sticker on your story, your followers can immediately start voting. The results appear in real time and everyone can see the percentages after they vote. If the story is replayed, the latest results appear on the screen.

How can you – the poll creator – see the results of the poll?
As you swipe up to see how saw your story, you can also see the results of the new Instagram story poll. Not only you can see the percentages of the poll, but you can also see who voted what. This way you can see how the followers that are not your friends in the offline life see you. The lifespan of the poll results is the same as for the stories: 24 hours.
Besides the new poll feature, Instagram also introduced other features when it comes to adding text or stickers to your stories. You are able now to choose a specific color from your photo and add it to the text. You will see an eyedropper on the left of the screen with which you can choose the text and drawing color from the photo or video you want to post as a story.


Another new feature that Instagram introduced these days – for iOS only at the moment – is made of blue lines that will guide users when posting stickers or text on their stories so that they won't be covered when someone looks at their stories. When, for example, you rotate a text or sticker by mistake, these guides will help you bring them back to horizontal.
That's it for now with the Instagram updates. Which do you think will be the next move from Instagram?

See also: Instagram Introduces Face Filters in Live Videos