With over 70 million users and bigger ecommerce power than Facebook, Pinterest is definitely one of the top social networks you should have your business on. It works for both small as well as big business and can be one of the top referral sources especially for businesses selling furniture, clothes, gardening or DIY products and more. If managed right, Pinterest can be a great traffic as well as sales driver.
The power as well as user base of Pinterest keeps increasing from year to year and the recent introduction of a new feature called Pinterest Rich Pins makes this platform even more powerful.
What Are Pinterest Rich Pins?

Pinterest Rich Pins work in a similar way as Schema mark-up does, they allow you to highlight information you want to be shown on your pinned images.
Your pin will then include the image as well as additional information making it more prominent in Pinterest Pin Search results and more useful for pinners.
Currently there are 5 types of Rich Pins you can use; the extra information will be displayed under the pin making it more useful and powerful.
Place pins can show a map, address as well as phone number
Article Pins allow you to mark-up Headline, Author, Story Description (your Meta description) and a URL
Product Pins enable you to include information such as price, availability and where to buy
Recipe Pins are great if you wish to show additional information such as cook time, ingredients and servings
Film Pins with this type of pin you can mark-up the movie rating, release dates and actors
Below is an example of a Product Rich Pin from Nordstrom;

Here's a Recipe Rich Pin from 100dasyofrealfood
The Benefits of Rich Pins
Free Price notifications – If you implement Product Rich pins and you decrease the price on your product by more than 10% Pinterest will automatically send out a notification to all people who pinned your product's price drop.
Better conversion rates – Imagine if your product was pinned by 100 people…these 100 people will get an alert about the price drop which in turn may lead to sales and therefore better conversion rates.
Increase in CTR and traffic – Having additional information on pins can further help to increase the traffic. Pinterest Rich pins will stand out and take up more space as they will display images together with text-based content. This can increase the chances of users reading, clicking on your pins or sharing them.
How you can implement Rich Pins

The Rich Pins feature is currently available only for verified business accounts. If you're a blogger you can still have a business account. I've converted mine so I can enjoy all the Rich Pins as well as Pinterest Analytics.
Step 1: Converting to Business Account
To convert your personal Pinterest account into a business one login and click on the Icon in the top left corner and select Businesses;



In the next window click on 'Convert Here'



Now you will need to fill out all the information and Accept Terms and click on 'Convert'. You will also need to verify your account by either uploading a verification file to your website or adding a Meta tag to your website's code before the closing head tag </head>. Once your account's been verified you can enjoy all of the features of business account such as Rich Pins or Analytics.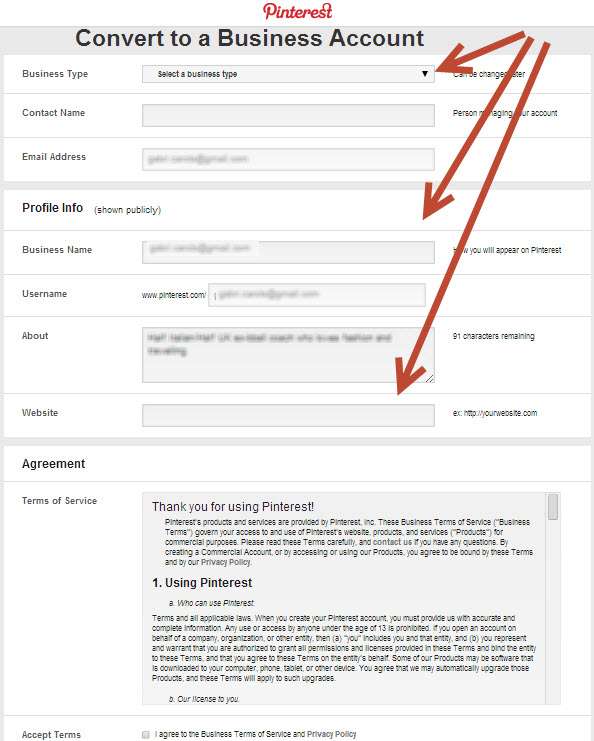 Step 2: Select the type of Rich Pins and the implementation method
The second step is to pick which Rich Pin you want to use and the method. You can choose from oEmbed or Semantic Markup (Schema.org or Open Graph templates).
Below are tags you will need to add to your page's code so the information can be displayed underneath the pinned image;
Meta tags for Product Pins – http://developers.pinterest.com/rich_pins/#Product
Meta tags for Place Pins – http://developers.pinterest.com/rich_pins/#Place
Meta tags for Movie Pins – http://developers.pinterest.com/rich_pins/#Movie
Meta tags for Article Pins – http://developers.pinterest.com/rich_pins/#Article
Meta tags for Recipe Pins – http://developers.pinterest.com/rich_pins/#Recipe
Step 3: Validation
If you run a WordPress site then the Open Graph tag should be added automatically. I've tested it with one of my blog posts and the Open graph tags were already there however there might be some missing so it's worth double-checking before the final validation.



Once you add all the tags you will need to get your Rich Pins validated with Pinterest Validator by pasting the URL of the page;



If it's all correct you can send your pages to Pinterest for review by clicking on 'Apply Now'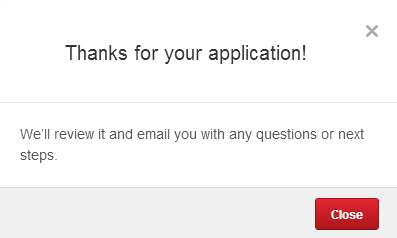 You can find all the information about Rich Pins and how to implement them on the Pinterest developers site.
If you run a Shopify shop here's a quick guide on how to configure Rich Pins for your shop.

Have you implemented Pinterest Rich Pins yet? Have you seen any positive effect of Rich Pins on your traffic or sales? I would love to hear your thoughts on this.

See also: 10 Pinterest Tips That Will Improve Your Visibility