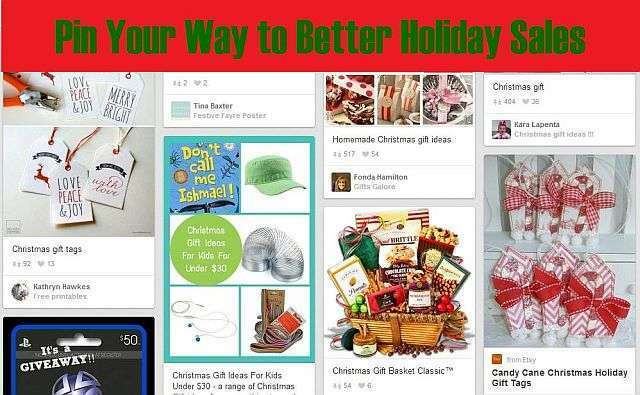 Pinterest. This social media platform is quickly becoming one of the big players of online social networks. Recently valued at $3.8 billion, more and more businesses like Guess, Oprah, pro sports companies and high fashion companies are all 'pinning' for their consumers. With more than 70 million users, there's an opportunity for all businesses to get pinning. The best part? It's free! Which means no matter what size or budget your business has to work with it can take part in the pinning phenomenon. Why not try a new form of marketing this holiday season – Sell by pinning!

Pin Your Way to Better Holiday Sales with Pinterest
Get Creative
Obviously, during the holidays there is one word on every shopper's mind, and that's gifts. Create 'gift boards' that are unique to your brand. The great thing about Pinterest is the fact that you can have as many boards as you want – so go crazy! Have a board that specially caters to "Gifts for Mom" or "Gifts for Your Boss." Gift giving can be extremely stressful for some people so if you can hand-deliver gift ideas to them they will appreciate it and you'll benefit from it in the long run.
Engage By Interaction
Pinterest is unique because your users can have as big a following as you do, as well as boards that really allow them to express themselves. Check out how your products are being used on Pinterest, and create boards around those ideas, featuring some of your fan's ideas in it. Don't see any examples of how your product/service is being used on Pinterest? Then create a contest around it. A Pinterest contest is a great way to get your fans involved and also get a number of new followers along the way. Remember, Pinterest is all about creativity, so the more unique ideas for a contest you can come up with, the more attention it will receive.
Take Advantage of Rich Pins
Never heard of rich pins? They're actually quite useful to company Pinterest pages! This is where Pinterest automatically posts information like price, product details, etc. right onto a pin for a company. The pin link will even bring the user right to the company's website, creating an action item for your consumer. There are a few different types of rich pins: product pins (all about pricing, availability, quality), article pins (story details, bylines, news outlets), recipe pins (shows ingredients and cooking instructions) and movie pins (ratings and cast members). These pins can prove extremely useful to drive business sales up because they not only show a consumer what a product is and does, but also bring consumers to a point of sale (which is half the battle).
Cyber Companies Pinning
Businesses that really should take advantage of boosting holiday sales with Pinterest are online companies. If 100% of your business sales are driven from Internet purchases, then what better way to market to your public? Remember, Pinterest doesn't only reach users on Pinterest, most users have their accounts hooked up to other social media platforms including Facebook, Twitter and even Google+. Use Pinterest and think of the bigger possibilities for your sales this holiday season!

See also: How to Create Engaging Relationships on Pinterest