In times when fundraising is getting more and more popularity and Facebook fundraisers seem to get more and more traction, it was high time for Instagram to get into this business as well. 
So they announced they started testing a Personal Fundraising feature that will first run in the UK, Ireland and US, first on Android and followed by iOS.
How Personal Fundraising on Instagram will work?
Mainly, the same as Facebook Fundraisers:
Tap the Edit button on the profile.
Add fundraiser – the fundraiser you are collecting money for must comply with Facebook's regulations.
Raise money – after you selected the cause.
Add a representative photo.
Select the fundraiser's category.
Give details about why people should donate to your cause.
You can keep the fundraiser on for 30 days and after this time frame has passed, you can prolong it for another 30 days. This type of fundraising is mainly dedicated to short-term causes, rather than long-time ones. But any help is good, so that is why you can choose the cause to support.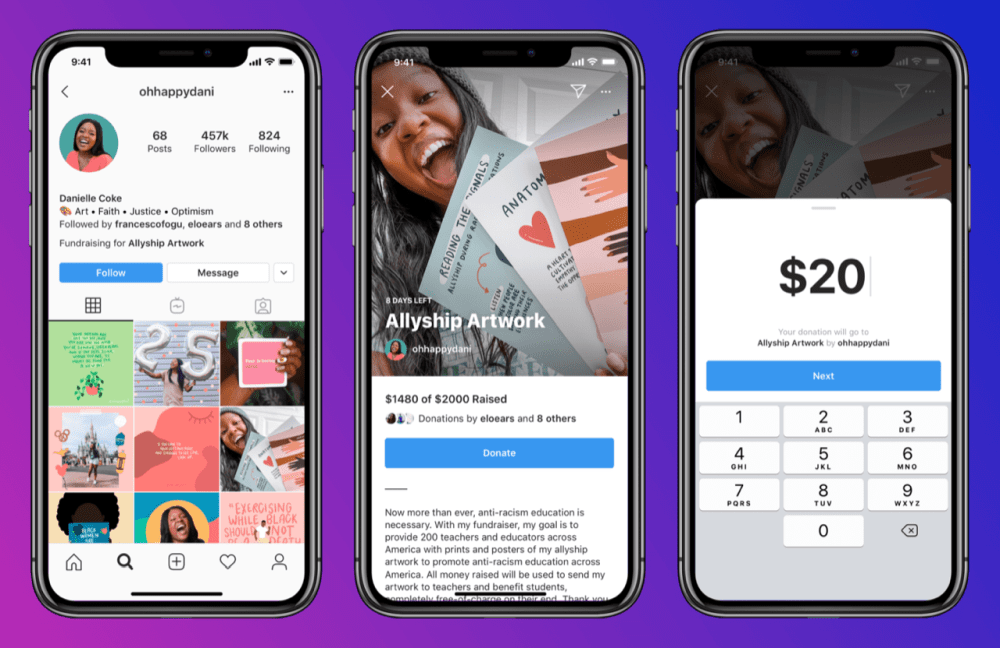 The feature will be powered by Facebook Pay, as well as Instagram Shopping is. 
Other future plans, than the testing of the new feature, are sharing the Fundraiser in both posts and stories. But this is to be discussed after seeing what traction it has with the beta testers.
A novelty is that Instagram will charge fees for the fundraiser, but this will depend on the country you are creating it from.
Personal Fundraisers are not the only means in which Instagram is encouraging donations. Remember when the Covid-19 pandemic started to hit different markets all across the globe? It was then when Instagram has added a donation sticker to the Stories and encouraged users to support local and small businesses either with donations or through the support small businesses sticker.
In the future, Instagram plans on enlarging the areas where Personal Fundraisers are being tested.
See also: How do you edit an Instagram comment?