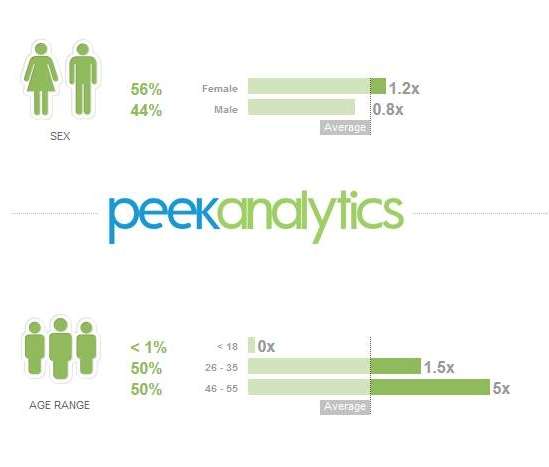 There are various tools to analyze the audience of a brand on Twitter and today I am going to talk about a tool that I discovered and helped me out with some pages I administrate. PeekAnalytics is a "social audience measurement platform that provides rich consumer insights to marketers allowing them to better identify and qualify social audiences, and target content to create highly converting social initiatives."
So, what can you identify through PeekAnalytics?

Audience – give you the opportunity to see how many men and women are following you. Twitter followers are classified into Consumer, Business, and Private (i.e. locked) accounts. The rest, which are labeled Unidentified, are an assortment of anonymous and spam accounts, which do not factor into your audience metrics.

Audience Reach Insight – tells you about the average number of connections your followers have across all social media platforms.



Geographic Insights – PeekAnalytics offers you important informations about countries and cities your followers live.


In addition to this information this tool also provide the audience's interests, studies, most used social networking … PeekAnalytics is a simple tool to use and it gives you great information when planning a campaign or market research.
What tool do you use to analyze the socio-demographic profile of the audience on Twitter?

See also:  8 Essential Twitter Tools You Should Be Using