Ever since Facebook acquired Instagram, they have started to change it in order to improve it and to give its users a more powerful experience within the app. At F8 they announce new changes, but not all of them are visible yet. Some of them are still hidden in the code and might come to life soon enough. It seems that they want to improve the Stories camera with different UI instruments, so let's see next what is this all about.
News for Instagram Stories
1. New Camera Icons
You are already used to Instagram Stories Camera's icons and know what they all do once you tap on them. It seems that for the redesign they have chosen different colors for each of them and added gradients to they would be easier to be identified.
2. New Boomerang
After Boomerang has been one of the most successful products of Instagram and throughout the time it has changed and added new ways of doing it, it seems that it will also get some new features that you can see in the image below.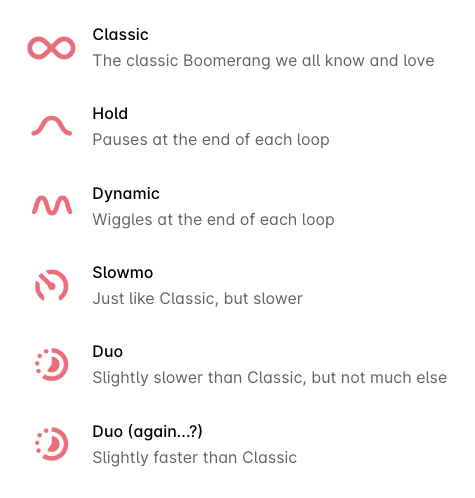 3. Layout
Remember the times you used to have all those apps related to Instagram on your phone and if you wanted to make a Boomerang you used one of them if you wanted a Layout you used another, so on and so forth. Maybe some of them disappeared from your phone because you wouldn't use them that much. In my case, one of those was Layout. But now Instagram is prepared to have a Layout app withing the Stories. You can add multiple photos that you do on the spot or even choose from the camera roll. 
4. Sharing the Comments
There are often comments you see that matter and would like to share them with your friends or followers. Until now, this was not an option, but Instagram is testing a way of sharing the comments via Direct at the moment, but things might be refined throughout time.
What do you think of the novelties Instagram is ready to bring? 
See also: Can posts be scheduled on Instagram?