Instagram is making easier to connect with people you just met or making new friends. There have been implemented two new ways to find friends on Instagram. Let's see which are those!

Introducing Instagram Nametag
Just like on Facebook, you can now scan a nametag in order to find friends on Instagram or to connect with new people around. Each nametag is unique and it just needs to be scanned in order to see a profile, whether it is a personal one or a business one.
In order to test a profile's nametag, you must go to your own profile, tap the three lines at the top to discover more and there you will see the nametag section. Select it and personalize it as you wish: a color background, an emoji one or a selfie with camera effects.
To scan one's nametag, you just have to hit the "Scan a nametag" button and the camera opens. Another option is by opening the camera by swiping right. After you've done this, hover the camera above the other person's nametag and you will see if you follow that specific person or business. If you don't a message will appear to view that person's profile and the possibility to follow it.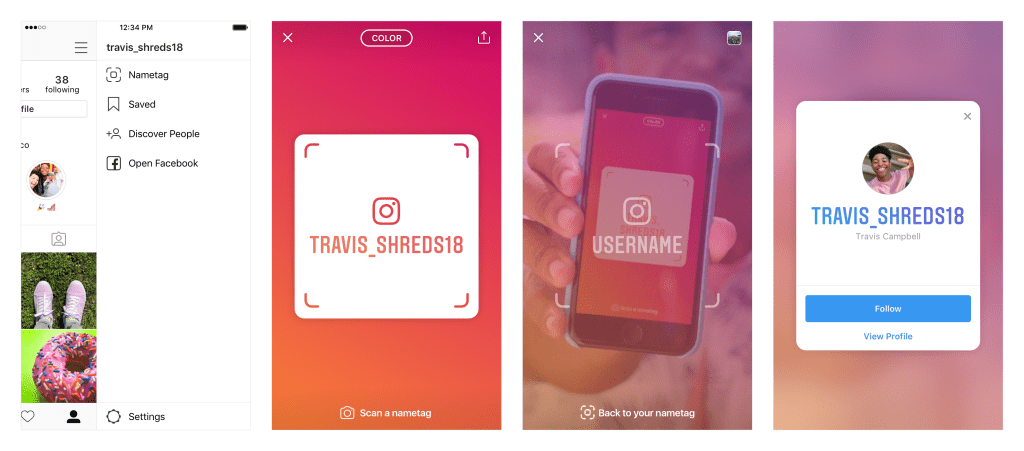 If you want to get noticed, you can share your nametag with other social networks such as Facebook or WhatsApp, copy the link and share it in an e-mail or even print it and spread it across the city. This last option suits better business profiles that are new to Instagram and want to spread the word about their products.

School Communities
Remember the beginnings of Facebook? How the idea arouse? It seems that Instagram is going back in time by testing school communities.
School has recently started in the US, where the test communities are, and Instagram is trying to make students show their schools' spirits and connect with the colleagues or graduates to exchange ideas.



The new feature is being tested in schools across the US and, if you are in the target group and want to take part in the program, you can add details to your profile such as University, class year or any other information you want to share with fellow colleagues. This way, people you don't follow or that don't follow you can see your profile in a listing, get in touch with you and, why not, start a new friendship based on the same location or interest. Of course, you can limit the interactions with the people you don't know if you feel they don't suit your interests.
The Instagram nametag feature is available worldwide on both iOS and Android platforms, whereas school communities are currently available only in selected areas of the US, but the feature will come to more and more schools.

See also: Instagram Founders Leave the Company