Remember the moment Facebook rolled out stories on the mobile app, right on top of the newsfeed so they can catch your eyes every time you opened the app? Do you use this new feature? Or do you think it is just a bad copy of other platforms' stories?
In case you missed it, here you have an example:




Well, at the beginning of August, Facebook started rolling for testing Stories on the desktop app as well. But this time, instead of positioning them on top of everything, they have chosen to add the feature on the right side of the page.
Now, more and more users noticed a new feature on their desktop app, so it seems that Facebook Stories on Desktop is not in a testing mode anymore and started to roll out all over the world.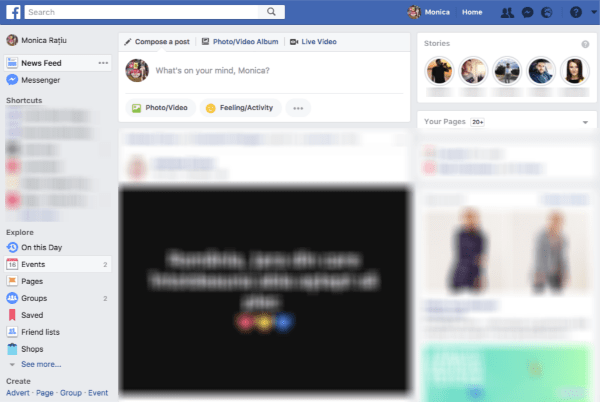 Right beside the name of the feature, a question mark appears, explaining what Stories are: photos or videos that are available to be seen for 24 hours before they disappear – the same algorithm used for Instagram Stories, Messenger Stories, WhatsApp Stories. The latest stories from your friends will be marked with a blue circle surrounding their profile picture.




At the moment users can't post Stories from the desktop app, so whatever you post on your mobile app will appear on the desktop as well.
Do not mistake the Messenger Stories with the Facebook Stories when posting from the mobile app and you don't want to have the same content uploaded across multiple platforms.
After Instagram Stories' success, where more than 250 million users are using the feature daily, Facebook put its bets on Facebook Stories, but it is too early to give numbers already.
What about you? Do you use Facebook Stories? Do you watch your friends' stories? How do you like the new Facebook Stories on Desktop feature? Let us know in comments below!

See also: Snapchat Stories vs Instagram Stories