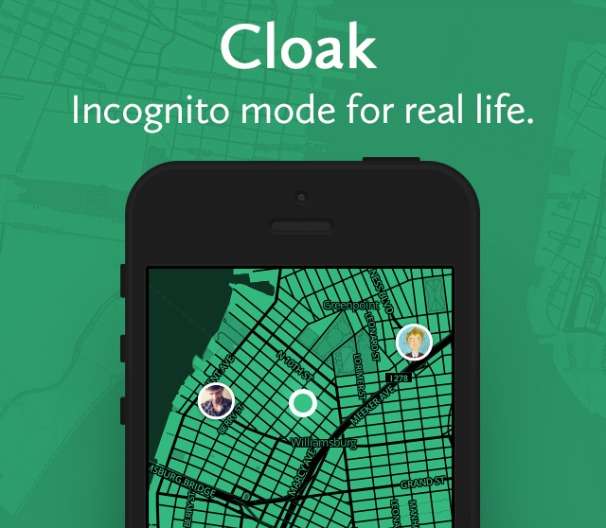 After years of being neglected in the social networking world, someone has finally made a service specifically for the misanthropes among us. Cloak is a new anti-social app that collects your friends' public real-time location information. You can then use this information not to coordinate a meet up with your friends, but to avoid them.
The app gets it data from Foursquare and Instagram — it plans on adding more networks soon — to send you a warning whenever people you don't want to see have entered your area. Cloak, apparently hoping to corner the coveted fugitive, philanderer and introvert demographic, also allows you to be proactive with your social avoidance tactics and mark those you would rather not encounter on a map.
Though at first the app may only seem useful to the kind of person who has a good reason to stay hidden, its makers claim it has a broader appeal. They call Cloak a way to "avoid exes, co-workers, that guy who likes to stop and chat – anyone you'd rather not run into."
A New Trend?
Cloak is the brainchild of Chris Baker, who used to be the creative director of Buzzfeed, and a programmer named Brian Moore. Baker believes Cloak will be at the forefront of the next big social network movement.
"I think anti-social stuff is on the rise," he said, "You'll be seeing more and more of these types of projects."
There could be more to this sentiment than shameless self-promotion. Other recent popular apps have tended to favor clandestine activity over public broadcasts. Consider the privacy of sending a short-lived picture through Snapchat or the anonymity of writing a message using Secret. These new stealthy apps are gaining popularity while being the antithesis of tweeting a selfie, posting your online college schedule to Facebook or Instagramming your breakfast.
Chris Baker and the Anti-Social Network
Baker seems to be at the forefront of a social media movement that dreams of a dislike button on Facebook. He created an extension, unbaby.me, to remove all of the baby pictures from your Facebook feed. This expanded into Rather, which according to its website, replaces "anything you want in your social feeds with things you'd rather see, like cats."
His new Facebook app, "Hate with Friends," is even more aggressively anti-social. It lets you select friends you hate and alerts you when someone hates you back.
Will It Catch On?
Still, some remain unconvinced that Cloak is a sign of things to come.
It's possible that Cloak and other such misanthropic apps are more of a result of developers desperate to find something no one else has made rather than a reaction to their users' demands.
"It does sound like a gimmick," Nick Jones, editor-in-chief of App Magazine, told the BBC recently. "People are having to diversify their apps and find some unique angle to their app, and then try and sell it to Facebook and make a pretty penny."
But Jones is willing to allow that whatever the motivations are behind its creation, he can see how there are some advantages to an app like Cloak.
"Secrecy has its advantages for people," he said, "It's quite attractive."
Will you try this Anti-Social App called Cloak?

See also:  Are Teens Really Abandoning Facebook? Here's the Truth