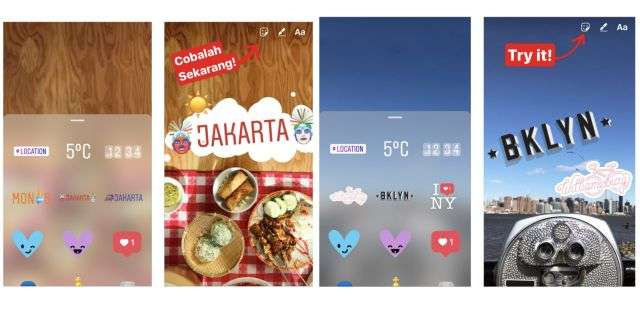 There has been something of a rivalry between Instagram and Snapchat, which is understandable given the similarities of both platforms. As a matter of fact, it was reported back in January that Snapchat Story activity decreased approximately 40% between August and November the year prior. Instagram is focused on continuing this hot streak of sorts, which brings us to the recent addition of geostickers.
For those that don't know, geostickers are illustrations that Instagram users can add to their posts and Stories. These particular stickers are different, however, since they are generated based on location. According to Instagram, the first locations to get unique geostickers are Jakarta, Indonesia and New York City, New York. Not only are these stickers quick to appear, but they will be generated to reflect the mood of the scenery. Throw in various customization options and it's clear that geostickers for Instagram are nothing short of user-friendly.
This is another example of Instagram's rivalry with Snapchat, as the latter implemented its own geostickers back in August. While this might seem like a knockoff on Instagram's part, the company has been able to add the ability to show the location with ease, which is absent from Snapchat. What this means is that while Instagram has clearly taken inspiration from its competitor of sorts, it implemented enough changes so that it can stand out on its own. Given the 150 million-plus users on Instagram Stories now, the changes in question are for the better.
I have to believe that these won't be the only geostickers for Instagram that will bring into the fold. As a matter of fact, before 2017 is done, I wouldn't be surprised to see other big cities included. Geostickers for U.S. cities like Los Angeles and Chicago make sense, but the aforementioned inclusion of Jakarta show that geostickers will be international. Last year, it was reported that there were more than 12 million Instagram users in Japan. Wouldn't it make sense for geostickers to be released for those residing in Osaka, Tokyo, and other cities in that country? Once again, it wouldn't be a shock to see this change by the end of the year.
Instagram caught on as one of the hottest social media services in the world, so it makes sense to implement features like geostickers for Instagram. Not only do these help to create unique experiences on the channel, but it's an idea that has the potential to expanded upon. For this reason, alone, it's an online marketing firm's best interest to see how these geostickers develop. Judging by what has been released, it's fair to be optimistic.
What do you think about the recent inclusion of Instagram geostickers? Will they make you more inclined to use Instagram? Please leave any and all comments down below!
See also: Instagram Stories vs Snapchat Stories