Let's take a walk in the social media marketing lane. Back in those days, Twitter came to life and there goes the 140-characters marketing. Soon, Facebook, Google+ and more social media platforms emerge like mushrooms after the rain. Last year, visual marketing was said to be the next big thing and people went flocking over to it. Even social media tools like MavSocial, Buffer and Hootsuite started to focus on sharing media contents; not just those links and texts.
During the last social media expo, live streaming came to life and it literally shocked the world. Imagine the ability to share anything, at anytime with anyone you wish — just with the power of Internet.
Sure, live streaming is something new and many people may even consider this as 'odd'. Like it or not, I am guessing that live streaming would be pretty much a big thing in the coming months.
Want to try out live streaming and get to know the real deal behind it? Carry on reading!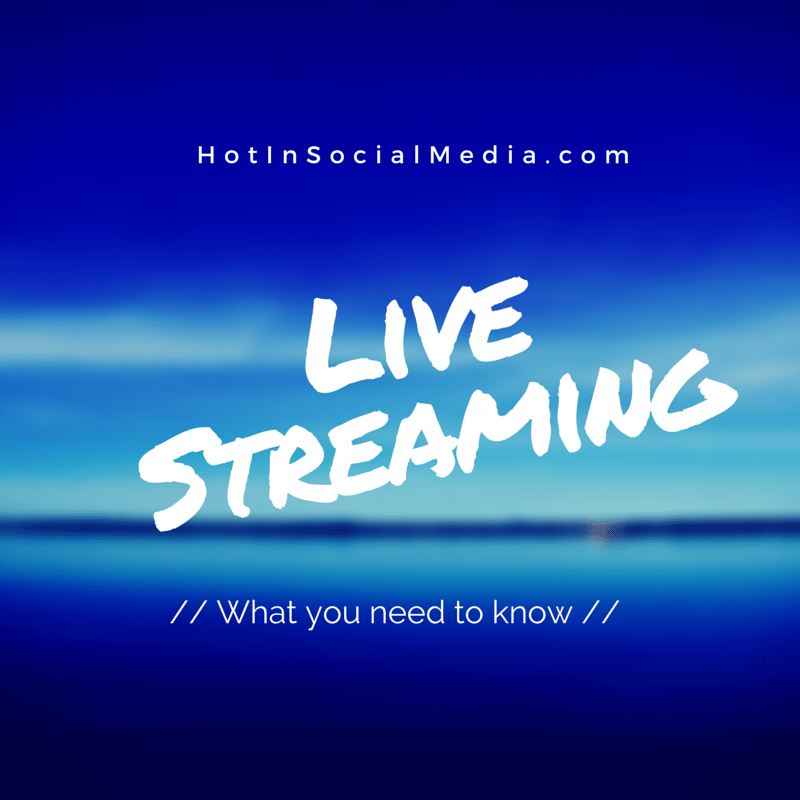 Live Streaming: What You Need To Know And How To Leverage It
1. The real power behind live streaming
You connect with people across the world, anytime and anywhere you wish.
I was playing with Meerkat (a powerful live streaming app found on iTunes) last Friday and I was streaming a live feed from a friend of mine who visited Stonehedge.
Here's the thing. I have not been to Stonehedge and yes — I'm dying to know about it! The stream was so clear and I felt I was there (even thought I'm in my bedroom). I even 'visited' New York City and Paris that same night.
Live streaming allows you to remove any barriers; let it be time, location or both. Anyone (if allowed) could easily get involved in any live streams around the world — right from the comfort of your own home.

2. Instant interaction with anyone who is watching
We have been talking about interactions all the time especially in social media, right?
Live streaming tools like Meerkat and Periscope (app from Twitter) allows you to communicate with anyone who is interacting with your live stream instantly.
And this means that you can see the comments shared by them instantly and you can engage with them directly from your feed. Powerful methodological especially when you want to create a live questions and answers session.
Live streaming removes the common, longer periods needed to provide a respond as we may receive notification later. Putting that all aside, you can reply to your fans, followers or anyone directly during the live streams.

3. Live streaming for content marketing (what?!)
I hear you and you think that I'm nuts. But no, I'm serious. Have you ever thought about using live streaming as a form of content marketing?
Allow me to rephrase. Let's use live streaming as a form of content distribution.
Instead of doing live webinars or hangouts, why don't we use live streaming to communicate and spread the content? Sure, live streaming is usually more usable directly for the person streaming and spectators usually have lesser features.
But the idea is still extremely useful and I have recently participated in a live streaming using Periscope (a questions and answers session) which was really great.

4. Opportunity for viral marketing without cost
Marketing isn't free and in most cases, it can really burn a hole in your marketing expenditure. But with the ability of live streaming, it allows you to engage with people around the world (with or without becoming your fan), with no cost involve.
Sure, there is the need of broadband and Internet but those are literally, that's all.
For example, Meerkat app allows you to tweet and comment directly from the application itself to Twitter. Can you image the number of followers you can reach out in the case where the live stream is shared by top influencers?
Yes! We are talking about thousands of people, folks!

5. Taking marketing to the next level
Apps such as Meerkat allows you to create a powerful call to action at the end of the live stream. Imagine the good-ness you can do with the call-to-action button.
A simple line such as, "Follow me on Facebook" or "Click here to discover more videos" can easily double your engagement rate at a very unexpected rate.
I don't believe I need to explain further, right?

6. Building a community via live streaming
And if marketing isn't your thing, live streaming is also a great way to build a community around it.
Take a moment to read this post found on Social Media Today and the biggest takeaway is the part about educating.
Let's face it, you probably don't get much engagement on Facebook or Twitter — unless you are as popular as Kim Garst or Guy Kawasaki. The invisible barrier will always be there regardless you like it or not.
However with live streaming, you are pretty much definite to get more responses (engagements in a form of commenting, liking and sharing) compared to the usual social media marketing strategies out there.
And the concept behind this is fairly simple. People love to be feel belonging and when they are indirectly involved in a process such as live streaming, people tend to engage more!

Conclusion
Live streaming has many advantages and with the technology we have today, smartphone apps make everything much easier for you. You don't have to bring your recorder etc — you can do it directly from your palm!
Putting all the advantages aside, there are still serious issues with live streaming. One of the biggest examples is that live streaming takes a lot of data and bandwidth. If you are on limited data plan, it would prove to be really challenging.
At the same time, infringement could also be a case where video broadcasts are done in paid events. Filming irresponsibly could put you into much unwanted situation and therefore, always take a moment to judge if the action of live video streaming fits the situation.
But hey, it's over to you now! Do you use Periscope, Meerkat or any similar live streaming tools? What do you think about it? 

See also: 5 Tips to Help You Become a Productive Social Media Marketer