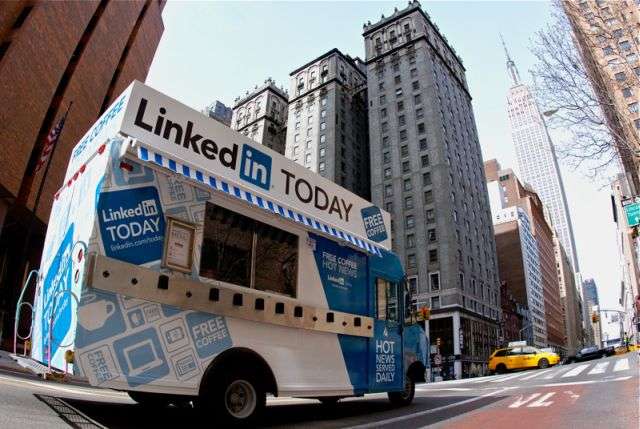 Step aside, Instagram. Move over, Pinterest. The fastest-growing social network isn't one of those young-skewing, visually focused sites sparking so much buzz over the past three years. Instead, it's LinkedIn, whose latest growth numbers are truly stunning.
The company has surged past 300 million users, with 23 million more users jumping on the site since fourth quarter of 2013. That's an average growth rate of 215,000 per day, up from 191,000 the previous quarter. And if you're looking for comparisons, that's a faster rate of growth than either Twitter or Facebook has achieved in recent years.
So what's behind LinkedIn's suddenly soaring user base? Here's why you should be putting more effort into the business-focused site.

Is LinkedIn the Hottest Social Network Now?
A Mature User Base
Let's be honest, sometimes you look at Instagram and cringe. The maturity level of the users can be so low that you honestly wonder if it's worth putting your business out there. That's not true of LinkedIn.
Because it's a business-focused network, people tend to stay professional and focused on discussing big industry-wide issues. You won't find Cats of LinkedIn or boards devoted to Ryan Gosling's abs. Instead, you'll connect with people in your niche and get useful ideas. LinkedIn appeals to older users than Twitter and Instagram, whose base is adults 18-29. You can focus more on ideas than the gimmicks you have to use to gain traction on other social networks.
B2B and B2C Networking
There are often different strategies for promoting a business-to-business and business-to-consumer company. The beauty of LinkedIn is that it offers great ways to brand for either one, in a way that other social networks lack. Finding partners and vendors for campaigns is easy on LinkedIn, whereas it takes a lot of searching on other social networks.
What You Won't Find on Other Social Networks
Of course, perhaps the biggest reason behind LinkedIn's continued growth is this: It's not hip or trendy. When you're hip and trendy, you follow a path well-trod by other social networks before you. You enjoy a meteoric rise, followed by a quick and depressing fall. Remember Friendster and MySpace? They were also once cool but fell out of favor when newer and awesomer social media sites like Facebook and Twitter launched.
But because LinkedIn was never really part of the "in crowd," it's not suffering the same crash and burn. Indeed, it's still growing at a very rapid pace a decade after its debut, a rarity in the social media world.
And the still-tepid job market certainly doesn't hurt LinkedIn's appeal. Though the unemployment rate has dropped, many people who have found jobs remain underemployed and are looking for ways to find better jobs, doing the things they were trained to do. LinkedIn offers them a chance to network and search job listings, two things that will never go out of style.
LinkedIn will remain hot because it's serving a viable function. You don't need to look at cat pictures on Instagram every day. But you need to be gainfully employed, and that's the real secret to why LinkedIn is still red-hot.
Is LinkedIn the hottest social network or not, what is your opinion?

See also:  25 Hottest Skills That Got People Hired on LinkedIn in 2013