Lately, LinkedIn is trying hard to be in the spotlight bringing more and more social media features to the platform: from diversifying the reactions to posts to adding stories-like content, it seems they want to reach more and more people and to become more personal than professional. Or, at least, this is our impression. 
This time, they have partnered with Spotify in order to create something that people have been asking for: playlists for different moods or activities. Adding soundtracks to every user's development in their career.
So how do you choose what to listen to?
LinkedIn specialists, together with Spotify ones have created different playlists for different activities uses do on the platform. Some of them are:
New job. Fresh start. – for when you found the job you wanted, applied and got accepted. Congrats to you and start listening to celebration music!
Refind and focus. – for when you are updating your profile in search of a job. Or just scrolling through different jobs or companies that fit your profile.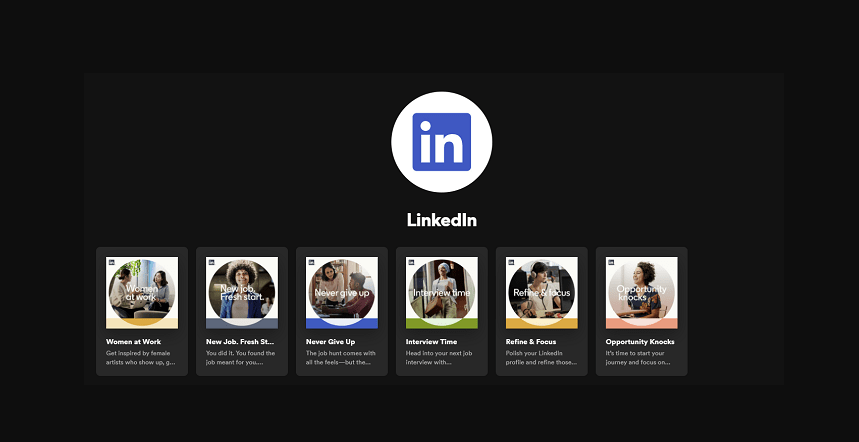 Opportunity knocks. – for when you are looking through recruiter's offers and have to think whether it is a good idea or not to go to an interview.
Interview time. – for the times you are going to have interviews at different companies when looking for a change. 
Never give up. – for the times you might have been rejected, but must realize that failure is a step forward and better things await. 
Women at work. – for the times you need to be inspired by female personalities and not only to get things done, no matter what.
Those are just a few playlists available from now on via LinkedIn. 
In order to listen to the musical recommendations, just select a playlist that fits your mood and start discovering and listening to the music they suggested.
What do you think about the fact that LinkedIn launches Spotify playlists? Do you think it is a successful one? Will it attract or engage more users?
See also: Are LinkedIn ads worth it?