One of the most important things in the professional world is meeting face-to-face. After the success of Facebook events and Meet-up ones, LinkedIn is taking a step forward towards offline events that gather people interested in the same topic at the same place.
LinkedIn has announced that they will launch LinkedIn Events, a new feature that allows you to create an online event for an offline one and makes it easier for users to find about it and engage with it.
What's up with LinkedIn Events feature?
Statistics show that professionals that are on LinkedIn are more likely to accept new requests from people they have met face-to-face than never. So this is why they will implement this new LinkedIn feature where people interested in the same topic can meet and discuss about it. You will be able to create your own event, invite connections or join an event created by others.
How do you create a LinkedIn event?
First of all, you must decide whether you want to create a public or a private event, because LinkedIn gives you this possibility.
Then, in order to start creating the actual event, you must go to the Community page on the left side and then click the "Create" button.
After you have done this, you must populate the event with a description, date and time and, of course, a venue.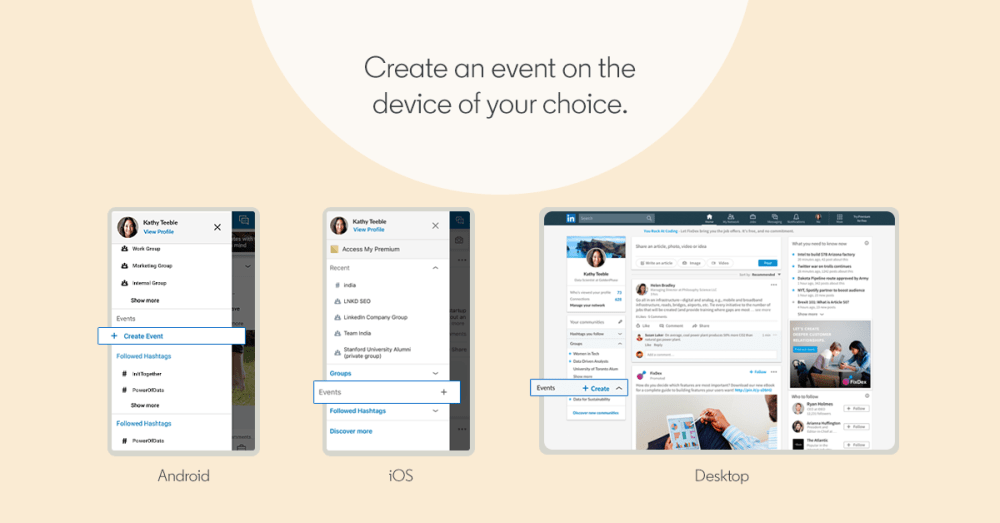 The next step to follow is to invite your audience. You can select from your connections the ones that might be interested in the topic and go even further with using filters such as location, industry, company or school.
Their recommendation is to share the event on your page's profile or your personal one to get more leverage for it.
After creating the event you can easily post updates and interact with people that have joined it. Members that have joined the event can also invite other connections that might be interested in it.
You can find out more details about on LinkedIn Events here.
See also: How do I optimize my LinkedIn profile for SEO?