In a time when festivals and events all over the world have been postponed or switched to online, it is no surprise that Snapchat is also launching a new one, online.
In a world where AR is gaining more and more territory, it is only normal that Snap would organize an online festival on this.
Between 8 and 10 of December, we present you: Lens Fest, Snap's Global AR Festival that you can join now. Registration closes on the 8th of December.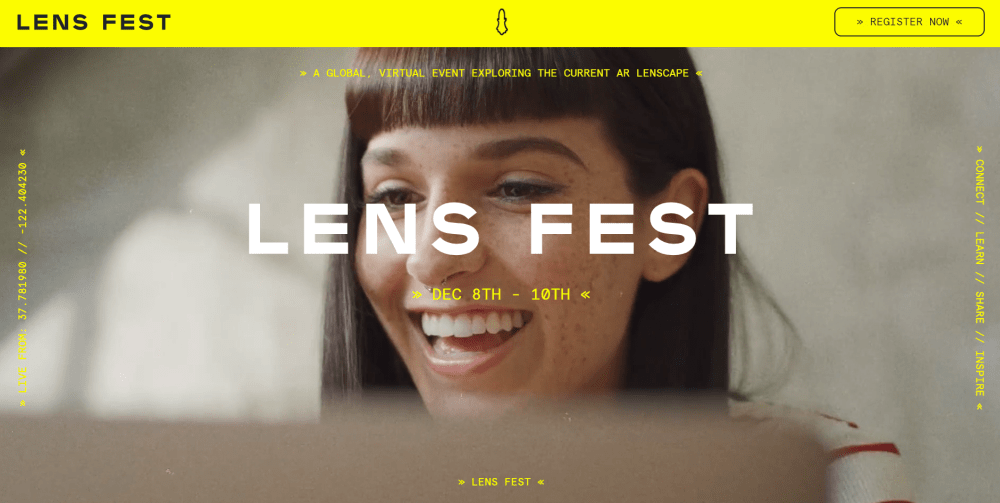 Lens Fest
Let's see what will happen during the 3-days festival and how to register.
Each day, starting 8 AM PT, there will be four online sessions, by the following schedule. And more:
Day 1
Snap's AR Ecosystem – From Creation to Discovery
Building the AR Economy: Creator Opportunities With Snap
From Design to Development: An Introduction to the Power of Lens Studio
Demo: Tutorial: No Code AR.
Day 2
Our Global Community: Lenses With Social Impact
Machine Learning: Building Innovative Lenses With SnapML
Creator Insights + Hacks: Instantly Uplevel Your AR Lens Experiences
Demo: Tutorial: New Improvements to Lens Studio
Day 3
The Future of AR: Changing the Lenscape
Elevating Your Creations: Discovery and Distribution on Snapchat
The AR Frontier: Unlocking New Experiences With Lens Studio
Demo: Tutorial: Lens Studio Deep Dive
Who can register?
This year's Lens Fest is open to everyone. So whether you are a content creator on Snapchat or just a regular user sharing content with friends and other followers, all you have to do is to answer some basic questions and you are in!
If you want to be on track with Snap's Lenses and if you want to find out tips and tricks on content, here's the event you should not miss.
Hurry up and register now for there days of knowledge and fun along creators and users all over the world!
See also: Snapchat Launched Spotlights