According to a report from Hubspot, 61% of marketers consider generating traffic and leads as their biggest challenge.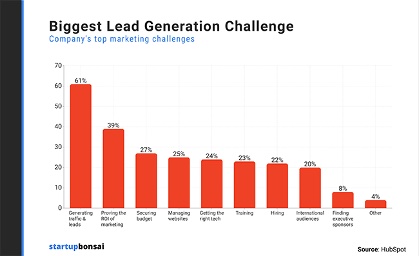 If you haven't deployed lead-gen tools yet, now's the right time.
Here are tried-and-tested lead gen tools that can be deployed across silos to create multiple doorways for lead generation.
5 Must-have Lead Generation Tools in 2022
1. Social Media Monitoring
Of course, running PPC ads and posting updates on social media is a lucrative way for customer acquisition. However, you can leverage social media's power more with a social media listening tool — a lead gen software that spots all your brand mentions, tags, and comments and analyzes whether people are displaying negative or positive sentiments online towards your brand. You can then use this data to engage with prospects more effectively.
Mention

Mention is an easy-to-use social listening tool. You can set alerts for keywords you want to track, like your business name, services, even keywords of competitors' and more. Get these alerts through email or view them directly in the cross-platform app.
With this app, you can track mentions across sites like Facebook, Blogs, Twitter, Forums, and more. With robust filtering, you can delete irrelevant alerts and prioritize important ones. Moreover, you get comprehensive reports based on rich data from your brand, a competitor, a product, or an industry topic to create data-driven lead generation strategies.
Features:
Social Analytics
Social Publishing
Social Engagement
Social Measurement
Influencer Identification
Custom Reports
Sentiment Analysis
Social Reporting
Rating: 4.5/5 (g2)
Price: free trial, $29, $99, $199 per month
2. Pop-ups
Pop-ups, unfortunately, are synonymous with spam now. But, well-designed pop-ups on websites are very potent lead gen tools. For example, pop-ups on landing pages help share promotions, offer discounts, collect feedback, get more registrations, sign up for a newsletter, play a game, take part in a quiz, and read a gated content piece, all of which are good lead generation methods.
Wisepops
Wisepops is a smart pop-up software that enables creating and managing website pop-ups from a single platform. This lead generation software comes with a drag-and-drop builder, ready-made templates, intuitive UI, and a unified dashboard.
You can embed images, videos, HTML, and I-frames to the pop-ups. It also offers data analysis, campaign tracking, and Google Analytics integration for designing more effective pop-ups.
Features:
Unlimited campaigns & leads
Email & CRM integrations
Chat support
A/B testing & Scheduling
Goal tracking & Analytics
Advanced Targeting
Exit Intent
Rating: 4.9/5 (g2)
Price: Free trial, $49, $99, $149, and $249.
3. Email marketing
Email marketing is a very effective lead gen software since it nurtures leads that are already interested in your products. With email marketing software, you can reach out to customers with promotions, discounts, and any other marketing messages to urge them to move further down the sales funnel.
Mailchimp
Mailchimp is one of the most in-demand and feature-laden email marketing software. It is an email marketing service and marketing automation platform for sending multiple emails to leads. Its audience segmentation tools make it easy to find and target the right customers and send emails to them; without filling inboxes of leads having no likelihood of conversion.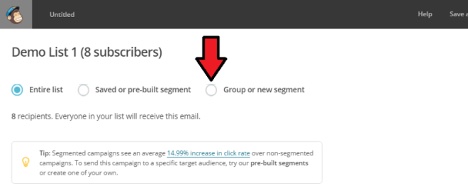 Features:
User, Role, and Access Management
Data Import & Export Tools
Integration APIs
Manage Email Lists
A/B Testing
Content Optimization
Rating: 4.5/5 (g2)
Price: 30-day free trial then $299, $14.99, and $9.99 a month.
4. Customer Relationship Management
Let's assume that a support rep gets an email from a prospect with specific questions about the rate of a product. If the support rep is unsure who to contact in sales – you lose a sales opportunity! To avoid such instances, CRM software is needed. They notify the sales team when there's a lead or sales opportunity and intelligently create the right action item for the right salesperson.
Zendesk Sell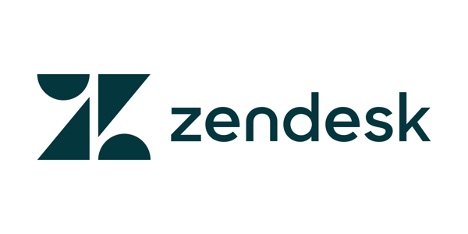 Zendesk Sell is the best CRM software in the market. This potent lead generation software is loaded with all the powerful features necessary and can easily integrate with third-party apps. In addition, it offers detailed analytical reports for major KPIs to help you generate leads better.
Features
Email integration
Sales engagement tools
Task Player
Call and text
Smart lists and templates
Power Dialer
Bulk Outreach
Rating: 4/5 (g2)
Price: Free trial, $49, $79, and $99.
5. Referral marketing
The power of word-of-mouth marketing is undeniable. Well-designed referral programs can literally make leads rain for you! They allow you to create campaigns that reward existing customers for referring your product to friends and family. Referral programs have been the success driver for most leading businesses today.
ReferralCandy
ReferralCandy is a great, easy-to-use lead generation tool. It automatically pays out rewards so that you don't have to make manual efforts. In addition, it tracks your referrals to help you count the leads you are generating with referral programs. Moreover, it also helps you tackle fraud and spam activities that often occur with referral programs.
Features:
Customize Reward Options
Live Chat Support
Easy Integrations
Data Analytics
Unified Dashboards
Rating: 4.4/5 (g2)
Price: Free trial, $49 a month + commissions
Summary
We hope you get these tools in your arsenal asap and deploy them to acquire maximum leads and boost sales. If you don't want to get them all, then investing in Zendesk (Sales and Service) is suggested as it houses multiple lead gen features. Let me know if I'm missing any important lead generation tools in the comments below.
See also: What is the most reliable word counter?