2016 was the first time in the advertising history when digital advertising ads had a bigger budget ($72 billion) than TV ads ($71 billion) in the United States, as an eMarketer report said.
This year (2017) the digital advertising in the United States will grow by $10 billion (around $83 billion for advertising ads compared to $73 billion for TV advertising).
All the companies in the world are trying to attract new clients and maintain the existing ones. No matter what sector these companies activate in, they know for sure that more and more of their potential clients are online so… they must allocate a bigger budget for online advertising year after year.
The classic online advertising channels where you can start a new advertising campaign are: Google ads, Facebook ads, different banner sizes, advertorials, email marketing etc. Both the advertisers and the audience have grown sick and tired of these non-creative advertising channels but… there are very few, if any, online creative advertising projects nowadays.
Get a country is a new and creative way to make online advertising. Below you can find all the important questions and answers regarding this project and why it is so special and unique in the history of online advertising.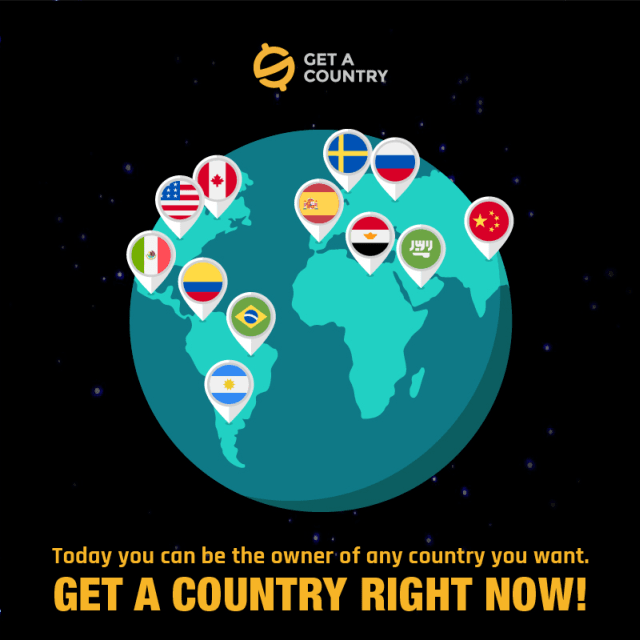 What is a Get a Country project?
Get a Country is an "out of the box" online advertising project where you can navigate around the globe, buy or rent any country in the world you want and add your logo and name on it. This is probably your only chance to own any country in the world you want and advertises on it… for life!
There are only 239 spots available so… hurry up if you really want to own your native country or any other country in the world. Get a country now!
How many ways of advertising do I have on this project?
Because this online project is unique in every way you look at it, there are 2 creative and unique ways of advertising in this project: buy or rent a country you want and add your logo, name, link and other details on it. Every person that will look at the country you own will see your brand, name, and description and can also click on your link.
What is the difference between get a country and rent a country?
If you want to own a country for life and advertise on it, you'll have to buy a country and nobody will ever have the possibility to take it from you. If you want to rent a country and add your name and logo for a limited period of time, you can choose between the 4 packages available for rent: 1, 3, 6, or 12 months.
Why is it better to advertise on GetaCountry compared to Google Ads or Facebook Ads?
Google Ads and Facebook Ads are for everyone but if you want to own a unique piece of online advertising in limited edition (only 239 spots available) where you can advertise for life starting with a price as low as $200 then… try something "out of the box" like this creative project: Get a Country.
If a country has been already bought, can I still buy it or rent it?
If you've already bought a country, no one else will be able to buy it or rent it from you.
If a country has been already rented, can I still rent it or even buy it?
Yes, if a country is rented for a few months (1, 3, 6, or 12 months) you can buy it or rent it after it is available again.

Which country is the cheapest and which country is the most expensive one?
There are 42 countries with the lowest price of $200 and from this price, you can go to a maximum of $171,000. If you want to see the price of a specific country you'll have to make an account first.
There are just 239 spots available, so if you want to be a part of the online advertising history…. get any country in the world, if you are lucky and it is still available.
Ok, and now I'm curious, which country or countries would you like to own and why? I'd love to hear your answers, so please leave a comment below and let us know what your connection is to your favorite country!