After Snapchat announced their latest revenue, Instagram officials announced on Twitter new features for the stories: Instagram resharing posts in stories. So whether you have an interesting post by yourself that you want to share in a story or you found something from the people you follow and think your followers will appreciate, you can now repost it.
Even though it has not been made official yet on the Instagram blog, one Instagram user, Zachary Shakked, posted on Twitter about the newest update. Matt Navarra from The Next Web as well. So the feature is still in a closed beta status, receiving feedback before rolling out to the whole world.

Instagram Resharing Posts in Stories

With this new feature, if you are the kind of user that doesn't post much on Instagram, it gives you the opportunity to do it more. You will now be able to share stories both photos or videos you made yourself or a friend or a brand you are following posted.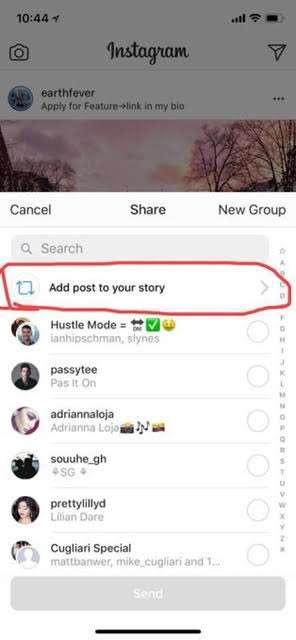 Instagram confirmed that the new feature is in beta testing: "We're always testing ways to make it easier to share any moment with friends on Instagram."



What if you have a public profile and don't want other users to share your posts? Instagram thought of it all and there is an option that allows you to block the sharing. Even if you don't already have the possibility of sharing another's post, you can block the sharing option already. Which is a sign that the feature will soon be available to all the users.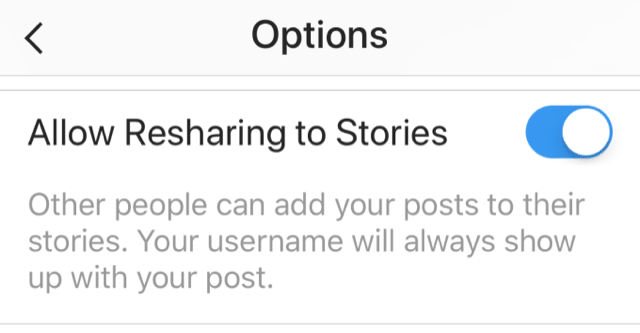 Before the new feature was available to the public, the only option of resharing a post was screen shooting it and reposting it on your profile. So the other user didn't have any control over it. This is possible now as well, but it will be recommended to use the Instagram's official update.

What else comes with the new Instagram update?
Apart from the possibility of reposting a photo or video to your story, you will also be able to resize it, reposition it and the background will have colors that can be found in the photo or video.
The new update is a big plus for the brands, as they can encourage users to share their posts and giveaways for brand awareness.
What do you think of the new feature? Do you already have it? Will you use it for personal matters or for business ones?
Images via TechCrunch
See also: Share Live Videos on Instagram Direct Messages