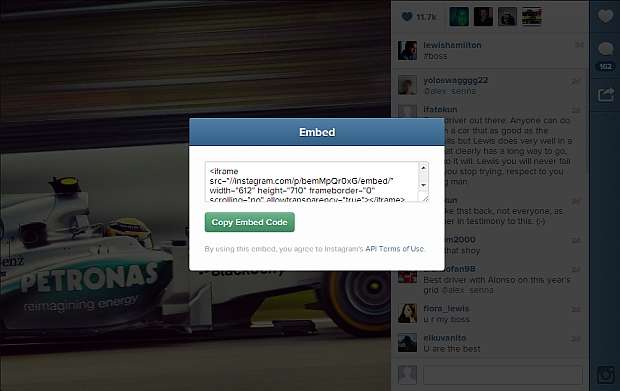 Instagram added today (July 11) the possibility to embed photos or videos only for desktop.
You can find this Instagram Embed Code button on your Instagram desktop profile, on the right side of your photo or video, just under the comments button. After you click this  button, you will see the embed code and you can copy the text and paste it into your blog or article, just like making a tweet embed on Twitter.
Instagram Introduced Photo and Video Embeds Option

As the guys from Instagram said on their blog:
"Your embedded photo or video appears with your Instagram username, and clicking on the Instagram logo will take people to your page on Instagram.com where they can discover more of your photos and videos."
The Instagram Embed Code is available only for the photos and videos who are public.

Below you can see an embedded photo from Lewis Hamilton's Instagram profile (Formula 1 Driver):