Instagram is one of the most popular social media platforms. With over one billion active users, it is pretty much a treasure for marketers. Features like stories, live, IGTV, and Reels (recently launched) offer plenty of opportunities to promote your products and services on Instagram. 
Instagram Marketing During and Post-COVID-19
The overall internet usage has risen in the past few months. Instagram has seen a 40% increase in usage due to COVID-19.
Time spent on Instagram is predicted to grow by 14% in 2020. It equals over three minutes of additional time spent by each user. The new Instagram shop has a huge role to play in this regard.
The number indicates that you have a unique opportunity to promote your market, reach more people, and deepen your relationship with your audience.
However, it isn't as easy as it sounds. Between creating content, commenting, and liking countless posts, you have to commit hours of work every day. Now imagine trying to manage multiple Instagram accounts. You'd be working long hours of work and achieving minimal results.
That's where Instagram automation tools come in. They enable you to schedule, engage with various posts, and achieve better results. But, to use multiple accounts and Instagram tools efficiently, a proxy is necessary. Without proxies, you risk getting your social accounts blocked.
Types of Instagram Proxies and How They Work
There are two primary types of Instagram proxies:
Residential proxies
Datacenter proxies
Residential Proxies
It offers residential IP addresses of real devices associated with an internet service provider (ISP). All the IP addresses you get from a residential proxy point to a physical address, making it look genuine.
Datacenter Proxies
A secondary corporation offers IP addresses in datacenter proxies. It is not associated with ISPs. All the IP addresses you get from a datacenter proxy are a combination of numbers and not a real one.
Both residential and datacenter proxies work the same way. They mask your IP address with a different one, making you anonymous online and safeguarding your data.
10 Instagram Hacks for Marketers
75.3% of US businesses are likely to use Instagram in 2020. This makes it important for marketers to implement advanced strategies to stay ahead of their competitors.
Here are ten Instagram hacks that can help you gain a competitive edge.
1. Use Residential Proxy for Instagram
Residential proxies hide your online identity with a genuine IP address. It helps manage multiple Instagram accounts without the risk of getting blocked by the social platform. Even if an IP address gets blacklisted, the residential Instagram proxy provides you with another IP instantly.
Residential proxies also enable you to scrap your competitors' Instagram handles to understand what works best with your audience without getting identified by the company.
2. Get Proxy in Any Location
When choosing a proxy for Instagram marketing, check the location of the IP addresses. Ensure it has a server in all the places you operate or want to expand your business to.
This helps localize your posts and increase engagement. Smart marketers use location tags to attract potential nearby buyers, and to do so; you need a proxy endpoint to that particular region.
You might also need to access the latest features of Instagram that are in the testing mode. For example, the recently released "Reels" feature was first launched in Brazil in November 2019. But it wasn't until July 2020 that other countries had access to it.
If you had a proxy in Brazil, you could have created short-form videos to target people in the country.
3. Maximize Exposure With Instagram Proxy
Multiple Instagram accounts enable you to cross-promote your business to maximize exposure. This is why all the major brands with a global presence have a separate Instagram handle for each location.
However, without a proxy, there is a high chance that all your Instagram accounts will be blocked. It means you will have to start again from scratch.
You can even create a different account for specific types of customers. That way, all your posts will be highly-targeted, thereby attracting customers with similar interests.
4. Automation Marketing With Instagram Proxy
With automation, you can follow, unfollow, like, and comment on relevant posts without being online all the time. This way your page will receive genuine engagement in return.
However, marketing software sends more requests in less time, making it easier for the company to detect it. Since residential Instagram proxies are associated with a physical location, it reduces the likelihood of getting blocked.
With an Instagram proxy, you can even manage several accounts from the same tool or use several tools for different tasks.
5. Use Hashtags in Both Posts and Stories
Hashtags significantly boost your posts' reach. It also increases your chances of appearing on the Explore page. Additionally, use hashtags in your stories to broaden its reach.
Three things to keep in mind when using hashtags:
Use hashtags that are the most relevant to the post.
Include both broad (e.g., #food) and niche-related hashtags (e.g., #bacon).
When using hashtags in stories, pinch it to be as small as possible. They should not hide anything important from your story while still increasing your reach.
6. Engage With Industry-Related Posts to Increase Followers
While likes, comments, and shares are essential, you should also have a strategy to increase your followers consistently. When you have more followers, other numbers (likes, comments, and shares) also increases.
Here are two great ways to increase followers:
Search for niche-related hashtags. Check the top posts. Select a few of them and visit their profile. Now see their followers and follow some of them. As they have already shown interest in your industry (by following the top post publisher), they are likely to support you.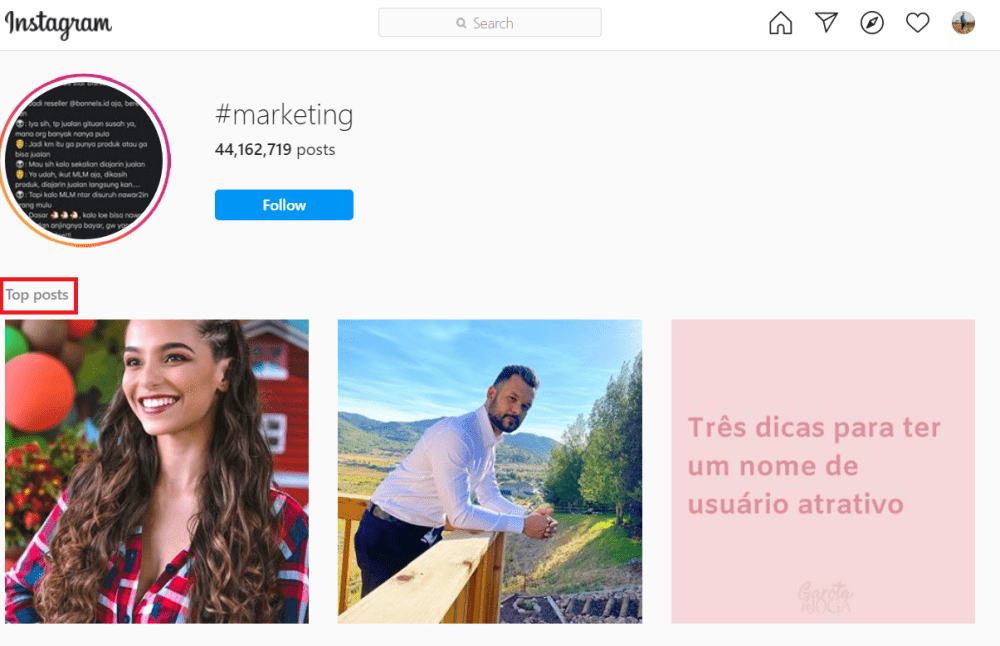 Search for niche-related hashtags and comment on as many posts as possible. However, make sure to leave thoughtful feedback and not just "agree," "yes," etc.
7. Leverage Different Content Formats
Instagram started as a photo-sharing app but has evolved a lot in the last few years. It now allows you to post pictures, carousels, short, and long videos.
What's more, is that Instagram has a different tab for photos, short videos, and long videos. By publishing content in various formats, you can keep your followers engaged and attract potential customers.
For instance, you can post images to highlight your products and videos to showcase your products in action.
8. Partner With Nano and Micro-Influencers
Almost every business is leveraging influencer marketing these days. However, many of them seem to ignore nano and micro-influencers. According to Influencer Marketing Hub, nano and micro-influencers have better engagement rates than social media celebrities.
Nano-influencers (1k-10k followers) have an average engagement rate of 4.4%. Micro-influencers (10k-100k followers) have an average engagement rate of 2.4%.
Medium (100k-1M followers) and mega (1M+) influencers have an average engagement rate of less than 2%.
Irrespective of which influencer you choose for marketing, make sure their fan base aligns with your target customers.
One way to do so is by analyzing their posts. Check what kind of content they post and how many of them are related to your business. Another way to find niche-specific influencers is by checking who your competitors have worked with.
9. Use the "Highlights" Feature
Highlights is one of the most under-rated features of Instagram and is useful for stories. Highlights allow you to make your stories visible permanently. They appear underneath your name and bio.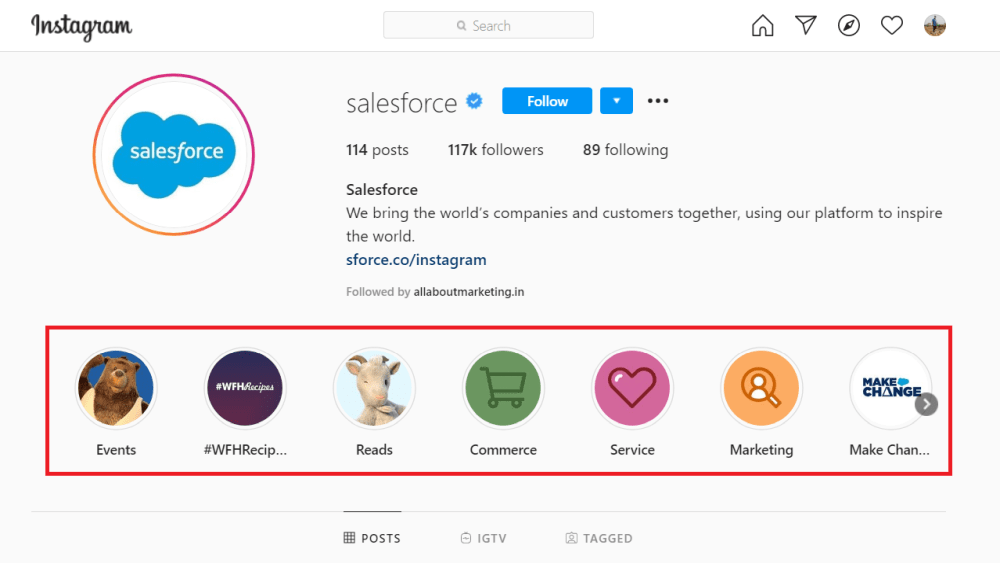 After your story expires (post 24 hrs), you will be able to check and add it in the highlights section.
Follow the highlights best practices to make the most of it.
Categorize your highlights in different relevant sections.
Highlight only the stories that align with your audience's interests.
Avoid highlighting generic stories, such as offline events (as the highlight becomes irrelevant after the event ends).
Use custom-designed covers to grab attention.
Check and remove any unnecessary or expired stories from highlights regularly. For instance, if you improve your product's existing feature, it would be wise to delete the previous update story.
10. Write Long Captions
In the last few years, there has been a surge in the long-form caption on Instagram. You can use captions to tell the story behind the picture to connect with your followers on a personal level.
Here is a great example of how Nat Geo uses the caption section to tell stories. In the caption, they mention that the elephants were rescued from drought-hit areas and poachers. These elephants will now be taken care of by wildlife keepers until they are old enough to be released back.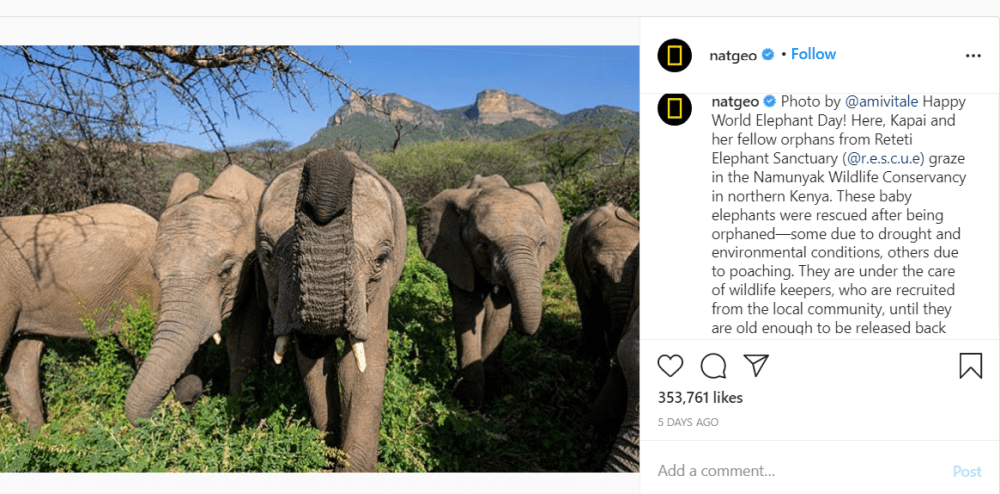 You can also use captions to share tips and strategies with your followers. For instance, BuzzFeedTasty uses captions to share recipes. They write the whole preparation process to help their audience make tasty foods.
Conclusion
With over a billion users, Instagram is definitely a boon for businesses. But, with millions of marketers using it to promote their business, it can get challenging to outdo your competitors. Follow the ten strategies mentioned in the article to get the best possible results from your efforts. Happy Instagram Marketing!
See also: 13 Social Media Best Practices For Marketers