Due to our global obsession with image and lifestyle, the image-dominant Instagram has become one of the fastest growing social media platforms, with 800 million monthly active users worldwide – of which 57% are active on a daily basis.
Statistics show that it has the highest engagement rates of any other social media platform, with 30% of Instagram users admitting to buying something they first saw on the channel, according to Yotpo.
So, for e-commerce brands, using Instagram as a sales channel is a no-brainer.
Here are some tips on how to create Instagram campaigns that drive e-commerce sales and generate clicks.

How To Create Instagram Campaigns That Drive E-commerce Sales?
Know your #audience
As with any targeted sales-driven campaign, you need to identify the target customer group who are likely to be active on Instagram and ensure that your messaging is on-point.
Survey your existing customers to discover who is on Instagram and whether there are any patterns in their interests and usage. How often do they use Instagram? When and why? What sort of content are they consuming/uploading? Make sure that what you're pushing out there as a brand aligns with your audience/
Identifying trending hashtags and popular ones used by customers on Instagram will help establish the relevant ones for a business to use. Using the right hashtag is a subtle art, but it can really help drive your brand message home.
Use new and undiscovered hashtags to reach a wider audience via insights gained from your current customer base. There might a whole subset of customers you haven't even discovered yet. At the same time, jumping on popular hashtags can also help you expand your reach.
The top current Instagram hashtags according to Instagram analytics tool Websta.me are: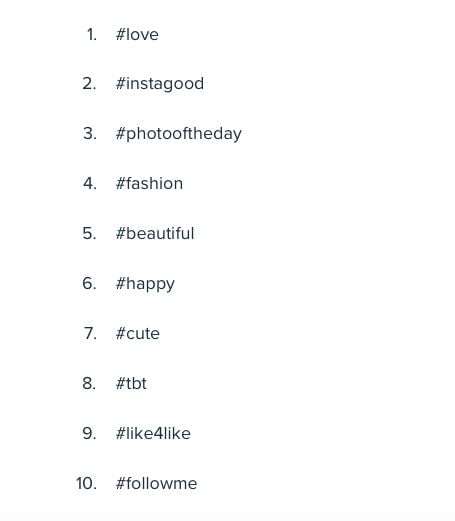 Visual content strategy is key
Instagram should not simply be a light-hearted visual romp through a day in the life of a business. There needs to be a strong thread of brand intent and well-thought-out strategy to bring sales-ready traffic to your website.
Enhancing photos may sound obvious, but integral to any successful Instagram campaign is an eye for composition and images that individuals will delight in. Take time to consider lighting, filter tone and color scheme when editing and enhancing images using Instagram's simple filter tools or a more sophisticated editing tool
Adapt your brand image to make it more #instagood: Consider what are the most visually compelling aspects of your brand. How can your brand story be depicted through images? Are people buying into your brand as a lifestyle? Can your products be depicted in action? Can you create a sense of your current clients, customers, and brand personality through imagery? You need a really strong visual message on Instagram, and it needs to be one that cascades across all your posts.
Plan in a content strategy with a thorough editorial calendar to make sure there are consistent opportunities for engagement throughout the week to build loyal and active followers. Up the ante when you need to — like building anticipation around a monthly new product launch or special offer.
Build interaction and engagement via Insta-perks, offers, and incentives without JUST pushing the sales element. Use competitions and fun tasks that attract people to you, rather than force them into being a customer before they are ready.

Converting followers into customers
A business may have numerous followers who are engaging with the brand on Instagram, but sales can be a different thing. Here are some ways to inch people along that sales funnel:
Clear CTAs that direct traffic to your store is a necessary component of the majority of posts (without pummelling people with sales rhetoric). Explore and test CTAs unique to your brand's messaging that entertain individual in a subtle way. Read here for more social media conversion hacks.
Exclusive contests, giveaways, free trials, etc. Get creative around how to build brand confidence and buyer traction with participatory, time-sensitive contests that require an immediate response, and have clear branded direction. Check out some of the best brands doing it right here.
Instagram integration: Use online store technology that allows you to accept sales across a wide range of platforms and networks, and make your Instagram posts shoppable while the technology is in the beta phase of testing. The idea is that users have a seamless experience with your brand and that they can make purchases wherever and however they choose.

Going the extra mile
Go beyond standard Instagram antics by making sure you are keeping up to date with the latest trends and innovations on Instagram.
Emoji hashtags are a hit on Instagram. They help keep copy short and snappy. Stay clued up on popular hashtags and how to use them appropriately.
Instagram stories are a popular feature which is being constantly updated. It can be used to engage followers, and now you can archive and highlight aspects of a story.
Direct messaging is easy to overlook. However, approaching key influencers and directly messaging customers won't hurt. An appointed manager of the account should be available to interact with any comments instantly and be authorized to directly message customers and key influencers as part of the wider campaign strategy.
It's clear that Instagram is a potential boon for any business looking to drive e-commerce sales. Brands who invest in high-grade lifestyle content and imagery will do well, but Instagram also offers opportunities for a savvy bootstrapper who knows their way around social media and some image editing tools. Don't be afraid to sell on Instagram, but just remember what people primarily came there for.

See also: Best Conversion Rate Optimization Tips for Your E-commerce Website