Marketers should leave no stone unturned in exploiting the true potential of certain social media platforms such as Instagram as a reliable advertising channel. They need to understand that Instagram can offer better customer engagement compared to other social media platforms, including Facebook and Twitter.
In fact, according to the data published by Invesp Conversion Rate Optimization, brands are seeing a (per)follower engagement rate of 4.21% on Instagram, which is about 58 times higher than Facebook and about 120 times higher than Twitter.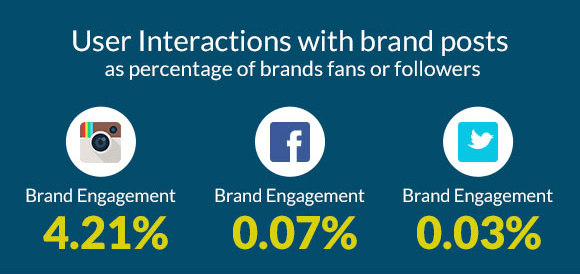 Unarguably, Instagram can be used to build solid customer engagement and this post will tell you how.
Insta-Engage: Use Instagram for Customer Engagement
1. Use Hashtags for Better Engagement
When it comes to Instagram, hashtags are your best friend. They can help you not only get discovered by a relevant audience but also with organizing the content. You can use up to 30 hashtags per post. However, using more hashtags than words or throwing all 30 hashtags in every post will likely put off your followers.
Make sure to use only relevant hashtags and avoid hashtagging every word.
Keep track of the most popular and relevant hashtags that can describe your product or brand in the best possible way.
Apart from unbranded hashtags, you can also use branded ones such as your company or product name or even the name of your brand campaign to create a following among your target audience.
Use online applications such as Websta to find the most popular and top 100 hashtags on Instagram.
When used judiciously, hashtags can do wonders for your marketing strategy.
2. Focus on High-Quality and Attractive Visuals
With over 80 million photos uploaded every day, garnering 'likes' for your Instagram content is a tough challenge. Whether it is a photo or a 60-second video you are sharing, focus on using only high-quality and aesthetically-pleasing visual content. As most Instagram users spend just a few minutes scrolling through their feed, only quality and attractive photos can grab their attention.
The pixel quality is not the only element required to create likable content. Other features such as composition, texture, background space, colors, saturation, and the subject matter are equally important as well.
Make sure to edit the photos in a similar fashion to create a consistent looking feed.
Avoid going overboard with editing and try to keep your content as realistic as possible.
Remember, if a photo doesn't resonate with your brand or your target audience, it shouldn't go up on your feed even if it looks great.
3. Host an Instagram Contest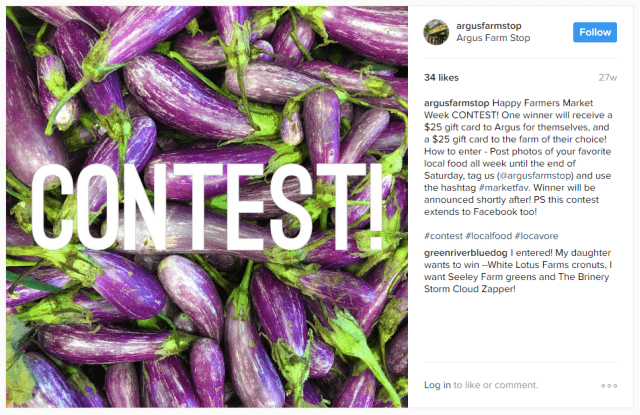 Running a contest on Instagram can not only strengthen your relationship with current followers but also help you attract new ones. Besides, Instagram has relatively less stringent promotion rules compared to other social media platforms, particularly Facebook. So, running a contest on this platform is relatively straightforward.
The first thing you need to do is to decide how people will enter your contest. Here are a few ideas to get you started.
To enter your contest, participants have to:
Like a photo
Follow your Instagram page
Comment on your post
Tag other Instagram users
Make sure to include an enticing reward such as a gift voucher, discount coupons or even your own products. You can also consider rewarding your most loyal fans who participate in the contest. Set up contest guidelines such as the number of winners, contest theme, entry deadline, and the date and time of the announcement of the winners.
 
4. Host a Takeover
A takeover is one of the quickest ways to grow your Instagram followers. You can either take over another Instagram account or ask an Instagrammer to take over yours for 24 hours. This Instagrammer can be anyone, such as an employee, influencer, ambassador, affiliate business partner, or even an active member of your brand's community. However, if you are going to host a takeover intentionally, you need to come up with a strategy.
Here are a few tips
Determine why you are hosting a takeover. Don't do it simply because everyone else is doing it. What works for everyone else may not necessarily work for you.
Once you have defined a goal, choose a central theme that resonates with your brand or product.
Choose the right partner for your takeover. Instead of choosing the most influential Instagrammer in your industry, choose the one who is a clear reflection of your brand or product.
To get maximum coverage, plan the takeover on the day that your target audience is most active on Instagram.
Remember, the takeover partner is going to post under your name. So, it is better to retain editorial control over the content.
Conclusion
Social media platforms such as Instagram offer unique opportunities to connect with your consumer base. Increasing the number of followers, however, is not the only key to Instagram success. Understanding the unique features of this platform and leveraging them to build your brand's community will decide if your marketing strategy will succeed. I believe you also need tools that can help you succeed, like the ones we have listed in our most recent hot social media content tools comparison. Follow these tips, and you will see your Instagram community grow and be better engaged.
See also: Insta-Etiquette – 10 Things to Never Do on Instagram