Selling products and service via social media to millennials is difficult and is completely different from general social media marketing.
Millennials are different because:
They have a high sense of self-entitlement.

They hate advertisements.

They want a purposeful life and a collaborative work culture.

They need solutions to their problems but always compare things before they commit.

They like stuff that are truly personalized for them.

They are always looking for "the next big thing".

They love to watch not read.
Hence, marketing to the millennials is not that easy. This article will explore the art of marketing to millennials via social media in order to raise your sales.

1. Personalize Your Campaigns For Different Audiences
As said earlier, millennials love content that is personalized just for them. Moreover, you need to tweak your content as per the features of the social platform where you are publishing the content. Hence, personalization for the audience and personalization for the platform, both are important.
Social media management tool like Sendible allows you to customize your text for each social media network with the help of the Smart Posts feature. Smart posts let you switch hashtags, add emojis on LinkedIn or increase your hashtags for Instagram. You can do all these right from the compose box as shown in the below image: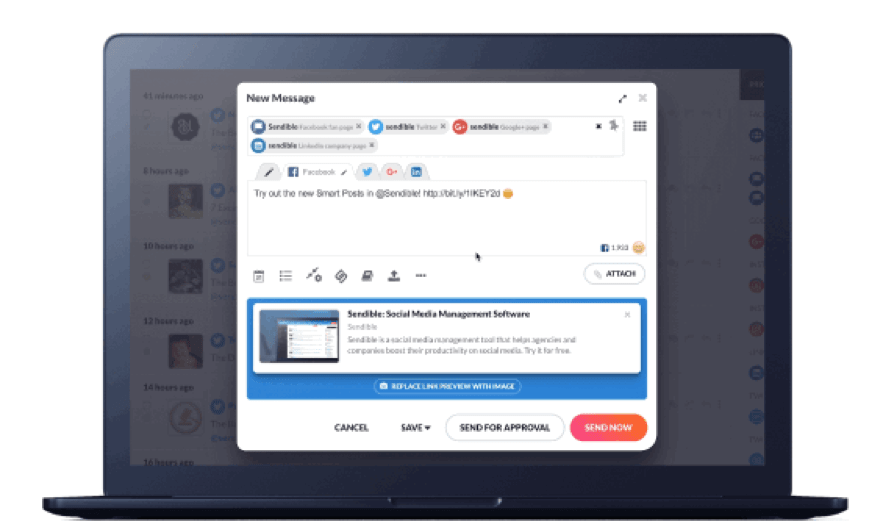 Personalization increases the chances of engagement. Here are some tips to effectively personalize your content for social media:

Gather data about the users and segment your users based on their interests and needs. You can use a tool like

Survey Monkey

to gather the required data.

Create content for every segmented audience type like Segment A might prefer to watch a "how to" video while Segment B might be interested in a webinar.

Use Facebook custom audiences to send messages directly to segmented prospects.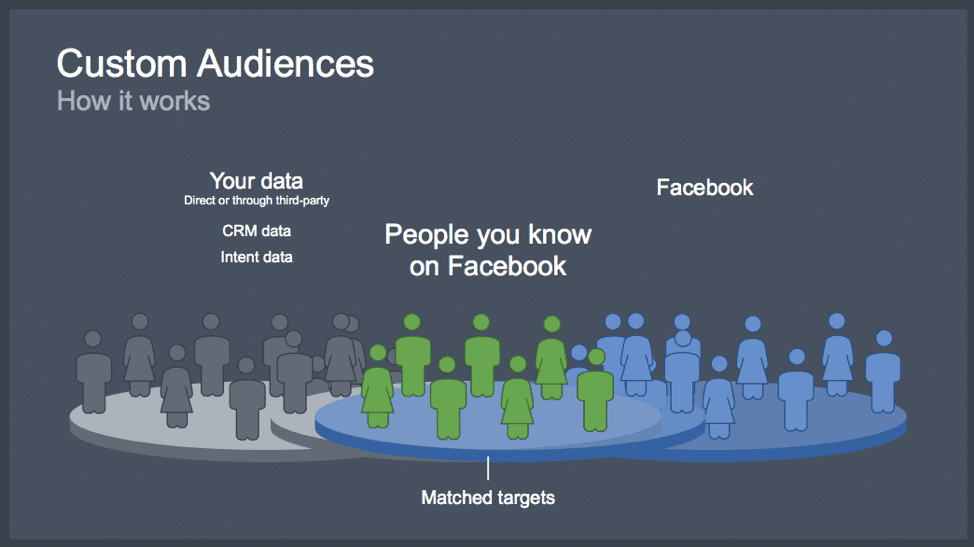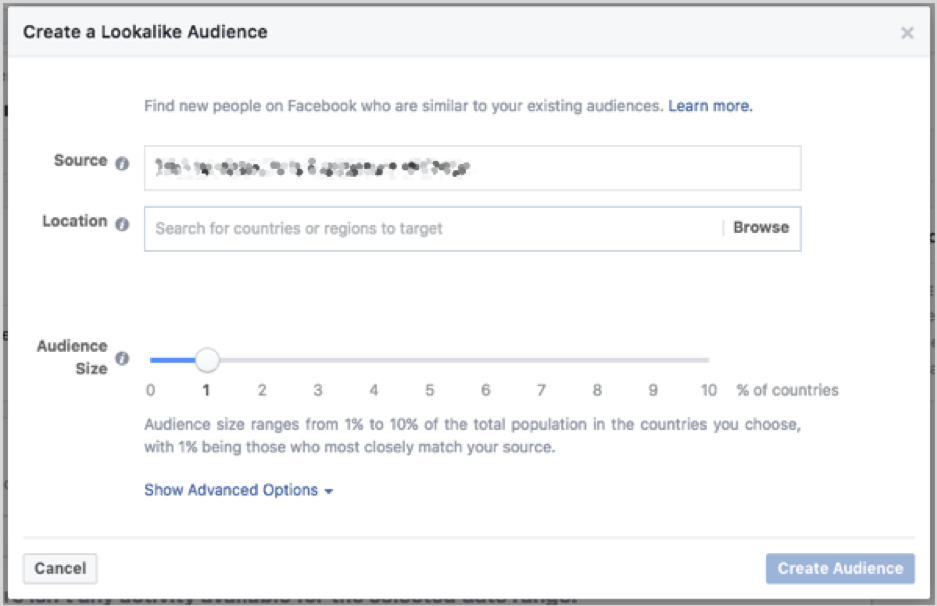 Pick employees from your team who share the same attributes as your target audience and develop dedicated content for them. Ask your employees to share the content on their social networks.

Remember personalized and great customer service equals excellent marketing so don't leave any chance to strengthen the bond you share with your customers.
2. Choose Minimal Design
While sharing images on social media, choose a minimal design because millennials like to get to the conclusion pretty soon and hate things that require a lot of attention.
While sharing your top products across social channels, adopt a minimalistic approach as it will lead to a superior user experience. Adobe Spark is a great tool to create minimalistic and modern images. This tool lets you create impactful graphics within minutes. You simply need to click a photo, add the desired text and filter the design specifications as per your needs. Once done, you can share the image across your target social channels.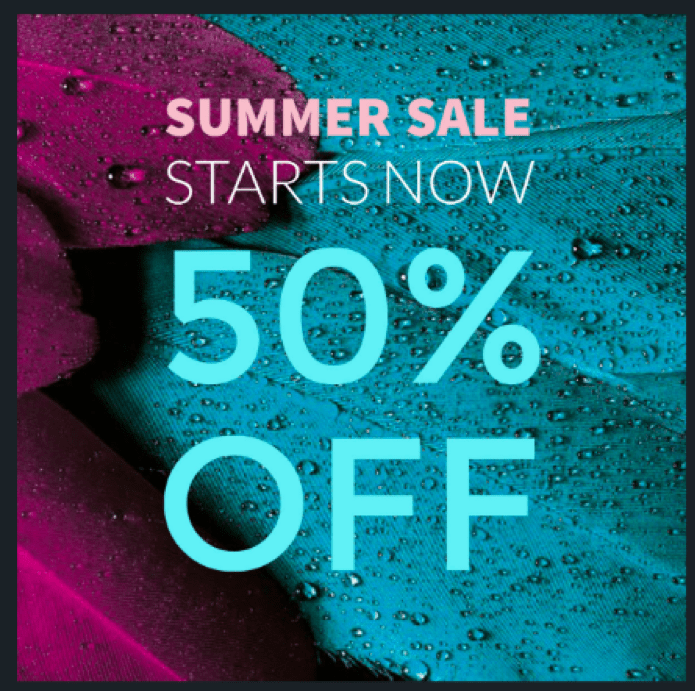 3. Sell Products Directly on Social Channels
Wouldn't it be great if you can start generating revenue straight from your Facebook business page or Instagram profile? Well, that's possible with Shopify Multi-channel ecommerce platform. You can sell your products directly on social channels where your audiences are present.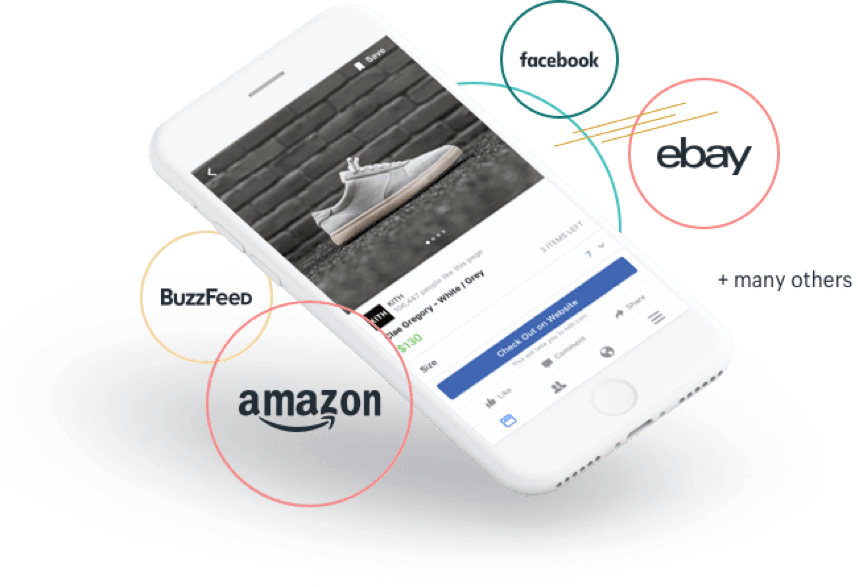 Shopify Plus lets you display your products on more than 20 social channels. This multi-channel e-commerce platform brings native selling to marketplaces, messaging apps, social media and web communities.
You can easily list your products on platforms like Facebook, Twitter, Instagram, Pinterest, eBay, Amazon, Houzz, and many others. Moreover, you can enable instant purchases on them and track your sales easily.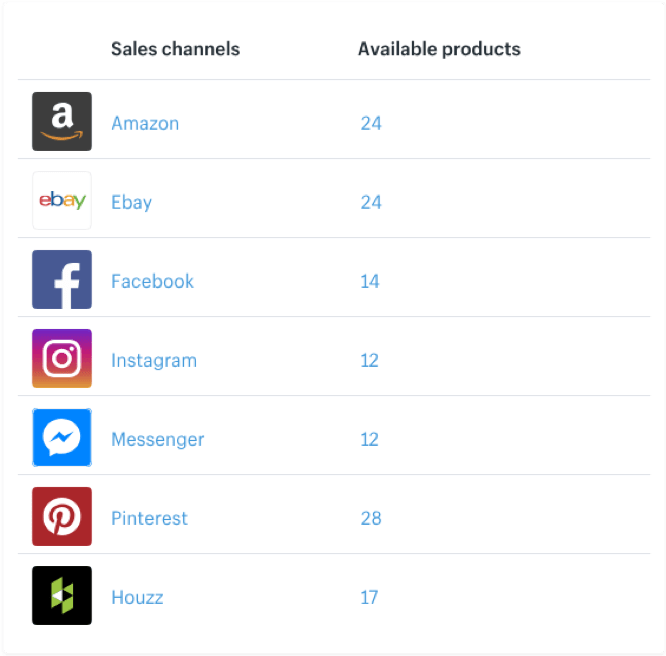 4. Leverage The Power of Ephemeral Content Marketing
You need millennials to take an immediate action and ephemeral content marketing makes the audience do just that.
Ephemeral content is short lived and marketers can capitalize on the power of FOMO (Fear of Missing Out) on content pieces that are short-lived. Some of the biggest advantages of ephemeral content marketing are:

You can reach a wide variety of audiences by sharing ephemeral content on channels like Snapchat, Instagram and Facebook.

Preparing ephemeral content takes less time but generates a good overall ROI.

Picture storytelling is an amazing way to convert your prospects into loyal followers.

You are able to generate an immediate response from your prospects.

Ephemeral content marketing is perfect for businesses who are looking to sell stuff via social media. Below is an example where ephemeral content is used to sell products on Instagram: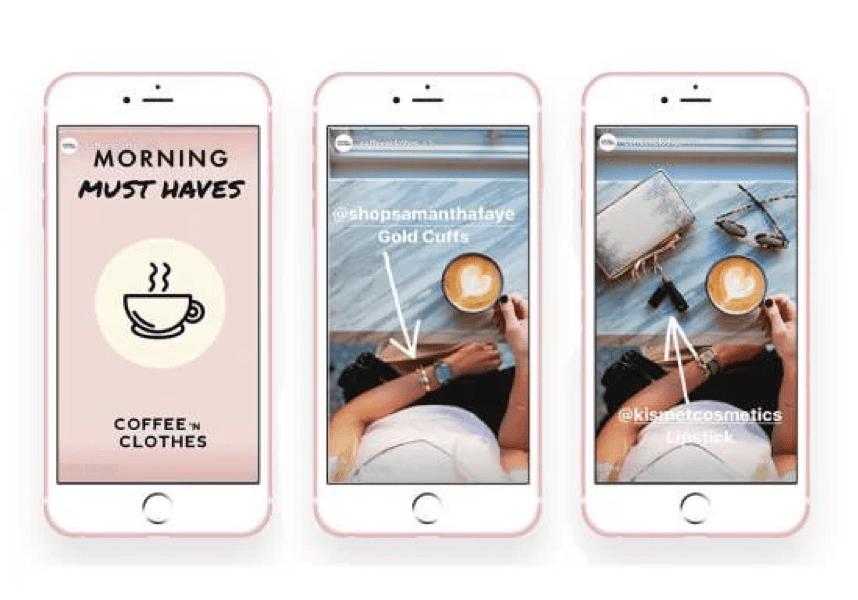 Here is how to prepare effective ephemeral content:

Prepare a plot for your story and make your product the medium that helps the hero achieve success. Remember, the hero in your story should be your audience so that they are able to portray themselves in the story and understand how using your product can help them solve their problems.

Take the help of influencers to publicize your story because without influencers you won't be able to attract many audiences.

Test the success of your campaigns and continue optimizing them for greater accuracy.
5. Millennials Love Experts! Act Like an Expert and Discuss Solutions With Them
Millennials love to hear and follow experts because they are constantly looking to make their lives better.
Decide on a strategy where you can act like an expert and discuss solutions to the problems your audiences are facing. Remember, on several occasions, the millennials are not even aware of the problem they are facing. In such a case, you need to present the problem and provide a solution for it. Henry Ford once said, "If I had asked people what they wanted, they would have said faster horses".
Maybelline is a great example of a brand that is helping users by educating them about the problem and also providing a solution to it. The makeup brand created content for makeup lovers and suggested ways to get a sharper V-face quickly and it intelligently kept the product in focus.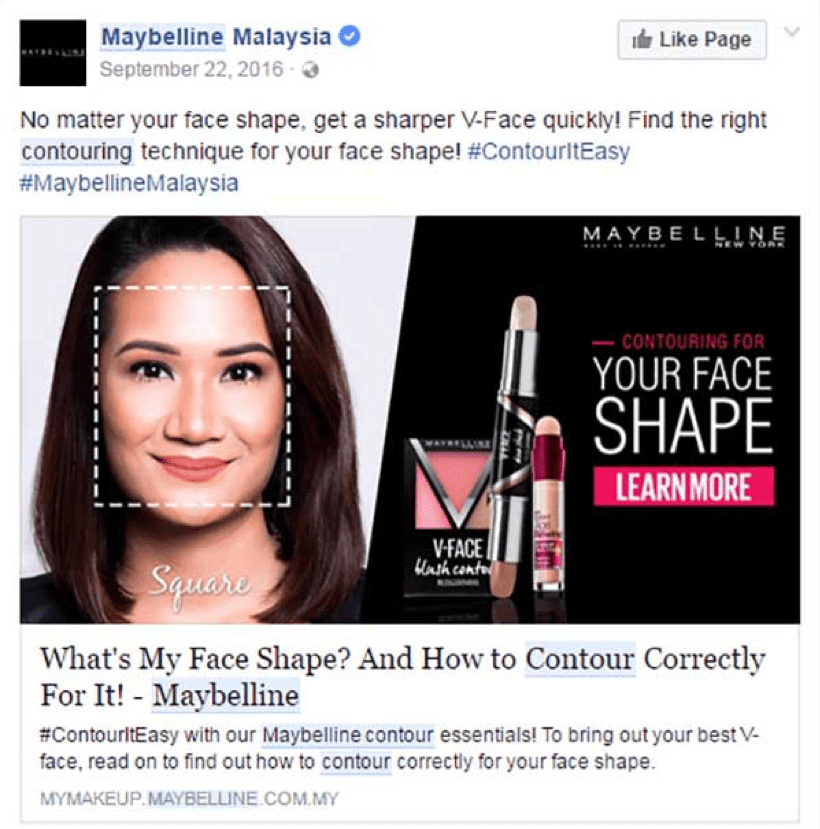 Hence, you need to educate your audiences about the brand's USP and adopt creative ways to pair your products with things your audiences are already using. The crux is, educate users about the benefits of your products in a manner they can easily digest.

6. Speak Their Language and Say The Truth
Millennials listen to brands who speak their language so before you jump into aggressive promotional strategies, try to learn the language of your prospects.
Take your time to view their social profiles and find out what type of language they use while sharing stuff, what sort of stuff do they usually share, which products do they like? which products do they don't like? Etc. Once you have obtained all the required information about your prospects, imitate their language and they will easily connect with you.
Millennials love businesses who say the truth and hate brands who try to dupe them. Hence, it is equally important to say the truth while speaking their language. Millennials can easily figure out if you don't say the truth with the help of user reviews posted on various review websites. Don't try to be over smart, say the truth and always help the user.

7. Win The Hearts of Younger Viewers With Video Marketing
I know it takes time, effort and money to create good quality videos but believes me, it's worth it! You can simply can't rely on text content alone to win the heart of millennials. This is the reason, video marketing is extremely important.
Follow the below tips to produce entertaining and inspiring videos.

Decide on your KPIs and campaign goals before you get started.

Choose the platform you wish to create videos for depending on the targeted buyer persona.

Decide on the type of video you wish to produce like product reviews, product demos or video ads.

Make use of video marketing platforms like

Brightcove

. It's easy and you can save a lot of time creating and promoting your videos.

Decide on the length of the video depending on the platform you choose. YouTube videos are generally longer when compared to Instagram. If you are promoting on YouTube or Facebook, the ideal video length should be between 1-2 minutes and if you are promoting on Twitter or Instagram then it should be between 30-45 seconds.

Use Facebook live and Instagram lives to reach massive audiences in a shorter span of time. The On Base team made use of Facebook live to share product demos.
Make sure your videos are mobile friendly.

Add a proper description, title, and tags for each video.

Make sure the introduction of the story is really engaging.

Always include a call to action and use a professional voice.

Use A/B testing to further optimize the efficiency of your video.
Conclusion
Remember, it's all about building trust on social media. Millennials are a generation of loyal followers and if they start trusting a brand they won't leave it sooner. Make use of the above strategies to reach millennials and win their trust. Always remain connected with your target audience and always be ready to help the people when they need you no matter whatever channel or device they are using. Happy selling!

See also: A Simple and Powerful Facebook Sales Funnel to sell Digital Products Fast