YouTube is one of the most popular websites in the world, so if you want to reach a huge audience, it's definitely the place to be. In fact, it's even surpassed Facebook in terms of popularity, with billions of hours' worth of content watched every day.
But how to grow a YouTube channel and reach this audience? Or, to be more precise, your target audience? How can you grow your YouTube channel consistently and gain more subscribers, more engagement, and more traffic?
In this blog post, I'm going to share my top YouTube tips and tricks on how to grow your YouTube channel, how to get subscribers on YouTube and drive results fast.

How to Grow Your YouTube Channel?
Start with YouTube search: optimizing your videos
Search is a very important part of YouTube; understanding how the YouTube search algorithm works and how you should optimize your videos will help you reach many more viewers and improve brand awareness.
That's because YouTube is actually one of the top search engines in the world; with over 1 billion registered users, that definitely isn't surprising. Plus, YouTube videos also appear in Google search results – and Google is by far the most widely used search engine in the world.
Not to mention, if YouTube knows what your videos are about, you could also get in the "suggested videos" list – if the user's auto-play is on, they're more likely to watch your video.
But, how exactly do you optimize your videos for the YouTube search engine? Their suggestion is pretty simple: create videos that your audience wants to watch. However, that's easier said than done. And if you don't have many videos that are already published and plenty of data on their performance, it's almost impossible for you to make a truly informed decision about what your audience likes to watch or not.
What you can do though, is to use keyword research to find out what keywords your audience is searching for. You can start by using YouTube's own search bar: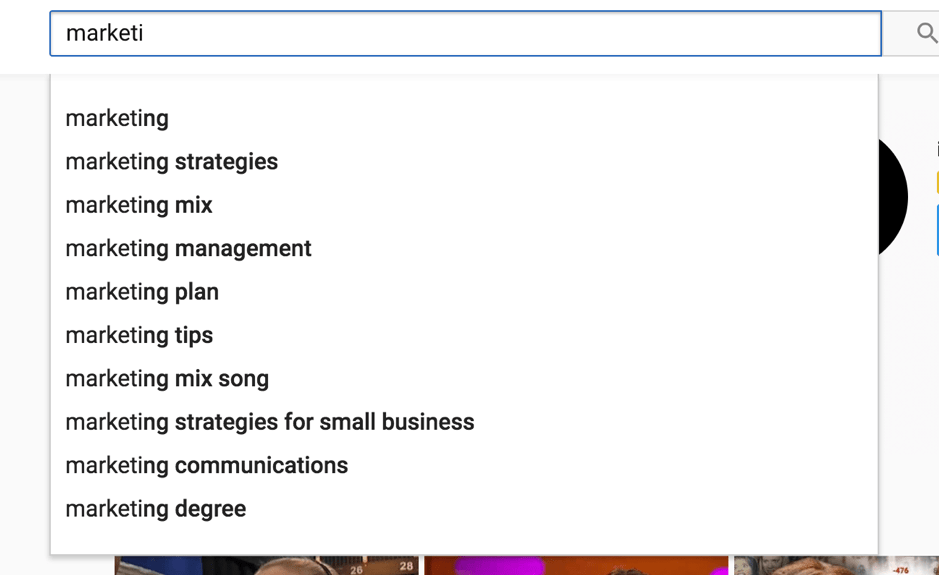 The auto-complete feature helps you see what other people are searching for; just start writing down your keywords in the search bar to see what suggestions you receive.
Or, you can use a keyword research tool like Keyword Keg to find more keyword suggestions and see what their search volumes are like.
Keep performing keyword research regularly to understand what topics interest your audience and create content accordingly; then, use the keywords you find in your video titles and descriptions.
Another very useful tool for improving your SEO is TubeBuddy, a browser extension; it has a plethora of features, but we'll focus on video SEO for now. It can help you in a few different ways, such as by giving you tag suggestions as you write your video descriptions, explore highly popular tags, a/b test your videos, and track your videos and your competitors' ranking:


Apart from tags and keywords, there are a few other important elements that count towards your video SEO; for example, engagement and watch time helps YouTube understand if your video is of high quality and relevancy, so the more engagement and the more people watch your videos, the better.
Subscriber numbers also count towards your video's success; however, it's not just about having as many subscribers as possible, but also about getting people to subscribe immediately after watching your video.
Create compelling thumbnails for all your videos
What makes you pick a video to watch from your search results? Of course, the title is a big factor; another very important factor is the video thumbnail: is it an unclear image that you can easily look past? Or a colorful, compelling image that reinforces what the video is about?
To easily create your own custom video thumbnails, my advice is to use a tool like Crello and pick the "YouTube thumbnails" format:


There are numerous templates to choose from; pick one you like and you'll be able to add different images, text, change fonts, and make all kinds of other customizations.
Be a social user
At the end of the day, YouTube is a social network. The keyword here being "social". So in order to grow…you've guessed it, you need to socialize with your subscribers and your viewers. That means responding to all of their comments in a timely manner and trying to engage the user in a conversation.
For example, you can ask your viewers questions either in your video or in your video description to encourage them to leave comments.
Then, you can use a tool like Agorapulse to manage all of these comments more easily; you'll be able to access all of your YouTube comments in one inbox and respond to them more quickly. Plus, another time-saving feature is that you can 'save common replies', which basically means you can respond to a comment with a click.
What's more, you can set up social media monitoring to look up your name in videos and comments – this way, you can act immediately and engage these users: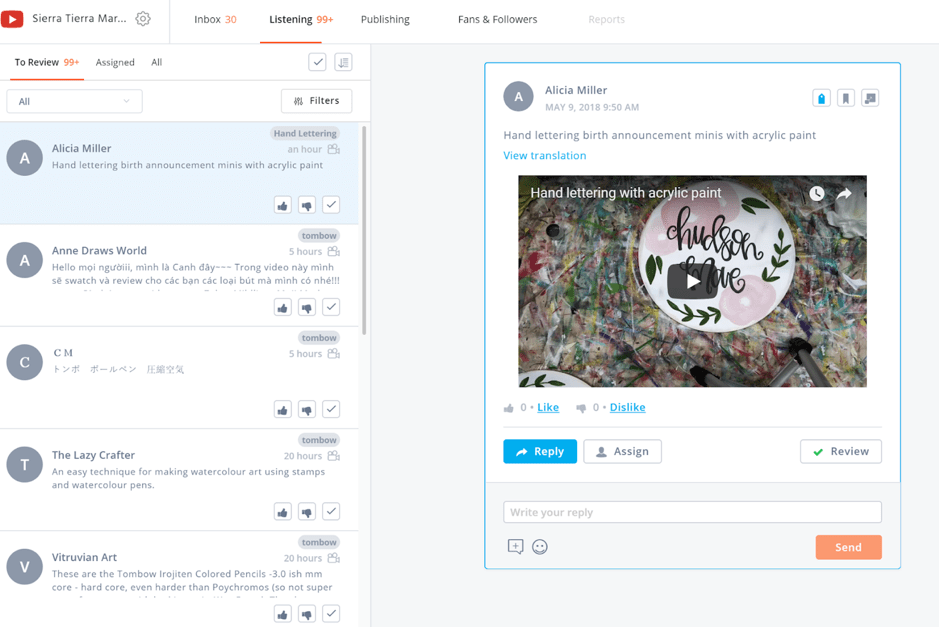 Save time every day for engaging; it's a very important aspect if you want to continue growing an engaged and loyal audience.
Leverage the Community tab to boost engagement
Another way to get people to engage with you more is to be more proactive and leverage your channel's Community tab; it's perfect for interacting with your subscribers and keeping them engaged and interested in your channel.
There are several ways to leverage this Community tab; Brian Tracy, for example, asks people what they want to see in future videos and promotes his giveaways: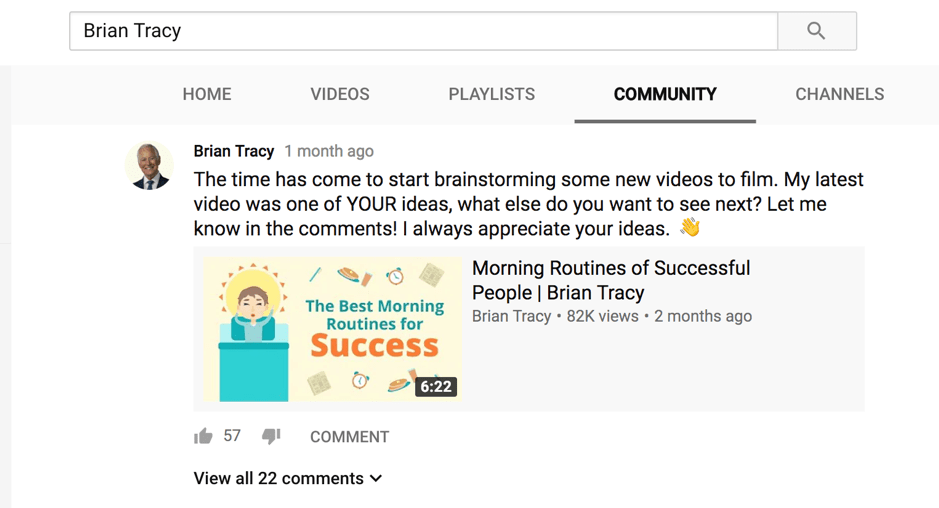 Evan Carmichael uses his Community tab very frequently and mostly uses polls to ask for his audiences' opinions: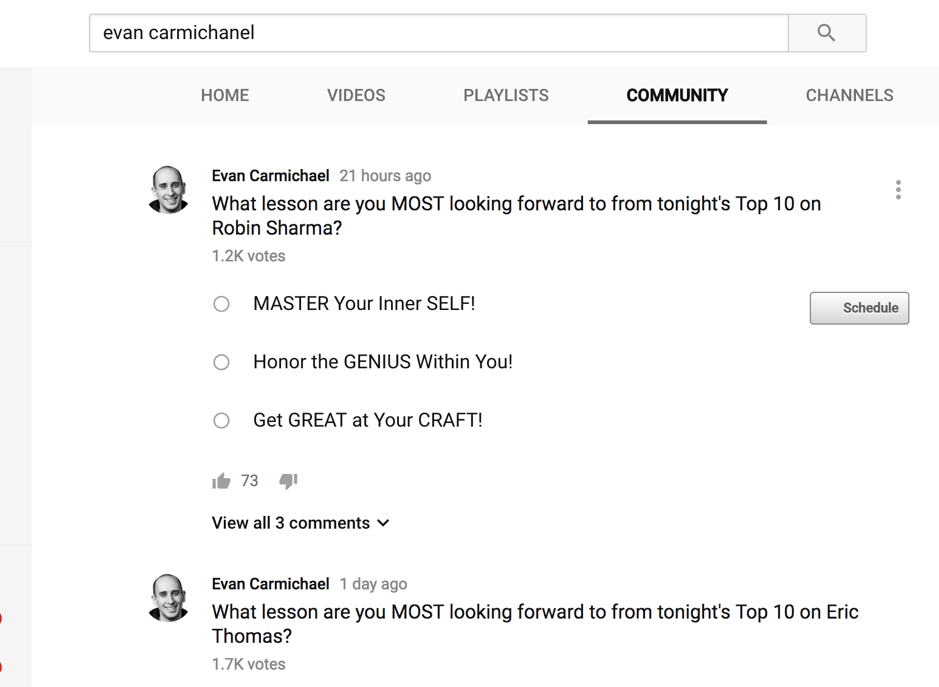 So as you can see above, you can use several forms of content to engage your audiences, such as polls, GIFS, images, and videos. Ideally, try to post something new regularly either to entertain your audience or offer them some exclusive content, or by asking them questions or asking for their opinions or input.
Use YouTube cards and end screens to boost engagement and subscribers
YouTube wants people to spend more time on their platform, so they offer plenty of features to help content creators entertain their audience and keep them around for longer.
2 of these features are cards and end screens – 2 tools that help encourage your subscribers and your viewers to take a certain action.
To add a card to a video, go to your Creator Studio and click on Video Manager and then, Video.
Find the video you want to add cards to and click on "edit" to see the cards option: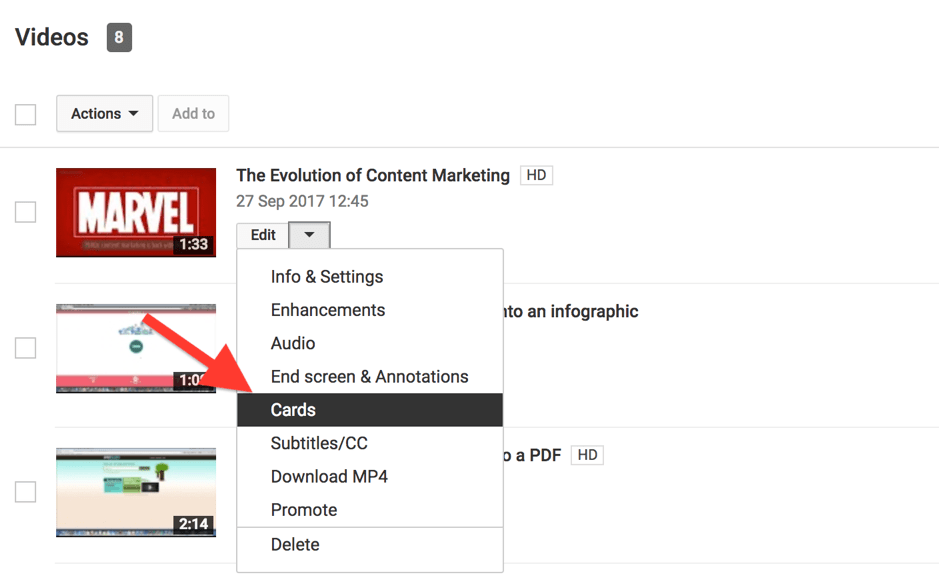 As you can see in the screenshot above, this is also where you can add end screens to your videos. You can then use Cards to promote:
A link to an approved website (you'll need to join the YouTube Partner Programme to be able to do this, as this is how YouTube checks the validity of your channel and its compliance with their community guidelines). Once you are checked and approved, you'll be able to link to a choice of an associated website, a merchandising website (such as Amazon, for example), or a Crowdfunding website.
In order to add a card, simply select "create" next to the option you prefer and follow the instructions to add the desired element.
To add an end screen element, head over to "end screens and annotations"; the process is pretty much the same as with cards, and the options are very similar as well. You can use end screens to:
Promote a specific video or playlist
Get more people to subscribe to your channel
Promote a link and drive more traffic/leads/sales. As with cards, you'll need to enable this option before you can leverage it and you have the same 3 options as before in terms of what you can link to
Conclusion
As one of the most visited websites in the world – the second most popular in fact, as of the time of writing – YouTube is used by all kinds of audiences and types. It's definitely the place to be in order to reach your target audience; you need great, compelling videos, a solid strategy, and to leverage all of the different features and possibilities that this popular platform brings.
To sum up how to grow your YouTube channel:
Perform keyword research to help optimize your videos; YouTube is an extremely popular search engine so you need to create content that your audience is actually looking for and target the keywords they're already using
Create custom video thumbnails for your videos in order to attract people's attention to them in search results
Be an active user of the community by responding to any comments you get, monitoring for mentions, and asking your viewers questions
Use the YouTube Community tab to further engage your subscribers and fans, ask for their opinions or simply start a conversation
Use cards and end-screens to further promote your content, your channel, and your links
See also: 50 Videos That Have More Than 1 Billion Views on YouTube