On Tuesday, Google has announced a new feature: Google Plus Custom URL is now rolling out to almost everyone.
In order to qualify for a custom URL you'll need to meet three requirements, which I suspect anyone who is using Google+ at all will meet.
You will need to have:
– a profile photo, and
– at least 10 followers, and
– an account that's at least 30 days old
Once you meet the eligibility criteria and Google prepares your custom URL, you can just follow the following steps.

How to claim your Google Plus Custom Url

1. Click Get a custom URL button to get started in the header. Or, alternatively, from the "About" tab on your Profile, click the "Get" link located under your Google+ URL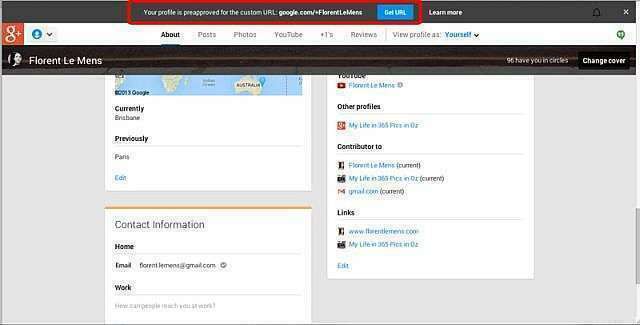 2.You'll see the URL(s) you've been approved for. If you see more than one option, select the one you like best.
Check the box to agree to the Terms of Service. Click Change URL.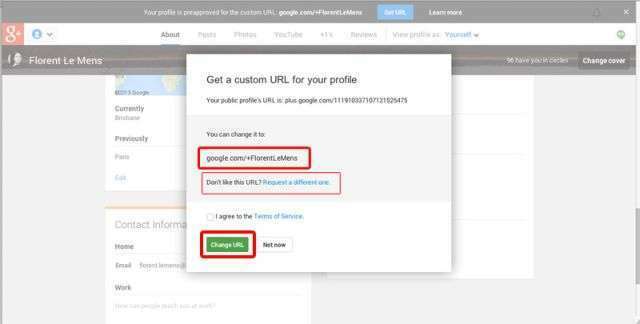 NOTE If you don't like your preapproved URL, you can request a different one. Request can take a few days to review.
3. Google may ask you to verify your account by your mobile phone number. If you need to do this, you'll see a box pop up asking you to do so.
a. Enter your mobile phone number.
b. Check the box to make it easier for people who have your phone number to find you on Google services.
c. Check your phone for the code that was sent to you.
d. Enter that code in the box.
e. Click Verify.

4. Once approved, this URL will be linked to your Google+ page or Profile, so be sure everything is exactly the way you want it. Once your URL has been approved, you can't request to change it. When you're certain, click Confirm.




How to Change your Google Plus custom URL
Once approved, the custom URL cannot be changed. If you want to change the capitalization or accents/diacritics of your custom URL, follow these steps:
Go to the "Links" section of your Google+ profile. A box will appear allowing you to make edits to the formatting. Remember, you can only change the capitalization or accents/diacritics of the URL, not the URL itself.
 See also:  How To Hide Community Posts From Your Google+ Profile