Struggling to find the right gift for your Father this Sunday (16th June) then don't threat as your social media friend Pinterest is here to help you find the perfect gift with the Fathers Day category.
Pinterest launched this seasonal update last Wednesday (5th June) the update adds a For Dad category when you click on the menu. When you click on the category it will take you to the trendiest gifts Pinners are pinning about for this Fathers Day. You'll discover so many great gift ideas with fishing,gadgets,cooking and trendy clothing being the most popular items.
The For Dad category showcases the current trending gifts on the social network which are suited for all dads.
Screenshot below showcases where to find the new For Dad category.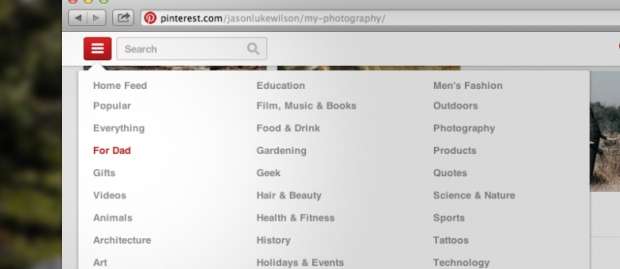 How to find the right Fathers Day Gift with Pinterest?
Create a Fathers day board and search Pinterest for some gift ideas, pin to that board along the way and at the end of your session you can skim through the board and choose the gift your father will like best.
Have a secret board for you and your friends where you can both pin gift ideas for your fathers, then you can look at each others ideas and find something you wouldn't of found normally that may be ideal for your dad.
Need some more ideas to what to buy then check out Pinterest's Fathers day board where they pin some of their awesome gift ideas they've hand picked. Below is the gift I bought my father:



This isn't the first time Pinterest has run a seasonal theme through the site, last Christmas they featured an entire page that was an advent calender everyday that passed featured a very seasonal Pinner.
Pinterest keeps on improving every month with new features and additions which keep adding to the circle of fun on the social network. I can't wait to see what else Pinterest has to offer in the near future.

What are you buying your dad this Fathers day?

See also: 5 Safe but Effective Social Media Tips for Your Kids