I have been a long fan of Twitter and my first Twitter handler, @Reginald_Chan started back in April 2010. For years, I have been doing 'okay' with Twitter — closing sales, generating leads and creating tons of engagement to say the least. But everything changed last year (2014) as I wanted to take Twitter marketing to the next level.
Prior to this, I was tweeting everything under the sun; I was sharing everything I could think off and hit the 'Publish' button on Twitter. That-was-it.
I wasn't generating much sales and revenue dropped dramatically (but consistently) over the months. I decided to take the longer path in Twitter marketing which involves analytics and research. As a matter of fact, I spend at least 30 minutes a day understand what works … and what doesn't. More importantly, I was focusing to build a follower on Twitter which will react and engage with my content. Yes, not only the number count.
Here's what in for you: I'll share the exact steps I took to determine the type of tweets that get the MOST engagement and using that to further engage with my audience (by sharing more of the related topics).

How To Determine The Type Of Tweets To Publish?
1. Buffer
I used a number of Twitter tools and Buffer is one of those that I use on a daily basis. Using Buffer pro (at $10 per month), I was able to generate a report based on my Twitter activities.


Buffer allows you to sort based on several powerful criteria such as:
Recent
Most popular
Least popular
All posts
Selecting any of these options will open up to more specific filters such as:
Most/Least clicks
Most/Least retweets
Most/Least replies
Most/Least reach
Type of post
Putting the above in perspective and image, take a look at the screenshot below: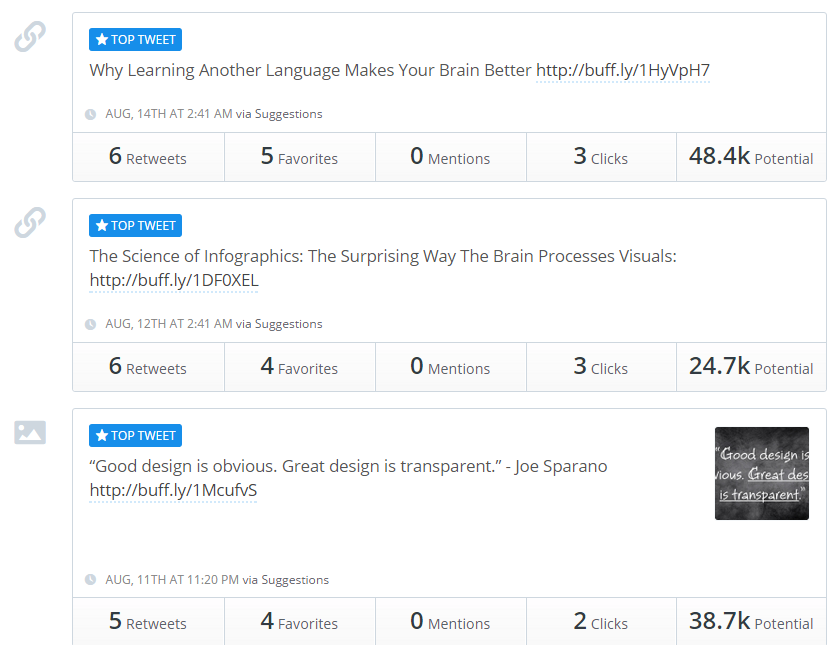 My top 3 tweets that earned pretty awesome reach are most related:
Information backed by science
Infographic
Quote
Knowledge
With the information collected from the above, I reconstructed my future tweets to be more of that state-of-mind. For starters, I am crafting tweets based on what my followers are interested in and in return, I get more engagements (and lead generation) to say the least.
Take a moment to think about this. Spending $10 a month on Buffer and getting such analytics? Priceless!

See also: How To Use Buffer To Schedule Post And Simplify Your Social Marketing?

2. Hootsuite
I love Hootsuite and make no mistake. Hootsuite is slightly complicated and requires a slight learning curve before you are able to leverage the true power of it.
A paid account allows you to connect at least 50 social accounts and the opportunity to generate reports based on your preferences. Yes, this is the juicy part!
Here's what Hootsuite analytics look like:



As for the record, I would want to state that Hootsuite reports are not entirely free. Reports are generated based on points allocated (paid accounts have at least 50 points per month) and for free Hootsuite accounts, they could only generate overview (or general) reports.
Analytics are tracked instantly when you use the inbuild Hootsuite URL shortener and other forms of shortener doesn't work with analytics.
Here's an example of the top tweets captured through Hootsuite: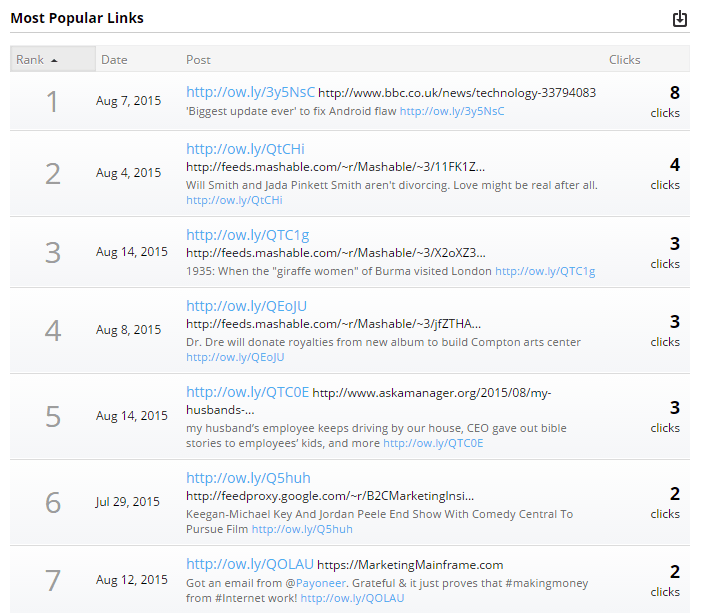 Another advantage using Hootsuite is the export feature on the top right of the image (above). You can export it out, place them in an Excel sheet and reuse them in the future.

3. Twitter Analytics
If you are into analytics, you can't for-go the default Twitter tool. In some cases, I do feel that the default Twitter analytics is beautifully crafted and most importantly, all information are displayed for free.
Twitter analytics provides a cool list of features such as:
28 days summary
Top tweets
Top mention
Top media tweet
Top follower
Monthly Twitter summary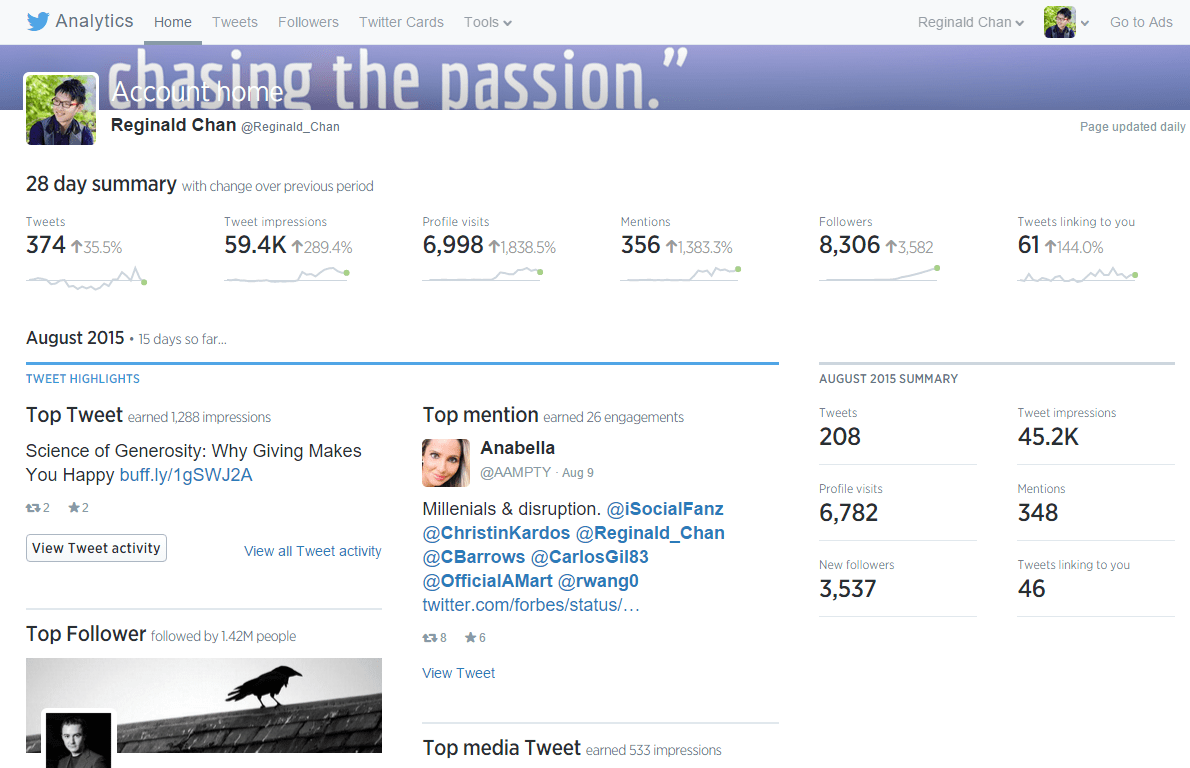 Apart from the quick summary, there are also options for more specific analytics such as:
Tweets
Followers
Twitter cards
Twitter ad campaign (for paid advertisers)
The biggest takeaway when using Twitter analytics is the followers segmentation.


The report gives you a detailed breakdown of your followers based specific categories, namely interest, language, lifestyle trends and gender.
For social media marketers like me, the information gain would help us to craft the perfect tweet and pitch to increase leads, sales and revenue. At the same time, sharing related topics would also increase the engage level multiple fold.

The different types of tweets that I share (and you could too)
Through analytics, it shows that several forms of tweets make the best engagement. For example, sharing tweets based on reviews are not good enough to encourage replies and engagements. Here's a list of tweets that work perfectly well for me:
Images and media
Quotes
Questions or comments
Let's dive in for a quick explanation, shall we?
1. Images and media
Humans love images and media. Instead of sharing wall of texts (in this case, 140 characters), substitute apart of your texts into images and other forms of media such as video, GIF's and podcast.
The human mind react faster and better with visual. Therefore, integrating media as a form of Twitter marketing is highly recommended. Through case study done by Buffer, it is proved that images increase the chance of retweets by over 150%.
Yes, it's 150% and not 15%.

2. Quotes
Motivational, leadership and fun quotes — we can't get enough of them. Sometimes a motivational tweet that constants 10 words gets more retweets compared to any other forms!
When it comes to sharing quotes on Twitter, it is highly recommended to tag the original's sharer Twitter handler (or name) for credits. Also, sharing it during the day time (working hours) helps me to gain more retweets and engagement.

3. Questions and commenting
You are not confined to publishing a tweet related to you. Instead, you can ask questions or engage with others using Twitter. One of the best examples is participating in Twitter chats. When you are doing so, make sure you are using the right hashtags to get included in the chat!
Do you remember the hashtag #thedress, #whiteandgold, and #blackandblue? A simple question that was published on Tumblr caught the eyes of millions. Within a week, there were over 10 million mentions based on the three hashtags above.
The moral of the story is this: Question(s) can ignite the human's mind. Crafting the right question could literally grow your audience from 0 to 10,000 or more.

Now, it is your turn!
What do you think of this article? Leave your thoughts below and let's discuss further.

See also: The Evolution of Twitter (Infographic)