It is all about the conversion, sales and revenue, isn't it?
If you are a business owner, you know exactly what I mean. Marketing today has been circling around the big, two letter words: social media.
Sure, you may create profiles on various social media platforms and publish timely post using Buffer. But is that really going to generate you the much wanted leads?
Short answer – No.
But don't get me wrong. Just because the road to success is challenging, it doesn't mean that it is impossible.
So, how do you convert social media communities into loyal customers?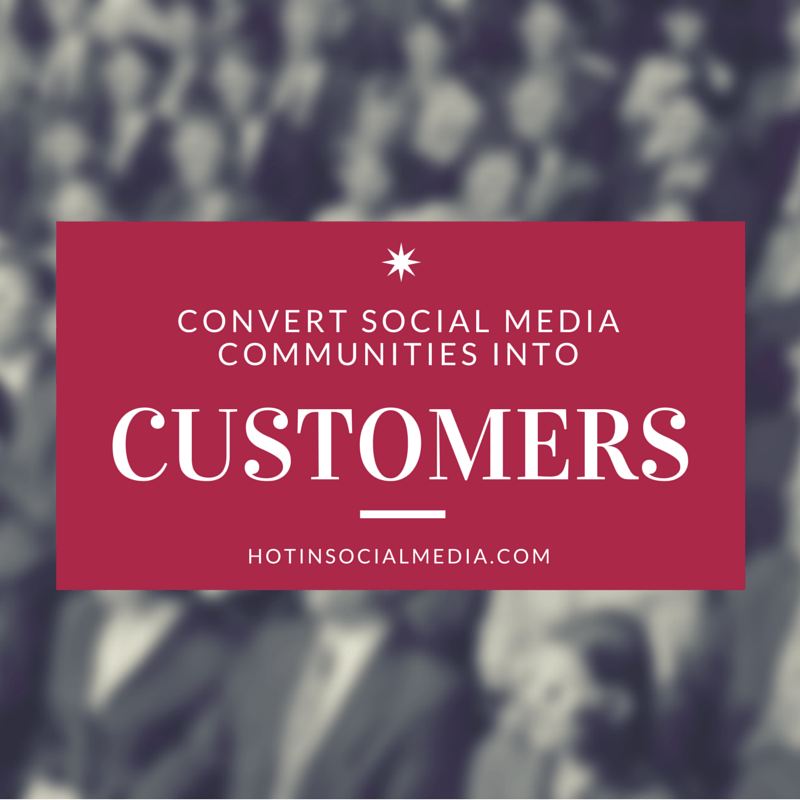 How to Convert Social Media Communities into Customers
1. Engage smartly
Social media marketing isn't about just the plain old engagement. You have to engage with your fans with information they are looking for.
Ask yourself (or your marketing team), "Are you sharing content that are valuable to your readers? Are they shareable to the public? Are these content too pitchy or focused highly on sales?"
Social media is about reaching out to your followers (and potential ones) with solutions that they can take home instantly. And the best part — it doesn't have to be paid.
At times, valuable content goes a long way!

2. Become a respected member of the clan
Want more sales from social media? Then stop being a jacka*s in these social communities.
Be a useful member that provides nothing but high value content and this means that the next time you find a member in need of help, go out and give them some love.
Doing this will not only give you the 'authority' badge, it will also avoid you from being too 'spammy' with self promotional content.

3. Build an email list (always)
Most people doesn't do this and I really don't understand why.
Building an email list is important and social media is a powerful way to do so.
Take an example of Facebook buttons. You can create powerful Call-To-Actions (CTA) buttons on your Facebook page which includes contact us, use app and watch video.
On the other hand, Twitter allows you to pin posts on your timeline which is a super-duper awesome way to collect more email newsletter.
And if you need some help, there's Canva to help you with graphic designs and MailChimp for email marketing services.

4. Social listening is just too powerful
Do you listen to your followers?
If the answer is a simple and instant "no", then you need to do it right now. Yes — now.
Listening allows you to understand what others are saying about you and your competitors. And when you listen hard, you get to know exactly what your readers (or fans in this case) are looking for.
If you are looking for the all-in-one social media tool, I would recommend Hootsuite (you can read my tutorial here) or use TalkWalker if you require more specific listening tool.

5. Joining highly targeted communities
Most people would join as many social media communities they could find in the world and trying to engage with every-single-one of them.
And trust me, this doesn't work.
Instead, focus on targeted ones according to your niche. Through various case studies, it is proven (over a dozen times) that sharing contents that community members are interested in would generate more clicks and sales compared to unrelated ones.
The next time you want to join a social community, take a moment to decide if the community fits your needs, business goals and targeted audience.

How do you

convert social media communities into customers?

Yes, tell me all about it in the comments below and let's discuss further in the comments.

See also: 10 Ways To Drive More Traffic To Your Website